Last updated on January 5th, 2023
Do you want to start an Airbnb business but want to know first how much profit you can make? Then you're reading the right article! If you want to calculate Airbnb income from your rental property, then feel free to use this calculator to get the exact numbers.
The majority of people who start their STR (Short-Term Rental) journey are usually for the purpose of having a side hustle. Many are looking to rent out a spare room, a second home, an attic, or a vacation home. On average, most Airbnb hosts make roughly $1,000/-month on Airbnb as a side hustle. But there are also several hosts who are doing STR as a full-fledged business and making a fortune.
In fact, did you know that most people who are making a fortune doing Airbnb full-time are mostly doing Rental Arbitrage? Since this does not require purchasing a property right away, it's perfect for those who are on a limited budget and want to test the waters first!
Airbnb Experiences Revenue: Based on Airbnb Host Experience
Let's face it, operating an Airbnb business can be lucrative as long as the right goals are met by conducting Airbnb market analysis. While the majority of hosts use Airbnb hosting tools to save time and boost their return on investment, it's still important to rely your decisions on accurate data.
Let's reflect on this host's story and learn about the average income for Airbnb:
Jennifer Ward, an Airbnb host in Tallahassee, Florida. She was living with her dog in a 4-bedroom house working a 9-5 job. She decided to rent out 2 rooms as she was having a financial crisis due to her poor health. Also, she was worried about not having any source of passive income in case she was unable to work any longer. 
So in 2018, she started renting 2 bedrooms on Airbnb. Being new to the business, she was quickly crushed by the competition. She told us that she used to get some bookings here and there but it wasn't predictable. As a result, the income was not stable. 
The average income from Airbnb that she received was ranging from $650 to $920 a month during that time. Also, the competition was very professional and was beating her by providing better amenities at cheaper prices. Furthermore, she wasn't aware of what amenities she should provide and how to price the property correctly in different seasons.
This led her to struggle for a while, but she slowly started talking to other hosts on FB Groups and Community. This led her to understand what she needs to improve and what others are doing in the industry. She upgraded the amenities and changed the decor of the house to make it cleaner and more professional in photos. 
She also started using data to plan her pricing strategy to help her keep track of the competition. After 4 months of struggling, she saw an increase in booking and also consistency. This happened after learning all the minute details of this STR business
Like Jennifer, there are many success stories out there. But as many success stories are out there so are unsuccessful ones. What's the difference? Let's take a look at what separates successful hosts from unsuccessful ones.

Average Income on Airbnb
Renting out on Airbnb is a great idea as it allows you to use an existing asset, your house, and make money from it. If you set up things properly it can even be a very passive source of income with little to no involvement of yours. This is the reason why  Airbnb short-term rentals are very lucrative.
On average, Airbnb host earnings can be around $1,000 a month. But this number can be very different based on your location, property, and your hosting skills. If you are able to provide some kind of unique experience to your guests. Then you can even look at making 6 figures just from this side hustle of yours.
How Much does it Cost to Start an Airbnb?
Most travelers are used to luxury hotels and homestays when they are traveling. Your house might be a perfect abode for you and your needs, but you'll have guests with different expectations. You might need to invest in the decor and remodeling of the house when you start your STR business. This can be very expensive or super cheap depending upon the current condition of your house.
To begin with, you can always start by renting out the extra space in your home if you think that it won't meet your financial status for the time being. Airbnb startup costs can range from $5,000 to $7,000, depending on your list of essentials for the room, kitchen, and bathroom amenities.
At the same time, since you are competing with other hosts, some of whom are doing it full-time professionally. This results in people having higher expectations after staying in different homes. And if you aren't able to match those expectations then you might end up getting average reviews and unsatisfied customers. This will impact a lot on your overall revenue in the long term.
How much can you make on Airbnb in your neighborhood?
Once you have made up your mind to start your own STR business, you might start thinking to yourself: Is my neighborhood good enough to attract a decent amount of tourist traffic? If it does, where does your house stand compared to the others? And exactly how much revenue do other properties generate in the neighborhood?
To answer all your doubts and give you an accurate estimate of revenue and occupancy rate in your neighborhood, you can use Airbtics. By entering your address in the search bar, you can seamlessly go through your preferred neighborhood and compare the performance of your competitors in one comprehensive dashboard – helpful to make the wisest investment decision!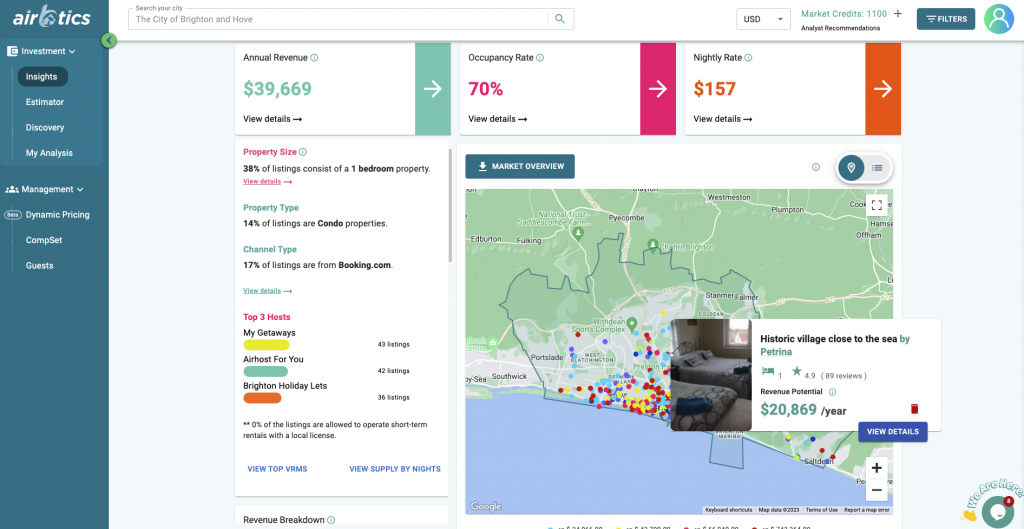 How Much Taxes Would I Pay for my Airbnb Income?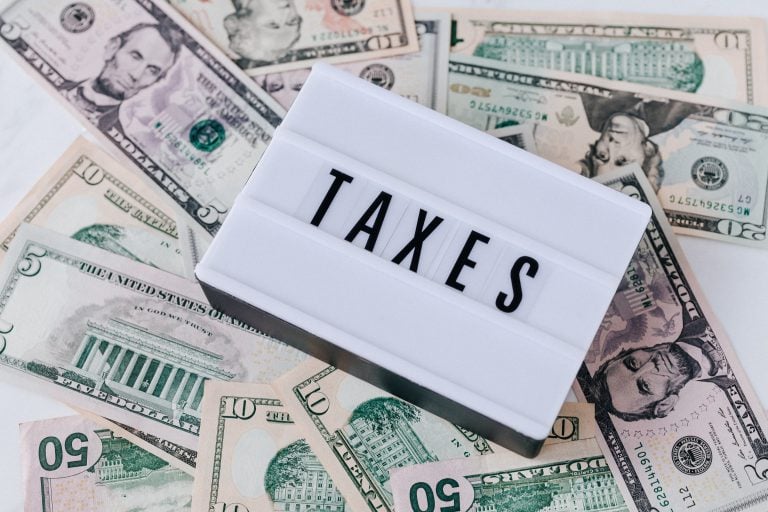 If you rent out your property for more than 14 days in a calendar year, then you need to disclose your Airbnb Revenue to the IRS. In addition to this, f 10% of the total days it's rented out to visitors, then you'll need to disclose your Airbnb revenue and costs to the IRS. 
If you earned more than $20,000 or made 200 or more reservations in a calendar year, you'll need to submit Form 1099-K. If you fail to submit the 1099 form, then the company you are using to do STR can withhold 28% of your revenue generated. So it's better to do the proper paperwork as you'll pay far less than 28% if you file your taxes!
Apart from paying Uncle Sam, hosts also have to pay a fee of 3% to Airbnb. There are some variations to this. If you're an Airbnb Plus host who lives in Italy or has an exceptionally rigorous cancellation policy, your fee percentage will be higher. For all hosts with Airbnb listings in China, the fees will be a whopping 10%.
When planning out your first Airbnb, it's very important to keep all these costs in mind. Taking note of all the taxes and service fees will help you calculate accurate profits when planning out.
Expectation management
It's easy to get excited to see booking come in and revenue go up after you get better at hosting. But the real profit is after paying off the IRS, cleaners, repairs, maintenance, and replacing damages.
After talking to many hosts we found out that you can expect to spend anywhere from 10 to 20% on repairs, cleaning, and other business expenses. Many new hosts don't factor in all these expenses and end up not generating a profit in the long run.
To manage this, one shouldn't go all in at once. Start slowly, rent out 1 room and see if you were able to generate a profit after all the expenses are paid off. This progressive method will save you from making a huge loss that will take a long time to recover from.
Always keep a rule of thumb to set aside 30% of revenue for operational costs. This is based on the volume of reservations and the quantity of the procedures, such as the management and cleaning services.
Conclusion
The Airbnb hosts that often make the most are those who have an entrepreneurial mindset and treat their rental properties as a company. There are many advantages to becoming a host, but it's important to remember that doing it well requires effort and spending money on operational expenses.
In order to track your potential Airbnb profit, you can always do your research online or ask several hosts on forums such as Bigger Pockets, Quora, and Reddit. It could certainly be difficult to accurately estimate your revenue manually, which is why you'll notice that the majority of professional hosts use short-term rental analytics tools.
In the digital era where everything is almost available at the tip of your fingers, don't waste your time and energy on investing in the wrong property! Try Airbtics today and get ahead of your competitors in the market.
Trending: Airbnb Estimate Income