Last updated on September 4th, 2023
Airbnb Data: Occupancy Rates by Zipcode: Looking to get FREE and accurate Airbnb data in 2023? Check this blog and follow the 3 easy steps to get Airbnb data by zipcode!
Airbnb Data: Occupancy Rates by Zipcode
Airbnb occupancy rate is one of the important metrics to gauge a property's success. This refers to the number of days that a property is booked by guests in a particular calendar year.
If you're looking for ways to find the best Airbnb occupancy rate by zipcode, we have it here! In this article, we featured 5 states in the USA and ranked the cities with the highest and lowest occupancy rates based on accurate numbers. Continue reading to learn more!
What is Airbnb Occupancy Rate?
One of the most important performance indicators of an Airbnb property is the occupancy rate. Several Airbnb occupancy rates by city vary from one place to another and are constantly changing. 
These figures are important to properly understand which markets are best for investment. According to Airbtics, the city with the highest occupancy rates in Florida is Kissimmee. With a solid 84%, you can distinguish that this city receives the most bookings.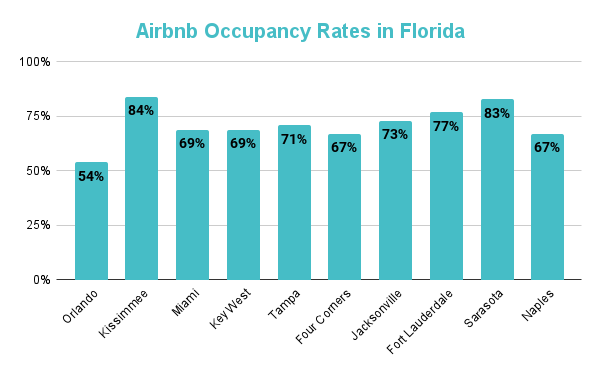 However, you should also consider other Airbnb market data such as occupancy rates, average daily rate, seasonality, property types, and amenities among others.
If you're looking for Airbnb data by zipcode, Airbtics has this service! Check out and download the sample Airbnb data by city here. It can also be extracted in a zip code level:
Airbnb Occupancy Rates by Zipcode
Here are the highest and lowest Airbnb data by zipcodes in Florida, California, Texas, Arizona, and New York: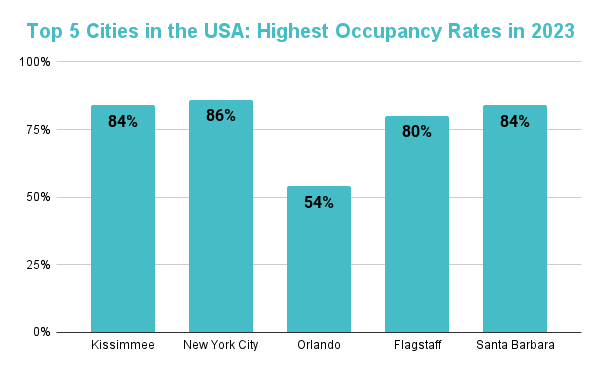 1.
FLORIDA
Florida's sunny weather and fascinating coastlines have definitely attracted returning tourists from across the globe. Here are the top 10 cities in Florida ranked from the highest and lowest occupancy rates with zipcodes:
City in Florida

Occupancy Rate

Zip codes

1. Kissimmee

84%

34741 - 34759

2. Sarasota

83%

34231 - 34249

3. Fort Lauderdale

77%

33301 - 33394

4. Jacksonville

73%

32202 - 32277

5. Tampa

71%

33602 - 33664

6. Miami

69%

33101 - 33206

7. Key West

69%

33040 - 33045

8. Naples

67%

34102 - 34120

9. Four Corners

67%

33896 - 34787

10. Orlando

54%

32801 - 32899
Kissimmee (34741 – 34759)
Airbnb Occupancy Rate: 84%
Average Daily Rate: $98
Annual Revenue: $35,464
Peak Season: March

Sarasota (34231 – 34249)
Airbnb Occupancy Rate: 83% 
Average Daily Rate: $187
Annual Revenue: $65,481
Peak Season: March

Fort Lauderdale (33301 – 33394)
Airbnb Occupancy Rate: 73% 
Average Daily Rate: $174
Annual Revenue: $49,713
Peak Season: March

Jacksonville (32202 – 32277)
Airbnb Occupancy Rate: 73% 
Average Daily Rate: $174
Annual Revenue: $49,713
Peak Season: March

Tampa (33602 – 33664)
Airbnb Occupancy Rate: 71% 
Average Daily Rate: $143
Annual Revenue: $40,872
Peak Season: February

Miami (33101 – 33206)
Airbnb Occupancy Rate: 69% 
Average Daily Rate: $180
Annual Revenue: $46,314
Peak Season: March

Key West (33040 – 33045)
Airbnb Occupancy Rate: 69% 
Average Daily Rate: $419
Annual Revenue: $112,721
Peak Season: March

Naples (34102 – 34120)
Airbnb Occupancy Rate: 67% 
Average Daily Rate: $255
Annual Revenue: $70,844
Peak Season: March

Four Corners (33896 – 34787)
Airbnb Occupancy Rate: 67% 
Average Daily Rate: $136
Annual Revenue: $36,529
Peak Season: July

Orlando (32801 – 32899)
Airbnb Occupancy Rate: 54% 
Average Daily Rate: $115
Annual Revenue: $27,828
Peak Season: February
2. CALIFORNIA
Popular as the home of actors in Hollywood, California has a large economy with several beaches and tourist destinations such as Disneyland. Here are the top 10 cities in California ranked from the highest and lowest occupancy rates with zipcodes:
City in California

Occupancy Rate

Zip codes

1. Santa Barbara

84%

93101 - 93190

2. Yosemite

84%

95389

3. San Francisco

80%

33301 - 33394

4. Long Beach

79%

90745 - 90899

5. Los Angeles

76%

94101 - 94188

6. San Diego

75%

34102 - 34120

7. Sacramento

62%

94203 - 94299

8. San Jose

61%

95103 - 95196

9. Palm Springs

59%

92258 - 92292

10. Fresno

30%

34231 - 34249
Santa Barbara (93101 – 93190)
Airbnb Occupancy Rate: 84%
Average Daily Rate: $269
Annual Revenue: $91,062
Peak Season: July

Yosemite (95389)
Airbnb Occupancy Rate: 84%
Average Daily Rate: $239
Annual Revenue: $77,168
Peak Season: July

Sacramento (94203 – 94299)
Airbnb Occupancy Rate: 62%
Average Daily Rate: $125
Annual Revenue: $30,286
Peak Season: July

San Jose (95103 – 95196)
Airbnb Occupancy Rate: 61%
Average Daily Rate: $125
Annual Revenue: $30,286
Peak Season: July

Long Beach (90745 – 90899)
Airbnb Occupancy Rate: 79%
Average Daily Rate: $159
Annual Revenue: $49,431
Peak Season: July

Palm Springs (92258 – 92292)
Airbnb Occupancy Rate: 59%
Average Daily Rate: $413
Annual Revenue: $85,254
Peak Season: March

Los Angeles (90001 – 90189)
Airbnb Occupancy Rate: 76%
Average Daily Rate: $148
Annual Revenue: $41,749
Peak Season: July

San Francisco (94101 – 94188)
Airbnb Occupancy Rate: 80%
Average Daily Rate: $144
Annual Revenue: $44,190
Peak Season: July

Fresno (93701 – 92199)
Airbnb Occupancy Rate: 30%
Average Daily Rate: $139
Annual Revenue: $21,318
Peak Season: January

San Diego (92101 – 34120)
Airbnb Occupancy Rate: 75%
Average Daily Rate: $238
Annual Revenue: $65,904
Peak Season: July
3.

TEXAS
Known as the second largest state in America, Texas is popular for its live music, hot temperature, and distinct culture. Here are the top 10 cities in Texas ranked from the highest and lowest occupancy rates:
City in Texas

Occupancy Rate

Zip codes

1. Irving

74%

75014 - 75064

2. Austin

72%

78701 - 78799

3. Frisco

71%