Last updated on June 21st, 2023
airbnb property investment Tucson
Are you looking to invest in an academic city with plenty of great passive income opportunities? Check out Tucson! This city's diverse culture and incredible cuisine are only a few of the reasons why plenty of tourists visit every year, but there's so much more to discover in Tucson. Known for being the hometown of world-renowned universities in the world, this city is ideal for property investors who want to engage with the student market.
On the other hand, it's highly recommended to learn about buying a property for Airbnb in order to make sure that it's profitable. To begin with, it's certainly important to consider the major costs and revenue before deciding to purchase a property in Tucson. Another excellent option is to do rental arbitrage in Tucson as it's fairly popular and does not require you to purchase a property.
Here's an interesting fact: Tucson is one of the best places to Airbnb in Arizona!
.

"The current state and potential growth of the Tucson economy indicate good returns for a real estate investor.
The Tucson real estate market has been booming and attracting a lot of interest from investors, corporations and households."

– Foothills Properties on Tucson Real Estate
Aside from looking at a property's fascinating architectural design, proximity to major tourist areas, and accessibility to the best go-to places, the primary step is to determine profitability. In this article, we'll discuss the metrics in order to gauge the best property investment.
This includes the best website recommendations for property investment in Tucson, property gross rental yield, cash-on-cash return, and annual revenue, along with some of the most ideal and profitable properties according to their location. Stoked to learn more? Continue reading!
Top reasons for buying an Airbnb Property in Tucson 
Best known for its sunny skies and desert landscapes, Tucson offers everyone the opportunity to immerse themselves in its natural surroundings and fascinating history. However, there's more to learn as to why we recommend purchasing a property in this city. Here are some of the major reasons why you should consider buying a property for Airbnb in Tucson:
1. You will find the real estate market here attractive
The housing market in Tucson offers a wide variety of property types as well as prices, so you won't need to dig deep to find an affordable house! The median property value in this city is $349k, trending up 7.7% year-over-year. 
2. The tourism industry in Tucson
Surrounded by the Sonoran Desert, Tucson is home to renowned places like the Saguaro National Park and the Arizona-Sonora Desert Museum that attract many travelers from many places! Thanks to its iconic landmarks, the tourism and accommodation sectors are one of the top contributors to Tucson's economy. In fact, this city welcomes over 1M visitors annually.
3. Affordable cost of living
Did you know that Tucson is one of the top cities in the US that has the lowest cost of living? That's another great aspect of Tucson! The cost of living here is 5% lower than the nation's average and 6% less expensive than in other cities in the state.
Expectations When Buying A Property in Tucson
Aside from the pros of investing in a property in Tucson, let's discuss some of the cons so you can know what to expect when living in this fascinating city. It's always better to look at the two sides of each coin in order to properly set your expectations!
1. Crime rate: Higher than the average
Sadly, one of the biggest downsides in Tucson is its significantly high crime rate. If we delve deeper into this matter, we will find out that the crime rate here is 84% higher than the national average. When it comes to property crime, the chance of becoming a victim is 1 in 25 based on the NeighborhoodScout report.
2. Fiery weather
It's a given fact that the sunny weather in Tucson allows locals and travelers alike to enjoy many outdoor activities without much hassle. However, that doesn't mean it's all rosy because its hot weather can get really unbearable at some point.
Best Neighborhoods for Airbnb in Tucson
Let's take a closer look at the important Airbnb key metrics to discover which is the most profitable neighborhood in Tucson. Filtered for a 1-bedroom apartment, here is a brief overview of some of the most recommended and profitable neighborhoods:
airbnb property investment Tucson
Annual Revenue: $41,722
Occupancy Rate: 89%
Average Daily Rate: $119
Annual Revenue: $38,783
Occupancy Rate: 88%
Average Daily Rate: $118
Annual Revenue: $39,276
Occupancy Rate: 87%
Average Daily Rate: $125
Is Property Investment Profitable in Tucson, AZ?
Using a short-term rental income calculator, it was discovered that a 2-bedroom apartment in Tucson City Center can generate an annual revenue of $50,730 with a steady occupancy rate of 79% and a nightly rate of $146.
airbnb property investment Tucson

Cheap Homes & Properties For Sale in Tucson, Arizona
Finding the best properties that have the potential to produce high yields and capital growth are certainly some of the preferences of major investors. It's always best to ask for assistance from real estate agents to access exclusive and unique properties during the development stage. 
At the same time, it's even better when a property investor like you conducts research about predicted growths and market forecasts. Here are some of the profitable properties in Tucson City Center along with the calculated gross rental yield, cash-on-cash return, and annual revenue.
Disclaimer:
The properties featured in this article are indicated as examples and there is a possibility that they have already been sold and removed from the website's listings.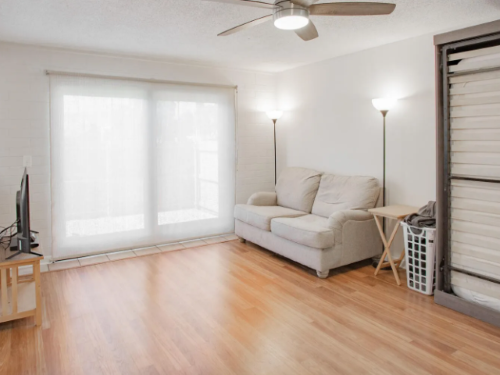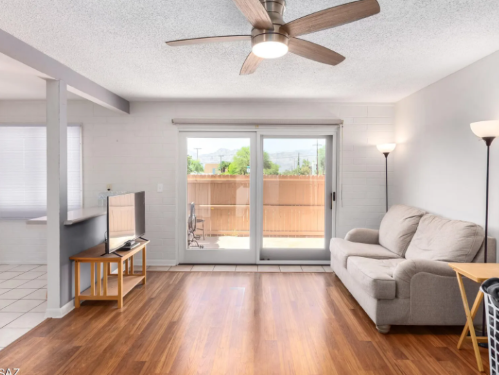 | | |
| --- | --- |
| GROSS RENTAL YIELD | 24.51% |
| ANNUAL REVENUE | $17,767. |
| CASH ON CASH RETURN | 47.75% |
| | |
| --- | --- |
| GROSS RENTAL YIELD | 32.51% |
| ANNUAL REVENUE | $18,203 |
| CASH ON CASH RETURN | 71.75% |
| | |
| --- | --- |
| GROSS RENTAL YIELD | 25.46% |
| ANNUAL REVENUE | $58,531 |
| CASH ON CASH RETURN | 50.61% |
| | |
| --- | --- |
| GROSS RENTAL YIELD | 26.41% |
| ANNUAL REVENUE | $31,425 |
| CASH ON CASH RETURN | 53.46% |
| | |
| --- | --- |
| GROSS RENTAL YIELD | 26.13% |
| ANNUAL REVENUE | $44,397 |
| CASH ON CASH RETURN | 52.63% |
Conclusion
Investing in a property is certainly an important decision that one needs to not only think about but also it's essential to conduct market research for accuracy. With the various recreational activities as well as an attractive real estate market in Tucson, it can generate a nice cash flow for property investors as long as the right neighborhood is targeted and potential revenue is calculated using an Airbnb rental arbitrage calculator. However, it would be a wise choice to look for a security system for your property if you invest here. While there are many other cities to invest in Arizona aside from Tucson, it's definitely worth the time & effort to speak with a short-term rental expert to make the wisest decision for property investment.