Last updated on June 22nd, 2023
If you want to start an Airbnb business in the UK, knowing the Airbnb rules in your preferred city is the first step! In this article, we featured Airbnb rules in Leeds along with short-term let policies, buy to let properties, things to consider in property investment, and more. Continue reading and learn more about the Airbnb regulations in Leeds!
Is Airbnb legal in Leeds? 
Don't worry, Airbnb is legal in Leeds! This modern and cosmopolitan city is considered the fourth largest urban area in the United Kingdom. You can find various shopping centers in Leeds as well as many leisure activities. On top of that, the city also offers exquisite gastronomy!
Here is a little proof! As of May 2022, there are 10,558 nights available in Leeds from Airbnb alone. Miroslav manages 23 listings, Charli, and Rhifa operates 20 and 20 respectively. 
How much can I make by running an Airbnb in Leeds?
Currently, there are 534 Airbnb listings in Leeds, with 57% of entire houses earning up to £2,134 a month. The Average Occupancy Rate in Leicester is 49% and the average daily rate is £109. According to short-term rental data source Airbtics, a 2-bedroom apartment in Leeds can make up to £37,264 each year. Check out our Airbnb Calculator!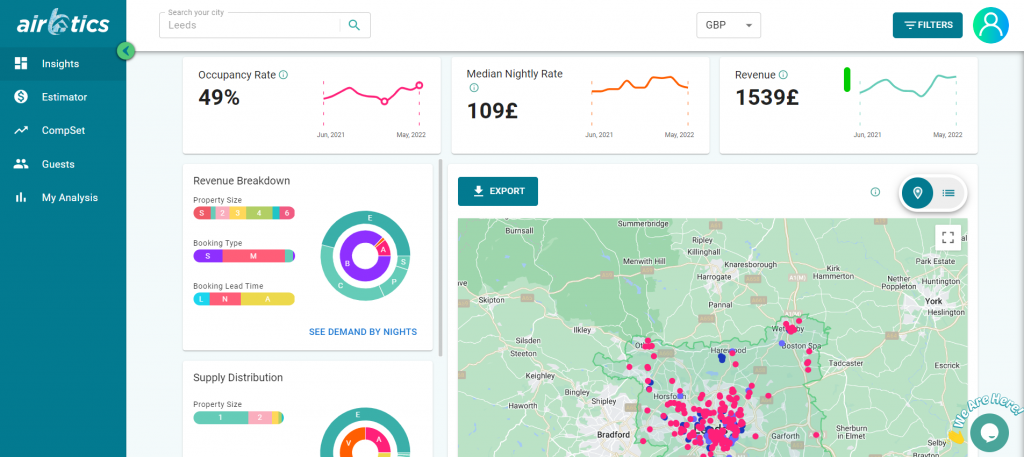 Short-term rental policy in Leeds
Mandatory Licensing of Houses in Multiple Occupation (HMO)
If the property consists of a mixture of self-contained flats and flats where the tenant has to go out of their flat usually through a communal area to make use of an amenity as described above (whether for their exclusive use or not), then this may require an HMO licence. In addition, properties let above commercial premises may require an HMO licence.
In order to even advertise your property, it is a legal requirement to have an EPC Energy Performance Certificates (EPC) for each property. Once an EPC is obtained, it is valid for 10 years unless the property is sold and a new EPC must be obtained at that point.
Employers' liability insurance is a legal requirement if you employ anyone at your holiday home – i.e. if you have a host, housekeeper, cleaner, or gardener.
If you have a mortgage, your lender will require you to have building insurance.
If the property is leasehold, the terms and conditions might prevent short-term letting, so check your lease and speak to the freeholder.

Buy to Let in Leeds
Having a buy-to-let property in Leeds is a practical investment because it has been a massive student city over the decades. This city in the UK caters to students who are looking for a low-cost place to study. 
Based on multiple reports, Leeds has increased rental growth demand over the years! Aside from its active student market, this city also generates about 5% of all UK economic output.
Property Investment in Leeds
If you are looking to buy investment properties in the UK, particularly in Leeds, you have to consider which areas are the most profitable. Whether it is located in the city centre or in the countryside, knowing your estimated annual revenue and high-return investment opportunities is important. Using an accurate Airbnb calculator, it shouldn't be a difficult task at all!
Buying A Property in Leeds
Once you have decided to buy a property, you have to consider the average price, population, nearby landmarks or attractions, and rental yields to expect – among the rest. Here are some of the most recommended areas in Leeds that you can look into & consider purchasing:
| Area | Population | Average House Price | Average Rent Price (pcm) | Average Airbnb Revenue | Yields |
| --- | --- | --- | --- | --- | --- |
| Leeds City Centre | 32,300 | £179,183 | £1,148 | £2,055 | Investors can expect a steady 5% yield from a Leeds city centre (LS1 postcode) apartment |
| Headingley (student central) | 32,150 | £216,734 | £845 | £1,443 | Buy to let landlords can make attractive yields of 7.4% |
| Woodhouse, Burley, and Hyde Park | 45,600 | £220,082 | £682 - £845 | £990 | Yields are a minimum of 5-6%. A good student investment property could return 9-10% or more |
Conclusion 
In my personal opinion, the biggest advantage of running a short-term rental is high return! I've talked to hundreds of Airbnb hosts over the past years and frequently met hosts making 15 – 30% gross rental yields, and 10-20% net. It's also fun to do!