Last updated on September 22nd, 2023
The United Kingdom is known as the home of both modern parliamentary democracy and the industrial revolution. It is the first industrialized country in the world and has an incredible source of historical, cultural, and culinary richness! 
UK's economic forecast is projected to increase by 3.6% and the number of tourist arrivals is forecasted to increase by 21.1 million by the end of 2022. Relatively, cities in the UK have the highest occupancy rate along with whopping annual revenue of £26,937 according to Airbnb occupancy rates by city. With these facts provided, starting an Airbnb business in the United Kingdom is an ideal investment to earn money this year! 
In this article, we featured all the things you need to consider before starting an Airbnb business in the UK. This includes rules & regulations, different kinds of mortgages, upfront and ongoing costs, and the like. Continue reading to learn more!
UK's Rules & Regulations 
Before starting an Airbnb business in the UK, it's important to understand the certain rules and regulations that you have to consider. Here are some of the major short-term regulations that you have to follow in the UK: 
The letting must NOT be for longer than 31 continuous days

. (A period longer than 31 days is deemed to be a 'long' stay) 

The let property needs to be

made available for rent for at least 210 days in a tax year

 

The rental needs to be actually

let for at least 105 days of that tax year

, for periods shorter than 31 days at a time. 
If you would like to let your property for a number of months out of season, you can opt for an assured tenancy or an assured shorthold tenancy.
Rules & Regulations per city in the UK
Since there are various short-term regulations per city in the UK, you will also have to go through each law to make sure that your expectations are met. Learn more about the general legislation, short-term rental policies, Airbnb data, and other relevant info for each major city in the UK:
1. London Rules & Regulations 
London is the capital city of England & the United Kingdom and is known as one of the most visited cities in the world. Here are some of the Airbnb rules in London:

90 days (without a permit)
No limit on renting out a portion of your home

as long as you live there

Liable to pay

council tax 
A planning permit

is necessary for

more than 90 days rent
2. Edinburgh Rules & Regulations
Edinburgh is considered the world's best festival city filled with culture, comedy, and literary arts. Here are some of the Airbnb rules in Edinburgh:
Planning permission

is necessary to change their residential dwelling to short-term visitor accommodation

Check to see if a

Building Warrant is required

to operate your Short Term or Holiday Let as a non-domestic use (more than 6 visitors) and/or alterations to the property.

Ensure you have a v

alid legal contract

with the visitors staying on the property.

Check the

implications of renting your property

for your mortgage and tax purposes and check your title deeds for any conditions that would prevent the property from being used for a Short Term Let

Ensure you have the

correct landlord insurance

in place.

Ensure you ha

ve

an

Energy Performance Certificate (EPC) t

hat has been issued in the last

10 years.



3. Cornwall Rules & Regulations
Cornwall is a seaside paradise located in southwestern England and is best known for its fishing harbors and lush countryside. Here are some of the Airbnb rules in Cornwall:

Short-term rental arrangements in

'residential zoning districts' are NOT allowed
Compulsory registration system

4. Manchester Rules & Regulations
Manchester is the largest metropolitan area in the north of England and it remains an important regional city. Here are some of the

Airbnb rules in Manchester

:



90-day limit (without a permit)

Compliance with

Board of Health regulations and Fire 
Name of a local authorized agent who can act on behalf of the owner in the absence of the owner

in the case of any problems, violations or emergencies

Agreement to

maintain a guest registry

showing the name of each guest and the night(s) of their stay. 
5. Birmingham Rules & Regulations
Birmingham is the largest city in the West Midlands conurbation and is one of England's principal industrial and commercial areas. Here are some of the Airbnb rules in Birmingham:
Prohibits short-term rentals of less than 30 days

Prohibits short-term rentals of less than

90 days in low-density

residential areas

Purchasing an Investment Property in the UK
You can purchase an investment property in the UK by considering the different kinds of mortgages, upfront and ongoing costs, and other expenses associated with your preferred property.
Average Property Prices in the UK

Property Types

Detached

Semi-Detached

Terraced

Flats

Average Price

£391,747

£245,218

£207,267

£218, 829
Average Property Prices in London

Property Types

Detached

Semi-Detached

Terraced

Flats

Average Price

£1,088,765

£682,453

£574,983

£443,216
Average Property Prices in Wales

Property Types

Detached

Semi-Detached

Terraced

Flats

Average Price

£326,907

£205,379

£164,838

£133,082
Airbnb Rental Arbitrage in the UK
If you prefer to rent a property instead of owning one, then you can definitely do so through Airbnb rental arbitrage in the UK! You can expect to spend around £2,500 to £4,000. This cost consists of everything including the deposit, furnishing, amenities, legal paperwork, and LLC Incorporation. Learn everything you need to know through the ultimate rental arbitrage guide & start earning profit anywhere in the UK!
How to Find a Profitable Area in the UK
Location analysis must be one of your top priorities when deciding on a rental location in order to increase profitability during such volatile times, especially while the pandemic continues to impact the rental market. 
The perfect way to find the best places to buy Airbnb property UK is by looking at an accurate Airbnb Market Dashboard & start comparing the profit of your competitors in your preferred location.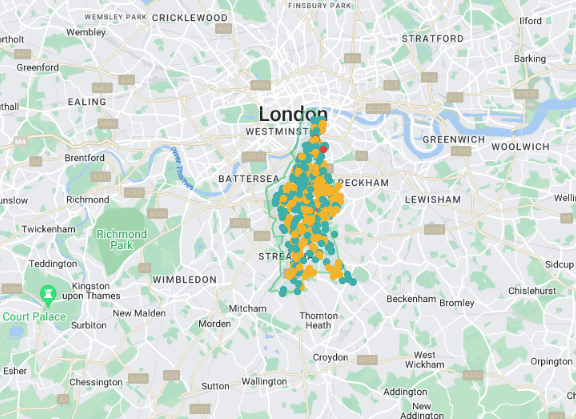 Essential Airbnb Data in the UK
The majority of cities in the UK have been recognized from all over the world for perfection & their primary impact on tourism & economic standing. This includes the cities of London and Edinburgh based on recent research about occupancy rates by city.
What are the Most Profitable Boroughs in London? 
Airbnb occupancy rates in London have provided profitable results over the past few years. Here are the top 5 highest & lowest boroughs in London based on their respective annual revenues: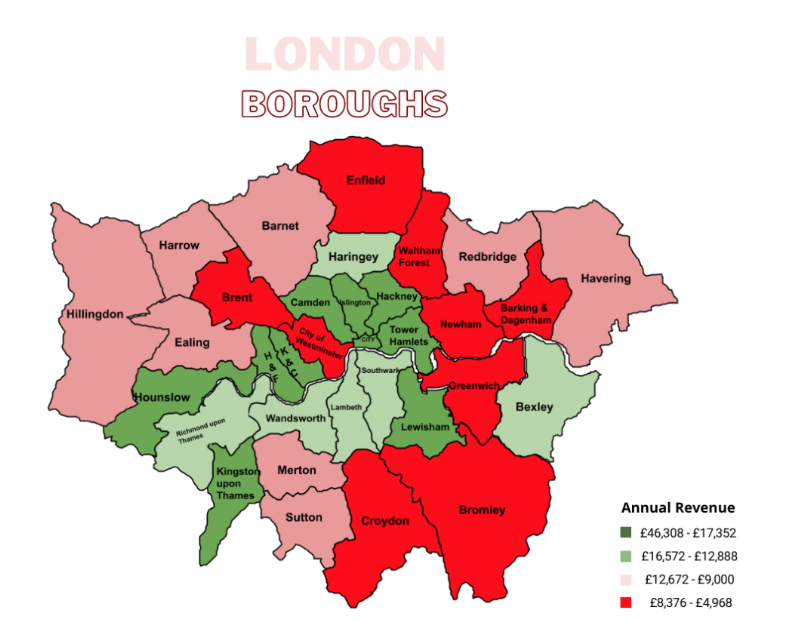 1. Hounslow – £46,308 
2. Lewisham – £32,9523 
3. Islington – £25,584 
4. Kingston upon Thames – £24,936 
5. Camden – £22,968
5 Excellent Airbnb Hosting Tips in the UK
1. Learn About Startup Costs
To begin with, it's important to have an overview of Airbnb Startup Costs in order to prepare for the total expenses. Here's a summary of the overall expenses per amenities:
| List of Amenities | Expenses |
| --- | --- |
| Room Amenities (two-bedroom | £3,365 per unit |
| Hardware Essentials | £1,304 |
| Cameras | £2,103 per property |
| Kitchen Utensils | £841 |
| Decorations | £84,14 per room |
| Fresh Paint (with labor and supplies) | £1,682 per unit |
| Misc. Supplies | £420 per unit |
Relatively, it's important to learn about the process of Airbnb investment, legal considerations, and key metrics for successful Airbnb hosting. With the help of the Airbnb Investment Guide, you'll be able to get started and have professional knowledge in starting an Airbnb business in the UK!
However, if you are on a limited budget, you can still fulfill your dreams of starting an Airbnb! Start by choosing the right location, creating a business plan, and being able to properly start an Airbnb with a minimal budget.
2. Utilize the Best Hosting Tools
Whether you are a newbie or a pro in the Airbnb industry, there's no denying that Airbnb hosting tools play a huge role in the overall success of your business. Not only will these tools help you save time and energy, but they will also help you get better reviews and earn more revenue. This includes property management tools, message automation, and market research software.
Managing Airbnb listings alone can already be a difficult task especially if you don't have much time to focus your attention on the properties that you're handling all at the same time. 
Utilizing short-term rental data analytics such as Airbtics, Mashvisor, AirdDNA, and AllTheRooms can help you present & analyze data to create a strategic analysis for your Airbnb market research. You can also look at the 5 Best AirDNA alternatives in 2022 with vast free & paid options. 
3. Essential Airbnb Amenities
Once you have set your eyes on a particular property in the United Kingdom and successfully went through all the necessary documentation, don't forget to add the essential Airbnb Amenities! 
Although it's not necessary to add High-End Airbnb Amenities, you'd be surprised to know that there are affordable ones with great quality on the market. Relatively, there are also suitable amenities for vacation rental homes including a sweet welcome package & a local guidebook. 
Finally, if you're simply forgetful and need a summarized checklist of Airbnb Amenities, feel free to download it in PDF!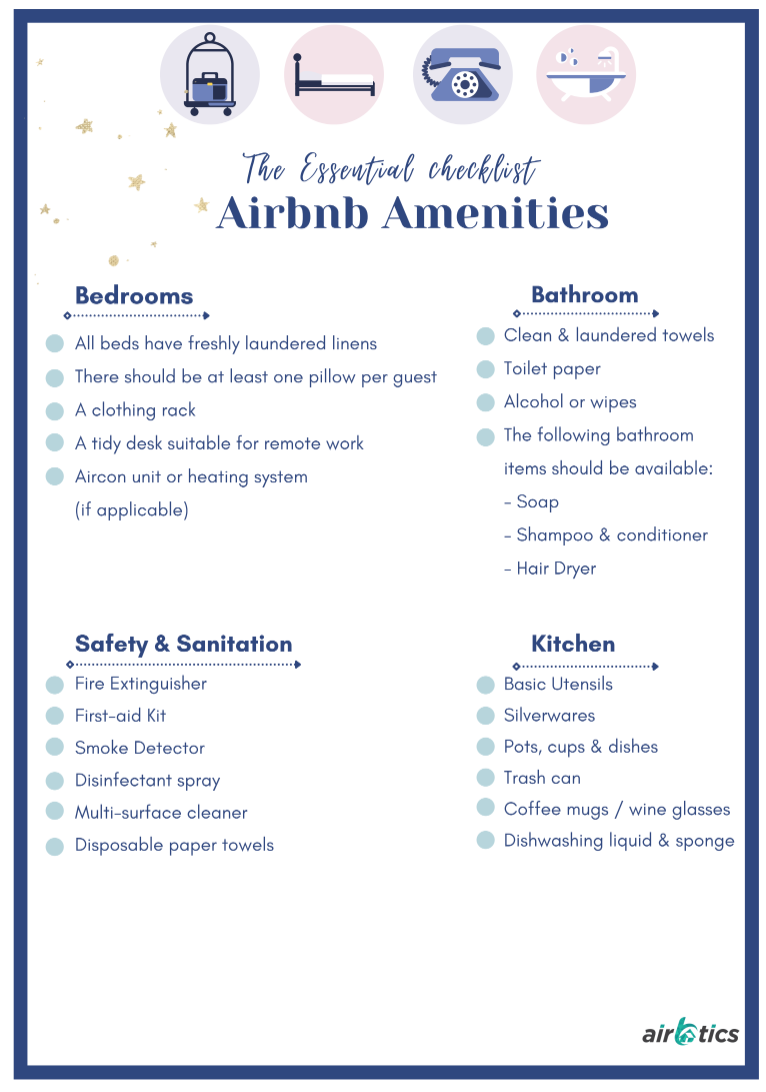 4. Effective Strategies for Promoting Airbnb Listings
It's a given fact that constantly improving your listings will help to maximize your Airbnb revenue & get the highest occupancy rates. The best way to showcase the details of your Airbnb listing is through the power of advertisement! Some of the effective strategies for Promoting Airbnb Listings are:
Prioritize Booking Channels

Promote Airbnb listings by ranking on SEO (Search Engine Optimization)

Coordinate with your Local Tourism Council

Ask your Recent Guests to Leave Feedback
5. Know the Right Words to Say with Airbnb Message Templates
It could be a struggle to know what to say when your property is fully booked with guests!  Earn their trust & win your guests' hearts by sending out the perfect Airbnb Welcome Letter Templates.