Discover the most profitable UK Airbnb markets around where you live.
Comprehensive Exploration of Short-term rental & Real Estate Trends in the Top 40 UK Cities for Prime Airbnb Investments! Find the best places to own and invest an Airbnb.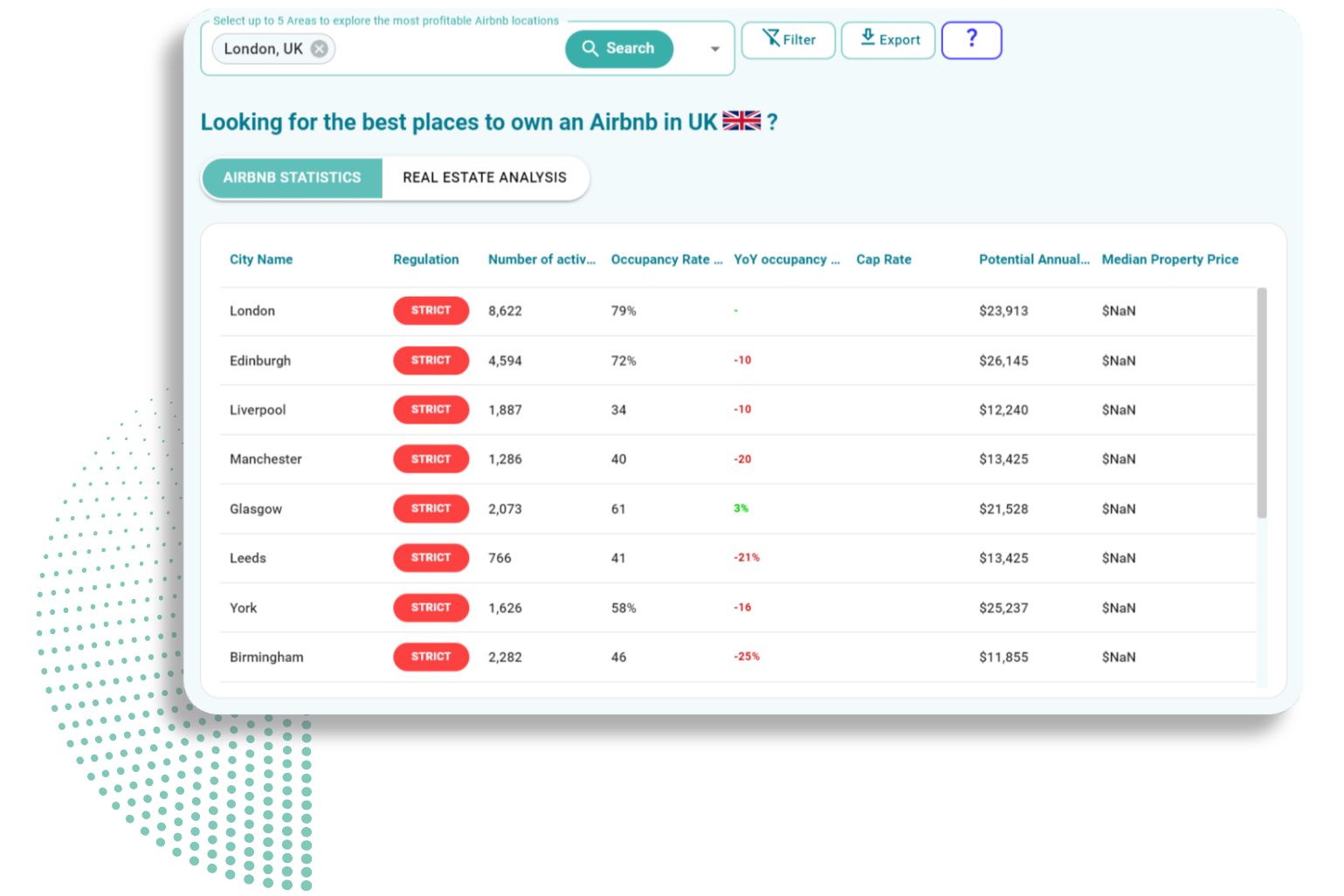 Airbnb Statistics UK
The United Kingdom stands as a symbol of historical grandeur, cultural diversity, and economic resilience that has continued to attract tourists and migrants from all over the world. These have made the UK one of the most coveted real estate markets. In recent years, real estate investment has expanded to short-term rentals. This has made Airbnb a viable means for another profitable income stream. 
Contrary to what most people think, success in Airbnb investing in the United Kingdom does not come easy. In fact, selecting the best cities to invest in the UK already poses a challenge right at the beginning. 
This is where short-term rental data analytics can lend a hand to property investors. So, this article will cover Airbnb statistics by city. This includes Airbnb occupancy rates by city in the UK and Airbnb cap rate, among others. All these metrics will be useful to leading investors only to the best places to buy Airbnb property in the UK.
Methodology For Airbnb Analytics UK
Informed by the latest and most comprehensive Airbnb data for the UK, our team has explored various urban centers across the country. This journey took us from  London to the welcoming city of Glasgow. Leveraging the advanced capabilities of Airbtics' Dashboard, we've curated an expansive dataset showcasing the earnings from short-term rentals in these UK cities throughout the past year.
Subsequently, we delved into the median property prices in these areas. This investigation enabled us to gauge the potential income that a market could offer in relation to its property expenses. This analysis resulted in the computation of the gross rental yield. Following a thorough assessment of these areas, we've compiled a list of the leading 40 cities that present the most promising opportunities for lucrative Airbnb investments in the UK market.
Where are the best places to buy Airbnb in the UK?
Several measurable factors can influence the financial performance of an Airbnb market. Analyzing these aspects leads to a data-driven investment approach that can assist UK investors in identifying the most profitable Airbnb locations. 
Airbnb statistics
Real estate analysis
Median Property Price
Before entering an Airbnb market, it is important to assess the real estate cost by checking its median property valuation to have an idea of its overall price range. This median property price represents the middle point among all properties on sale, arranged in ascending order from the least to the most expensive. The higher segment comprises the most expensive, while the lower segment constitutes the more reasonably priced properties. 
Total Number of Active Airbnb Listings in the UK
The number of active listings shows how many properties are currently available for booking on Airbnb. This gives you an idea of the supply of short-term rental units and the level of competition in a specific area. It's useful for property investors to understand the rental landscape.
Airbnb Occupancy Rate
This pertains to the percentage of time that an Airbnb property is occupied. This is calculated by dividing the total nights the property is booked by the overall number of nights that the properties are available on Airbnb within a particular period. A strong demand is indicated by a higher occupancy rate, resulting in increased earnings.
# of nights booked
——————————
Total nights available
# of nights booked
—————
Total nights available
Airbnb Annual Revenue
This is the projected income a property within a market could generate over a year. Based on the market's average daily rate and occupancy rate, this number provides an estimate of the property's potential earnings before expenses. 
Some investors might want to know the average Airbnb income UK using STR data to have a head start in their search. Fortunately, they can optimize the profitability by getting the right property type and the best number of bedrooms in their prospective market.
What Is A Good Cap Rate In The UK For Real Estate?
A favorable capitalization rate typically falls between 5% and 10% in the UK property market. Properties positioned at the upper end of this range might indicate a more substantial return compared to their market value. Conversely, a lower cap rate indicates that your investment yields relatively less income. However, a cap rate exceeding 10% might signal potential risks such as uncertain income prospects.
The cap rate is a metric that gauges how quickly a property turns profitable. It's a valuable tool for assessing different real estate investment options. To calculate it, you need to divide the property's net income (income generated from rent after deducting expenses like taxes and upkeep) by its current market value.
Property's net income
—————–
Current market price
Property's net income
——————————-
Current market price
Best Airbnb Friendly Cities In The UK
We have established a standardized system to assess how accommodating Airbnb regulations are in major cities across the United Kingdom. Our evaluation considers factors such as zoning regulations (1 point), limitations on hosting days (1 point), and the level of local taxes, which are grouped as follows: 1 point for rates below 5%, 2 points for rates between 6% and 10%, and 3 points for rates of 11% and above.
With this organized scoring framework that considers these factors, prospective investors can identify the optimal locality that aligns better with their investment objectives. However, it's important to note that lenient Airbnb regulations don't automatically ensure high profitability in these jurisdictions. Instead, Airbnb investors can use this system to simplify their search in terms of the ease of conducting short-term rental operations.
What Are the Risks of Investing in Airbnb?
Airbnb in the UK has the potential to generate substantial profits. However, its predictability differs from the consistent monthly returns commonly associated with traditional long-term rentals. This variability is due to the seasonal nature inherent in short-term rental trends. This cyclic pattern of high demand and low activity is noticeable even in sought-after global tourist hubs.
The hospitality industry, including Airbnb, proves to be particularly sensitive during economic downturns. Given that travel is often viewed as a luxury, this vulnerability can adversely impact the average nightly rates and occupancy levels – both exerting significant influence on earnings.
Around the world, Airbnb hosts and investors encounter the intricate realm of short-term rental regulations. These regulations vary depending on the local government's jurisdiction. The introduction of limitations on maximum booking nights and the allocation of specific zones for short-term rentals can profoundly shape your Airbnb business.
Should there be a tightening of Airbnb regulations in your city, your booking opportunities might dwindle. This could subsequently decrease the overall demand for short-term rentals. The ever-evolving Airbnb regulations in your locale can definitely create uncertainty in executing your investment strategies and achieving your long-term goals.
But Airbnb has remained popular despite these factors. In fact, this widespread popularity leads to heightened competition among hosts. This can lead to another risk. If numerous hosts in your vicinity offer Airbnb rentals, attracting guests and maintaining a favorable occupancy rate could pose increased challenges for you.
Frequently Asked Questions
How to Find A Good Airbnb Property in the UK?
Start by exploring your preferred Airbnb markets in the UK. Take into consideration their short-term rental regulations, demand trends, and property prices. Start your research the best way by using Airbnb data to gather essential insights into the prominent areas in the UK suitable for Airbnb investing and hosting.
How to find Airbnb Occupancy Rates?
Access this valuable information from Airbtics's Insights Tab. This tab also shows other data points such as annual revenue, average daily rates, and many more.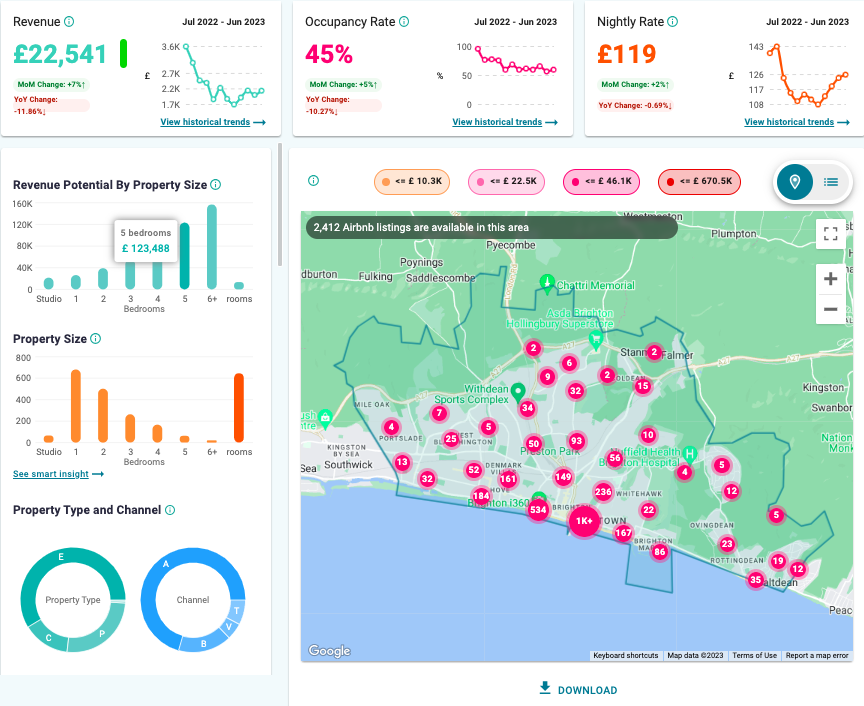 Airbnb occupancy rate shows how often a listing gets booked, drawing from historical records, seasonal variations, and month-to-month as well as year-over-year fluctuations. These rates also mirror the prevailing demand in your specific market.
Where To Get Airbnb Statistics of the Top Cities in the UK?
You can access free Airbnb statistics for the UK through a sample report. For a more comprehensive understanding of short-term rental trends, consider investing in a UK Short-Term Rental Report. This resource holds invaluable insights to optimize your Airbnb investment strategy.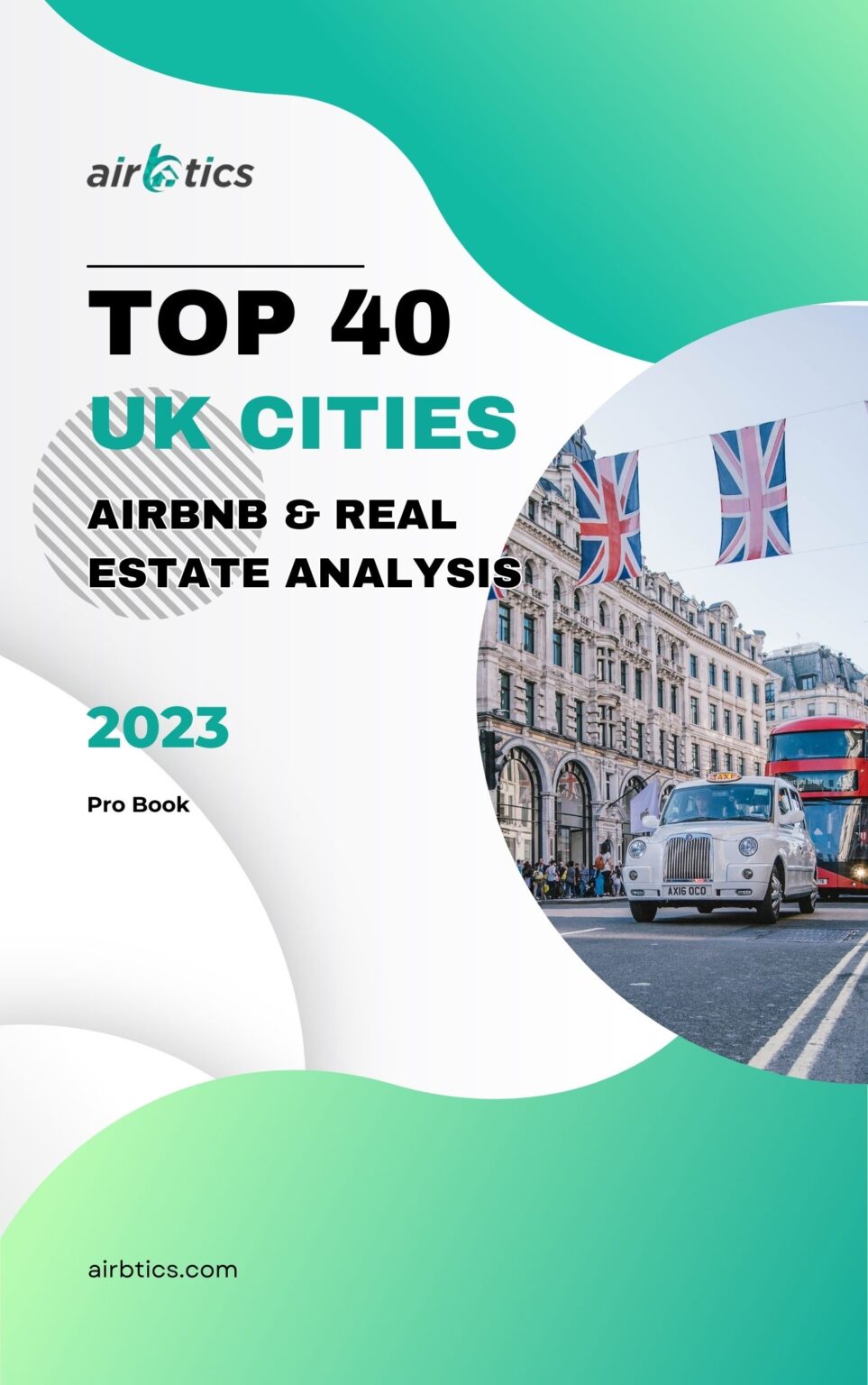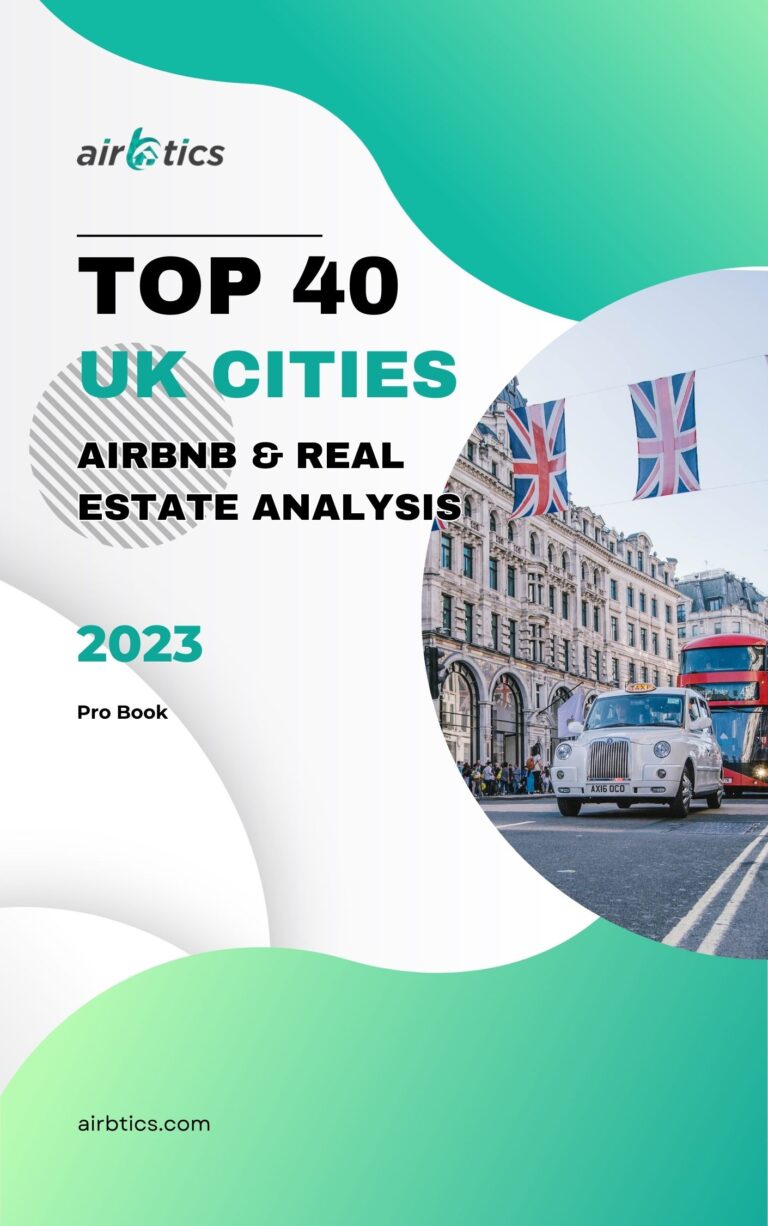 Deeper

STR

Insights.

Broader Investment

Opportunities.



Want to go deeper, broader, and faster? Supercharge your Airbnb Investment by accessing the most in-depth Airbnb & real estate insights with our exclusive STR report.
How much can you earn from Airbnb UK 
Simplify the process with the help of our free Airbnb Profit Calculator. Visualize your Airbnb's future earnings effortlessly with just a few clicks!
Where Is The Best Place To Own An Airbnb in the UK?
Determining the ideal location for your Airbnb is influenced by various factors, including local demand, regulations, and personal preferences. Seek out markets that align with your investment objectives. While finding the perfect spot might require some time, leveraging data analytics can accelerate your property search.
Want to explore Airbnb insights in other countries?