Last updated on December 13th, 2022
If you are looking to buy investment properties in Canada, knowing the Airbnb rules in your preferred city is the first step. It's also important to consider the occupancy rates in Canada in order to have successful investment & long-term profitability! In this article, we featured Airbnb regulations in Montreal along with short-term let policies, rental properties, things to consider in property investment, and more. Continue reading and learn more about the Airbnb rules in Montreal.
Is Airbnb legal in Montreal? 
Don't worry, Airbnb is legal in Montreal! This city is home to many spectacular festivals and is considered a major industrial centre.
Here is a little proof! As of August 2022, there are 83,618 nights available in Montreal from Airbnb alone. Samuel manages 73 listings, while Louis and Corporate Stays operates 56  and 51 respectively. 
How much can I make by running an Airbnb in Montreal?
Currently, there are 5,853 Airbnb listings in Montreal, with 62% of entire houses earning up to C$3,473 a month. The Average Occupancy Rate in Montreal is 57% and the average daily rate is C$170. According to short-term rental market data source Airbtics, a 2-bedroom apartment in Montreal can make up to C$52,078 each year. Check out our Airbnb Calculator to know how much profit can you make while doing short-term rentals!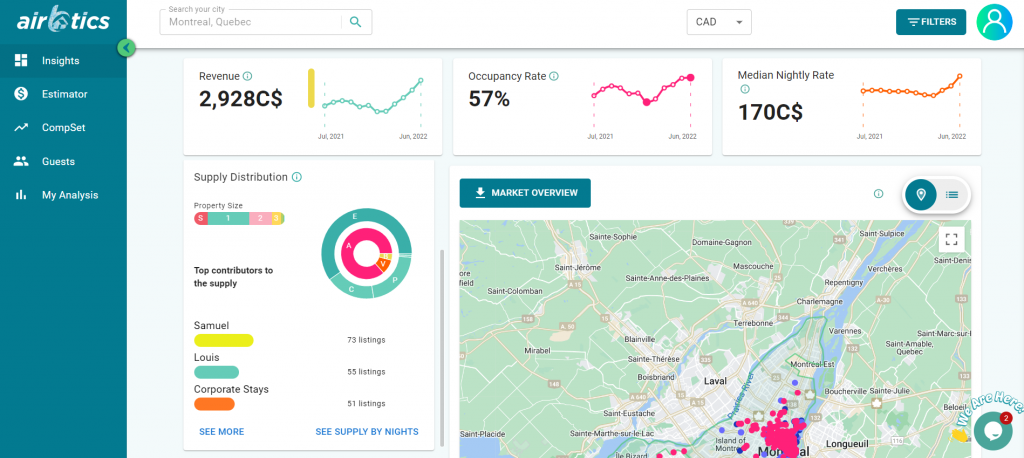 Short-term Rental Policy in Montreal
To rent accommodations to tourists in Montréal for 31 days or fewer, you need an

establishment number and a classification certificate

issued by the

Corporation de l'Industrie Touristique du Québec.
It is required to put your establishment number

on any advertisement to rent your space, whether online or offline.

Contact your permits c

ounter to find out if your home is in an authorized area. A commercial or professional activity occupancy permit can then be issued.

If you are renting out your

primary residence

, you are not required to get a certificate of classification, unless you wish to do so. Nevertheless, other

restrictions may apply depending on your municipalities regulations.

In Montreal, short-term tourist rentals are regulated by boroughs. You will need to find out if you are authorized to operate a tourist home in your borough and what the regulations are based on the

city's webpage

.

Rental Demand in Montreal
There are many hosts who are doing rental arbitrage in Canada as it does not require you to own a property. Based on a recent Montreal rent report, the average rent price has been a bit lower by $22 after 5 months of being stable this August of 2022.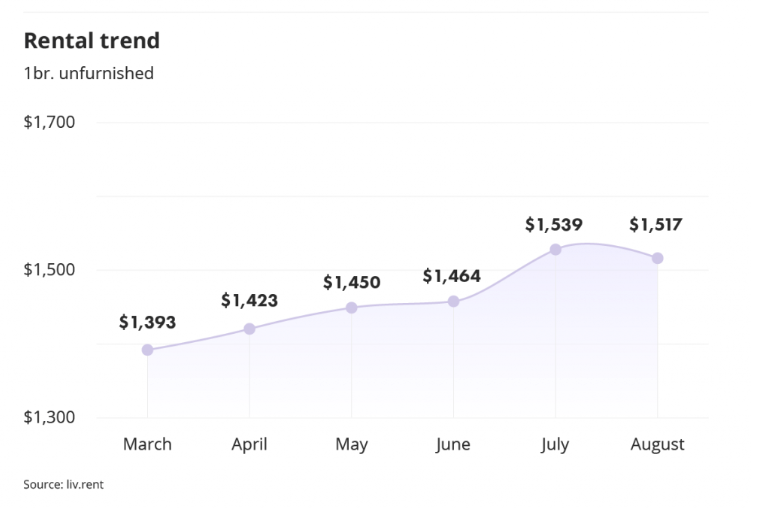 Source: Montreal Rental Demand
Rental Properties in Montreal
Once you have decided to buy a property, you have to consider the average price, population, nearby landmarks or attractions, and rental yields to expect – among the rest. It could be a challenge to find rented properties in Montreal, so here are some of the most recommended areas that you can look into & consider purchasing:
| Area | Average House Price | Average Rent Price (pcm) | Average Airbnb Revenue |
| --- | --- | --- | --- |
| Griffintown | C$298,000 | C$1,400 | C$2,026 |
| The Old Port (Vieux-Montreal) | C$576,760 | C$1,725 | C$2,405 |
| Rosemont-Petite Patrie | C$699,000 | C$1,032 | C$2,065 |
Conclusion 
In my personal opinion, the biggest advantage of running a short-term rental is high return! I've talked to hundreds of Airbnb hosts over the past years and frequently met hosts making 15-30% gross rental yields, and 10-20% net. It's also fun to do!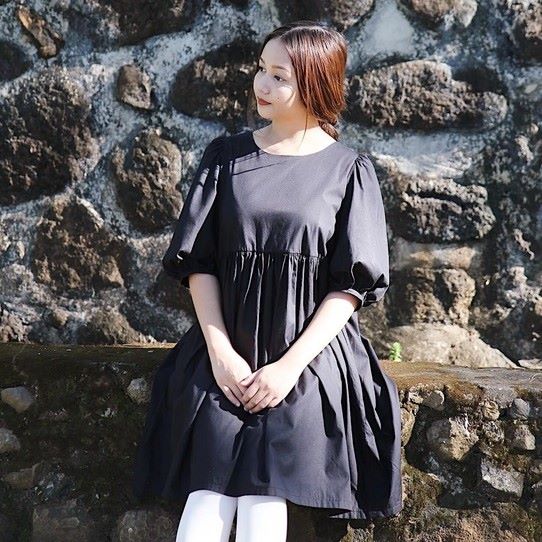 Robyn is a passionate content writer about short-term rentals and is dedicated to research & sharing property investment strategies and analysis worldwide. She is a graduate of Alliance Française de Manille, a songwriter, an animal advocate, and an avid fan of The Beatles since birth.