Last updated on June 23rd, 2023
If you are looking to buy investment properties in the UK, knowing the Airbnb rules in your preferred city is the first step! In this article, we featured Airbnb regulations in Sheffield along with short-term let policies, buy to let properties, things to consider in property investment, and more. Continue reading and learn more about the Airbnb rules in Sheffield!
Is Airbnb legal in Sheffield? 
Don't worry, Airbnb is legal in Sheffield! Also known as The Outdoor City, Sheffield is considered one of the greenest cities in England with the Peak National Park within its boundary. Aside from its wonderful natural landscapes, the city also offers fascinating cultural & historical attractions.
Here is a little proof! As of May 2022, there are 7,873 nights available in Sheffield from Airbnb alone. Miroslav manages 37 listings, Atanas and Stephanie operate 31 and 26 respectively. 
How much can I make by running an Airbnb in Sheffield?
Currently, there are 390 Airbnb listings in Sheffield, with 52% of entire houses earning up to £2,198 a month. The Average Occupancy Rate in Sheffield is 48% and the average daily rate is £139. According to vacation rental properties data source Airbtics, a 2-bedroom apartment in Sheffield can make up to £30,937 each year. Find out how much can you make on Airbnb!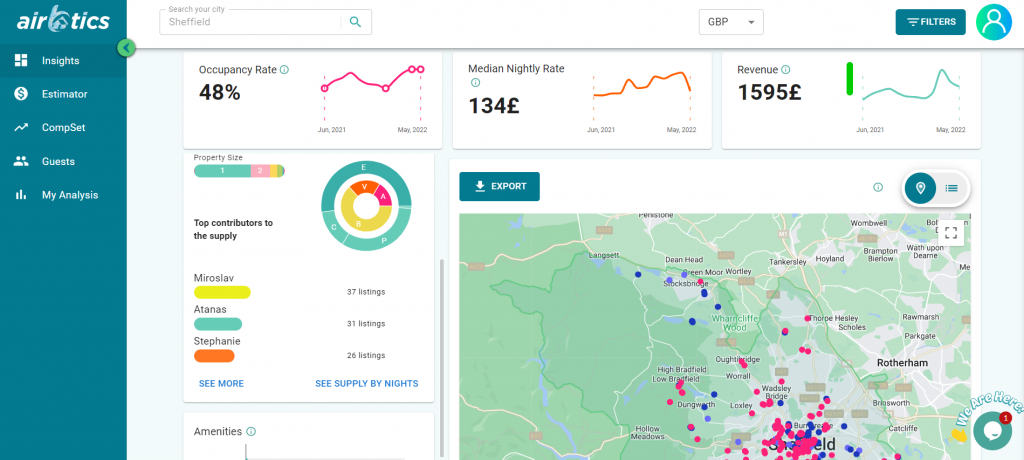 Short-term rental policy in Sheeffield
Register with the Private Rented Solutions Scheme.




If you have more than one property to rent you will need to submit a separate registration form for each one.




It is required to pay a

Council tax in Sheffield

Buy to Let Properties in Sheffield
Having a buy-to-let property in Sheffield is an ideal investment because it is amongst the fastest-growing cities in the UK. Sheffield is perfect for property investors because of its hi-tech future & high-paying jobs, which creates a skyrocketing demand for property to buy and rent. 
Property Investment in Sheffield
If you are looking to start an Airbnb business in the UK, particularly in Sheffield, you have to consider which areas are the most profitable. Whether it is located in the city centre or in the countryside, knowing your estimated annual revenue and high-return investment opportunities is important. Using an accurate Airbnb estimator, it shouldn't be a difficult task at all!
Rented Properties in Sheffield
Once you have decided to buy a property, you have to consider the average price, population, nearby landmarks or attractions, and rental yields to expect – among the rest. It could be a challenge to find rented properties in Sheffield, so here are some of the most recommended areas that you can look into & consider purchasing:
| Area | Population | Average House Price | Average Rent Price (pcm) | Average Airbnb Revenue | Yields |
| --- | --- | --- | --- | --- | --- |
| City Centre | 30,000 | £114,200 | £894 | £1,621 | Buy To Let Yield map reports strong yields are possible here with 6.85% in S1. |
| West Sheffield | 192,000 | £190,000 - £330,000 | £900 | £1,843 | Higher than average prices mean yields here (based on S6, S10 and S11 postcodes) are in the 3%- 4% region although a student-shared property could return double that. |
| South West Sheffield | 63,000 | £240,000-£390,000 | £700 - £900 | £1,935 | Yields are tight in the pricier areas like this, around 3%. Yields are tight in the pricier areas like this, around 3%. |
Buying A Property in Sheffield
Buying a property in Sheffield with an impressive rental yield is an excellent way to have a passive income. It's also one of the cheapest cities in England to buy a property. Sheffield is a huge university city with student housing located almost anywhere, so property investors in this city are aiming to buy more properties. By looking at the following property investment websites such as Zoopla & On The Market, you can get a grasp of the various prices in Sheffield.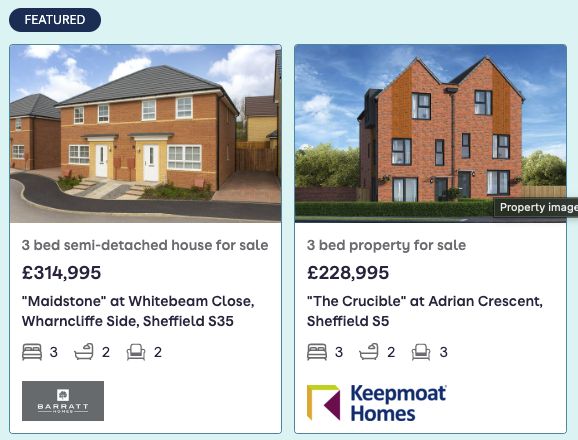 Conclusion 
In my personal opinion, the biggest advantage of running a short-term rental is high return! I've talked to hundreds of Airbnb hosts over the past years and frequently met hosts making 15 – 30% gross rental yields, and 10-20% net. It's also fun to do!