Last updated on June 22nd, 2023
Airbtics is proud to present one of its innovative features that are set to be launched this month! Aside from Airbnb data, we now have integrated VRBO, Booking.com, and Tripadvisor data into our platform. Built to provide state-of-the-art competitive strategies for Airbnb entrepreneurs & investors across the globe, Airbtics' new feature is designed to discover high returns and visualize long-term profitability on different booking channels.
Recognized as one of the most accurate short-term rental data providers in the industry, Airbtics is committed to showcasing the utmost data quality that comes in handy for Airbnb entrepreneurs & property investors to make the sharpest decisions – now more than ever!
We understand what it's like to stay afloat in a rapidly changing industry with various competitors and we are dedicated to helping our clients' major struggles in the process. 
As the product manager and software engineer, I wanted to create a definitive solution to exceed our client's expectations and help them meet their long-term investment goals. So I met up with Airbtics' founder & worked together with the tech team in Spain – and we came up with excellent solutions and designed new features that will remain advantageous for Airbnb entrepreneurs in the long run.
Presenting Airbtics' Innovative Feature: 
Booking.com, Trip Advisor, and VRBO Data!
This new feature of Airbtics allows Airbnb entrepreneurs to have knowledge of different booking channels in a specific market that will help them receive maximum revenue & return on investment. It's a fact that you can get more bookings by listing your property on multiple booking sites, so this new feature of Airbtics gives you the superpower to do just that!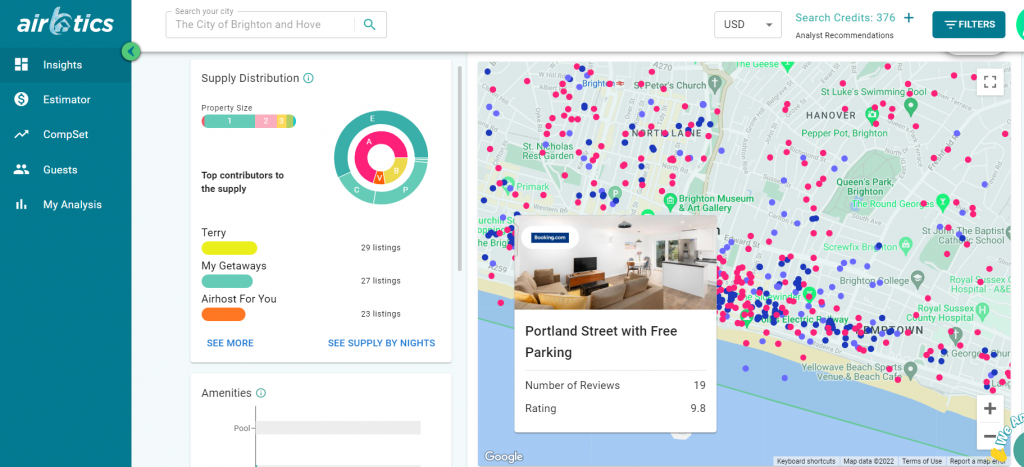 It's crucial for Airbnb entrepreneurs to depend on their listing's success based on rough numbers. With the help of the 4 channel integration, they can now have an outlook on other booking channels such as VRBO, booking.com, and Trip Advisor – and choose which one to prioritize! 
As Airbtics strives to consistently provide accurate data analytics, this feature will be extremely beneficial to all the users to foresee uncertainties & properly strategize by looking at the numbers of each booking channel in their area.

Individual Marker
If you ever wondered about investing in a certain area & would like to see how each Airbnb host (aka competitors) is performing, you can definitely do so! With this exciting feature, Airbnb entrepreneurs & investors can easily grasp whether it's worth investing in an area or not. Don't waste hard-earned money – make wise decisions based on accurate data!

Host Insights
Each host may earn differently depending on their property size, the number of listings owned, and other factors that affect their listings including the number of reviews & ratings. With this feature, Airbnb entrepreneurs & investors can view and inspect similar listings and make an informed decision.
Historical Performance
By evaluating multiple competitors in the preferred area, Airbnb entrepreneurs can easily access & analyze the most important key metrics such as the Average Daily Rate (ADR), Occupancy Rates, and Annual Revenue. Will it still be profitable in the next few years, or not?

Long-Term

Advantages of Airbtics' New Features

Airbtics' new compelling features have officially been launched! As we are dedicated to continuously providing paramount data quality to our clients from all over the world, the new features are designed to boomerang enormous advantages and long-term profit to Airbnb entrepreneurs, managers, and investors. 
One of the recently launched features is the Analyst Recommendations for Airbnb entrepreneurs & investors to help make the best investment decisions by looking at multiple emerging markets & their potential revenue. This new feature aims to help create a strategic planning technique and makes investment analysis efficient.