Last updated on June 21st, 2023
Before buying an Airbnb property, it's important to do your research and conduct property sourcing. While most investors ask for help from real estate agents, their knowledge can be limited to a specific area only. 
If you want to know how to look for a good STR investment – this article will guide you through this process! 
In this blog, we'll feature an actual case study from an Airbtics client who has successfully found a profitable property for Airbnb. Continue reading to learn more.
Client: Partnership investors who are interested in property investment. Particularly studio-types, and 1-2 bedroom properties in the following locations:

Granada, Valencia, and Seville (Spain)
Figueira da Foz and Ericeira (Portugal)

Client's Goal:
The goal is to buy 2 properties with a budget of €140,000. Airbtics' property sourcing team aligned with this goal by maximizing the monthly cash flow within the budget range.
Airbtics Approach for Property Sourcing
The team of data analysts & real estate experts explored various properties to meet the client's goals in order to source the best investment property. 
In the selection process, they were able to identify the top 20 properties – narrowed down to the 7 best options for Airbnb (any two-combination fit their budget). This is so that the client can easily pick their preferred deal! 
All the filtered properties were sent for the client's feedback and made sure that they achieved a gross rental yield greater than 25%. This guarantees a high cash-return rate during the first year of operating as an Airbnb property.
Expert Recommendations:


We sourced different investment properties for the client and found 5 excellent property investment deals based on their budget and preferences. The client achieved a profit of

€4,500 monthly gross revenue

.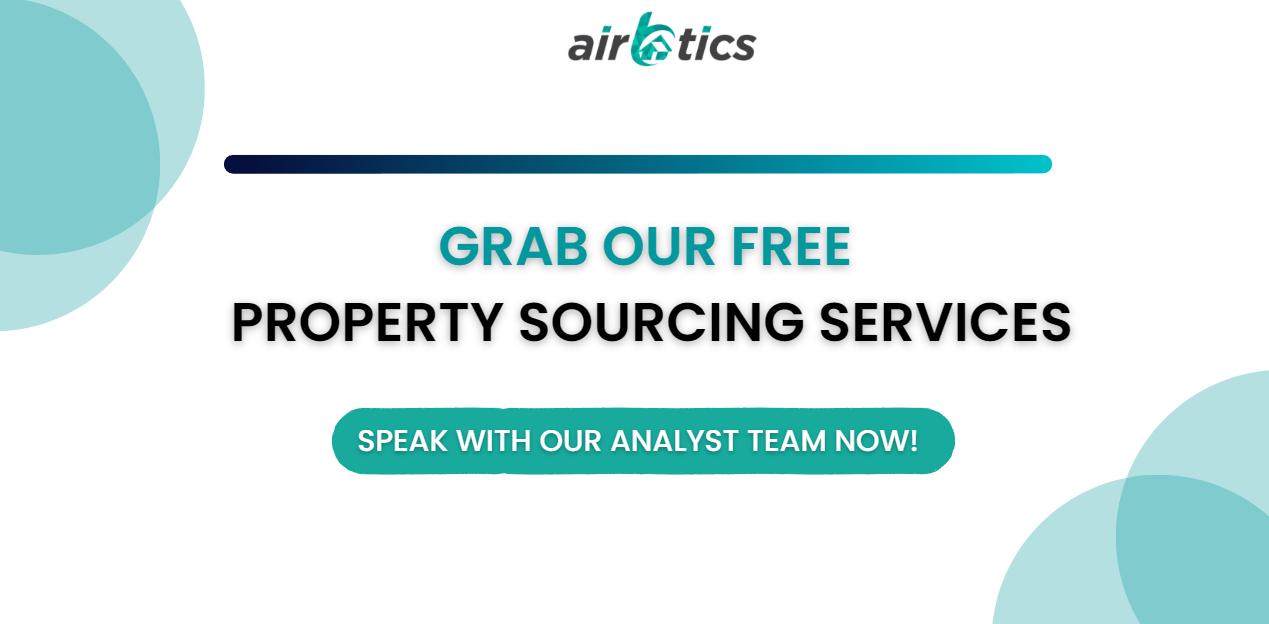 Airbtics Recommendations:
1.
Valencia
Situation: shortage of short-term rentals. The properties found in Valencia are nearby Jesus area and do not require a lot of renovation.

Purchase: 3-bedroom apartment in Valencia

– 

€80,000

Annual revenue according to Airbtics

–

€36,000

Occupancy rate:

–

82%

Average nightly rate:

–

€113
2.
Almeria
Situation: No seasonality and the median occupancy rate is above 50%. The properties are close to the downtown and beach areas.

Purchase: 2-3 bedroom apartment in Almeria

– 

€55,000

Annual revenue according to Airbtics

–

€19,000

Occupancy rate:

–

64%

Average nightly rate:

–

€84
Property Sourcing
To find the best property for Airbnb, you will need the help of data analysts and real estate experts in the industry. The common goal is to find high-return Airbnb investment opportunities according to your budget and preferences! 
Investing in real estate for Airbnb can be a tedious task and may fail if done inaccurately. There are several Airbnb good investment opportunities out there that you can take advantage of.
Airbtics offers investment sourcing services for FREE – exclusively for Enterprise subscription users. In this process, we have an outstanding team of data analysts and real estate professionals that can help you identify the best opportunities.
Advantages of Using Property Sourcing
1.
Save Time for Research
Why waste your precious time on research when you can instantly leave the heavy lifting to experts? Using property sourcing services, you can trust that the information you get is accurate.
2.
Ensure Higher Gross Rental Yield
There are several profitable properties out there, but what is their guarantee on cash-return? Property sourcing services help you achieve your financial goals. Airbtics' target metrics for searching properties is to achieve GRY higher than 25% to guarantee high cash-return on the first year. 
3.
Receive Excellent Property Deals
It can be confusing to look at two property deals as there are various options for property investments. Airbtics property sourcing presents at least 5 property deals – all according to your preference and budget!
This way, it will be easier to compare each deal and choose the best among the rest.