Last updated on September 4th, 2021
Vacation Rental Data Platforms in the Market
How to assess which vacation rental analytics is the right one for you can be a complicated decision. There are a few key players providing short-term rental analytics services, namely AirDNA, See Transparent, Alltherooms Analytics and Airbtics. Having access to the data can be very useful in the decision making process for people in the short-term rental business, but the question that most ask is which platform should they choose? Hence, we did a comparison between those platforms to determine how each of them benefit the property investors and operators in different ways. 
Background Information of those Platforms
Amongst the four companies, Alltherooms Analytics was founded in 2013, followed by AirDNA in 2014, SeeTransparent in 2016 and Airbtics in 2019. In terms of expansion of their company, AirDNA has the greatest team, with 52 employees in two of their offices, Denver and Barcelona. SeeTransparent, AlltheRooms Analytics and Airbtics have a smaller scaled team in Madrid, New York and London respectively. All of these companies have access to worldwide vacation rental data through bookings from Airbnb and VRBO/Homeaway. In addition, SeeTransparent includes booking data from booking.com and Tripadvisor while Airbtics has plans to include data from booking.com starting in March 2021.
Reliability of the Vacation Rental Data
The best way to determine the reliability of vacation rental data is to understand how companies get those data. With up to 10 million property listings published on Airbnb and VRBO, some methods used by the companies include:
Web scraping to extract publicly available information such as the daily rates

Receiving booking information from PMS software or channel management softwares

Directly getting data from Airbnb hosts 

References from previous clients 
We believe another method that would further prove the reliability of the data is having a consortium or committee where they objectively review the process and quality of collecting the data. This would ensure the accuracy and transparency in the vacation rental data industry.
Purpose of having Vacation Rental Data
Property operators (Host / Managers)
With the growing demand for vacation rentals, competitions across different regions are also increasing. Hence, by having data of the competitors, property operators can compare it against their listings and the market trends to better strategize on ways to increase their revenue. There are some features from the vacation rental data platforms that can be useful for the property operators. Thousands of property managers around the world are already tapping into these resources to help them make better decisions and many of them have seen their revenue increased with the help of those data. 
Airbtics
Airbtics leverages the power of big data to help property operators with dynamic pricing, as well as to increase their booking rate and inventory efficiently. We provide two types of data through application programming interface (API); near real-time booking data from Airbnb and VRBO as well as 30 days of future data on supply, demand and rate. These data are useful for dynamic pricing. Finding property owners who are looking for property managers are usually expensive and time-consuming, so Airbtics generates a list of newly created Airbnb listings per city on a weekly basis. With the rapid growth of the East Asia market, do you know that Chinese tourists are now the biggest outbound travellers? We are able to help property operators understand their platforms like Tujia.com, Yanolja, etc. 
Airbtics has the option of checking the top performing homes and filtering data between super hosts or normal hosts on its dashboard, so property operators can easily identify their strongest competitors. They are also able to detect the pricing strategies used for other listings, which include mid-term rental, max fill-rate and weekend high, so property operators can use that as a reference to set their own pricing strategies. In terms of revenue projection, Airbtics has come up with the short-term rental calculator, which helps to forecast the revenue of a vacation rental property.   
AirDNA
AirDNA offers information on the booking pace of properties in the specified market, ratings on rental demand, rental settings of competitors which includes cancellation policy and minimum stay, as well as Airbnb ratings based on check-in, accuracy, value, location, communication and cleanliness. 
AirDNA also has data that can help property operators set their optimum ADR of their listings. Their dashboard shows real-time availability of competing properties for up to 6 months into the future and the prices they were booked for. Secondly, they have the forward modeling, where they identify upcoming seasonal shifts and compression events that may impact the demand. Thirdly, they developed an Airbnb calculator rentalizor, which helps to calculate the potential revenue in comparison with the current top ten most comparable listings on Airbnb. 
SeeTransparent
Similar to AirDNA, SeeTransparent offers information on the booking pace of properties in the specified market. Besides, they also show guests reviews of the available properties and offer a ranking system on the listings based on their performances. 
SeeTransparent offers a function, Pickup, which enables property operators to check on current demand and availability of the listings for the next 360 days. Like AirDNA, they identify events in the market that may impact the demand for STRs and have a tool to estimate returns for specific properties.   
Alltherooms Analytics
Alltherooms Analytics rates the property listings with a vacation rental score, which is derived from analyzing the bookings, earnings and reviews of listings in a city. Property operators can add up to five properties to compare on those points. In order to get the score for any property listings, the user has to simply insert their Airbnb listing URL on the dashboard.  
Property operators can also use precision filtering of up to five dimensions to more accurately identify their direct competitors. Their dashboard holds up to two years of historical data which can help the property operators in their decision making process with regards to their amenities and ADRs. 
Investing in a vacation rental property is a huge decision and selecting the perfect property may not be the easiest decision. Property investors have to use market research tools to get data like average daily rate and occupancy rate in order to calculate the net rental yield, return on investment (ROI) and cash return. Then, they compare those metrics across the different classifications of properties based on two key factors, geographical locations and number of rooms they have. Those steps will help to determine if a property is ideal as a vacation rental. It is critical to make the right decision on the two key factors as they would not be able to alter it in any way after, unlike purchasing amenities or beds. Those vacation rental data platforms offer some data which may be useful for property investors in making their decision. 
Airbtics
Airbtics provide customized investment and market reports on a yearly basis where property investors can compare the performances of STRs over the years. We released the Tailored Region Explorer feature recently, where users can customize their specific region of interest and get data just on that region. This will give property investors an opportunity to zoom into smaller and perhaps the underrated markets and gain a competitive advantage over other investors. 
Airbtics also provides ADRs, occupancy rates, and revenue data, but what stands out is that it gives property investors actionable insights. As a property investor, you would be interested to know the answer for questions like "should I buy a 2 bedroom house or a 3 bedroom house?"
*The feature below is only available on the enterprise plan currently but will become available to everyone in 2021 January.*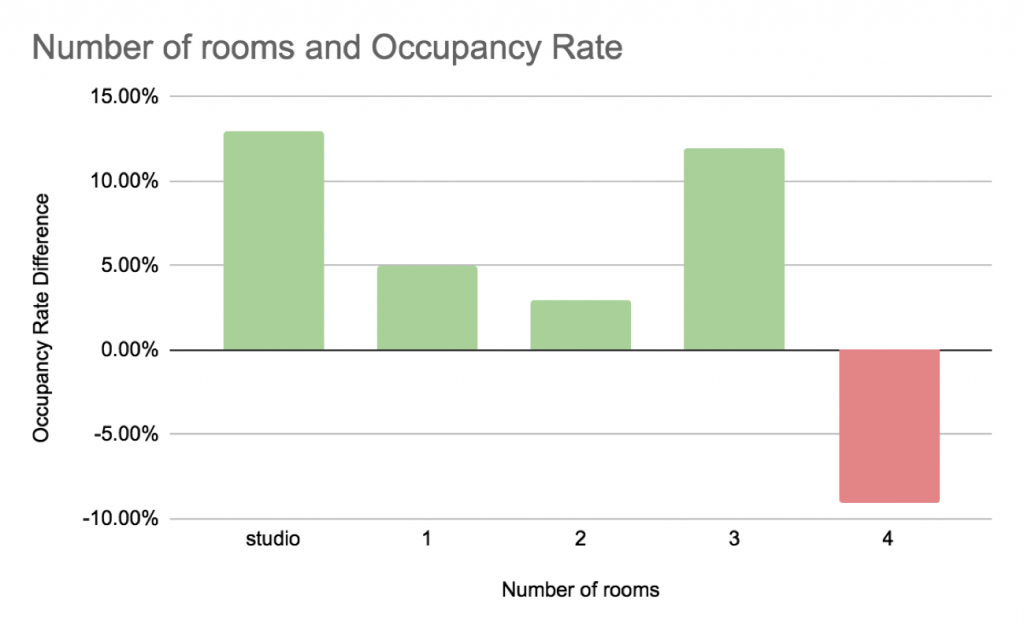 Besides the STR calculator where both property operators and investors can use to predict their revenue, Airbtics also provides historical data from year 2018 which can help property investors forecast the future market trends and potential properties to invest in. 
AirDNA
AirDNA provides performance data where they identify the most lucrative locations to invest in. The Airbnb calculator rentalizor tool and ratings on rental demand mentioned above for property operators are also useful for property investors in figuring out the potential revenue they can get from the properties they have shortlisted. 
AirDNA also offers market data, which includes top properties, detailed and summarised listing historical data, trend report, weekly pacing report and downloadable custom data which can be delivered on a daily, weekly, monthly or quarterly basis.    
SeeTransparent
SeeTransparent allows users to create custom groups based on filters such as more precise location, best reviewed listings, bathroom counts, amenities or luxury listings. These custom groups are useful to property investors in finding the best type of properties to invest in. They can also use the tool mentioned above for property operators to estimate returns on specific properties which they have shortlisted.
By tracking the market supply and performances of individual listings in specific regions on their dashboards, property investors can decide if there is still a demand for short-term rental in those regions.     
Alltherooms Analytics
Alltherooms Analytics provides market data such as ADRs, occupancy rates and revenue on different property types and locations. These data are essential for property investors to find out the demand of STRs in various locations. Alltherooms Analytics also came up with a calculator to determine the profitability of a short-term rental property, with easy-to-fill parameters such as street address, number of guests who can stay, number of bedrooms and number of bathrooms. 
Beside the real-time data, the company provides up to four years of historical data and where property investors can do their forecast based on those data. 
AirDNA, SeeTransparent and Alltherooms Analytics offer solutions for enterprises and the prices depend on the types of customized data the clients are looking for, thus, not mentioned below.
It is important to have a platform that is easy to navigate, where users can find the data that they need with ease. 
Airbtics
Dashboard is well-labelled and organized

FAQ button available at the top of the page in case the users have some general queries about the platform

Able to switch between 3 different currencies (USD, Euro, Pound)

Free trial version available for users to use
AirDNA
Automated chatbots on their website can be useful when users are unable to find what they are looking for

Dashboard is well-labelled and organized

Able to switch between 2 different currencies (USD and Pound)

Free trial version available for users to use
SeeTransparent
Automated chatbots on their website can be useful when users are unable to find what they are looking for

Dashboard is well-labelled and organized

Information on dashboard available in 3 different languages (English, Spanish, French)

Useful to have the breakdown of number of listings from different booking channels on the main page of dashboard 

Free trial version available for users to use
Alltherooms Analytics
Dashboard is well-labelled and organized

Some data on dashboard does not load well

Able to switch between 9 different currencies (Canadian dollar, Indian rupee, Euro, Mexican peso, Brazilian real, USD, Pound, Australian dollar, South African rand)

Free trial version available for users to use