Last updated on June 22nd, 2023
Barcelona is recognized worldwide for its excellent architecture and world-class gastronomy. A recent report on Barcelona tourism, this beautiful city welcomes more than 27 million visitors annually. 
Can you imagine the number of visitors that have booked their respective accommodations in a span of one month? We have one word to describe it: Fully-booked!
Some of the most famous attractions in Barcelona include La Sagrada Familia, Park Guell, La Rambla, and many more. 
Property investors who want to start an Airbnb business in Spain should certainly do thorough research about rules and regulations as they vary per city. For instance, hosts should know that one of the Airbnb rules in Barcelona requires a Tourist Use House license to operate.
Continue reading to learn more about Airbnb's long-term profitability in Barcelona, Spain.
Is Airbnb Profitable in Barcelona?
The New Yorker confirms that Airbnbs are all over Barcelona and have continuously increased occupancy rates. Airbtics shows that an average host can earn an average of €44,326 yearly for a 1-bedroom apartment/condo in Barcelona. 
These Airbnb metrics are necessary in order for property investors to have an outlook of potential revenue and avoid losing hard-earned money. Knowing your preferred area's occupancy rates, average daily rates and annual revenue is important in starting an Airbnb business to achieve success.
By using an accurate short-term rental calculator, you'll be able to confirm that Barcelona is one of the best places for investment. It's important to take note that there are indeed plenty of high-return investment opportunities in Barcelona.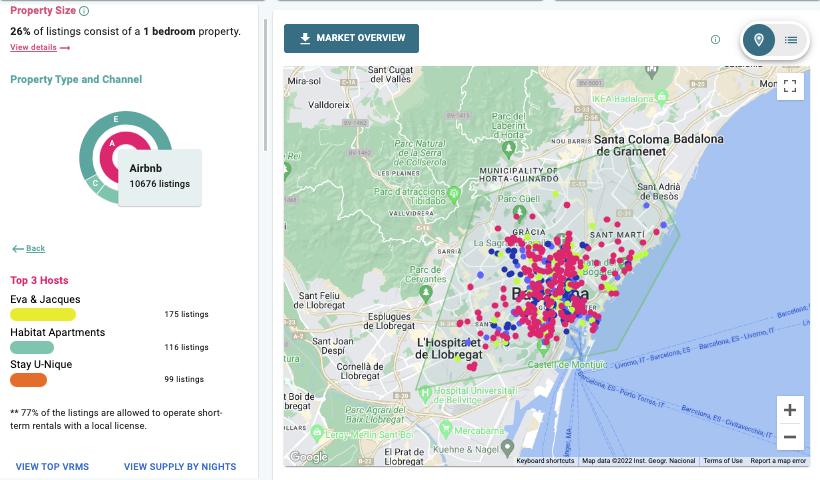 Source: Airbtics Dashboard
What is the Average

Occupancy

Rate for Airbnb?
An excellent Airbnb occupancy rate should be around 65% with a remarkable increase monthly. The good news is that for Barcelona, the occupancy rate should not be doubted at all. Based on Airbtics, the YoY change in Barcelona increases by 188.78% and has had a 100% occupancy rate since April 2022. Talk about profitability!
Since Barcelona is also one of the popular digital nomad cities, many remote workers try to live and work in this beautiful city. In addition to this, Barcelona is one of the Airbnb cities with the highest occupancy rates vary depending on their respective peak seasons.

Is Barcelona a Good Place to

Invest

in Real Estate?
Before purchasing an investment property in Spain, it's important to have knowledge of the various kinds of mortgages, ongoing and upfront costs, and other fees associated with real estate. In order to track the Airbnb performance of your preferred neighborhood in Barcelona, it's practical to take advantage of smart technology. By using a precise short-term rental calculator, you'll be able to consistently monitor the demand & supply and spy on your competitors located within the area – and stand out among the rest.

What are the Airbnb Rules in

Barcelona?
If you are worried about strict Airbnb rules in Barcelona, the good news is that there is no minimum or maximum term for short-term contracts. Here are the rules to take note of:
A Tourist Use House licence is necessary to operate.

Apartment-types in Barcelona include anything with rental duration of fewer than 31 days.

Short-term stays are allowed for 30 days or more.
Top 3

Neighborhoods

in Barcelona for Airbnb Investment
In order to properly identify which particular area is best for investment in Barcelona, here are the top 3 neighborhoods with the highest occupancy rates:
Gothic Quarter features Barcelona's most iconic gothic architecture including Catedral de Barcelona and Basilica de Santa Maria del Pi. The streets of Gothic Quarter are usually filled with walking tours for visitors.
Average occupancy rate:

77%

Annual revenue:

€46,829

75% of the listings are allowed to operate short-term rentals with a local license.



This neighborhood in Barcelona has one of the most diverse communities with plenty of chic restaurants and retail stores.
Average occupancy rate:

73%

Annual revenue:

€41,891

87% of the listings are allowed to operate short-term rentals with a local license.



Gràcia is also known as the second city in Barcelona which offers quirky cafes, artistic co-working spaces, and more.
Annual revenue:

€50,047

Average occupancy rate:

86%

70% of the listings are allowed to operate short-term rentals with a local license.
Conclusion
If you are looking to invest in an Airbnb city with maximum cash-on-cash return and 100% assurance that it will bring long-term profitability, in-depth research is a stepping stone. However, the data points mentioned in this article such as Airbnb occupancy rates, annual revenue, & traveler's ratio should be your basis for investing in an Airbnb business in Barcelona.
Now that you are aware of how this Airbnb city became fully booked, don't miss out on greater opportunities! With the help of our reliable data analytics tool, you can vastly enhance your monthly revenue, create a comparison for each neighborhood, add the appropriate amenities and so many more exciting features.