While there may be some upfront investment in terms of time and resources, the benefits of having a reliable and efficient Airbnb virtual assistant can be substantial. So, if you're looking to scale your hosting business and take it to the next level, training an Airbnb virtual assistant may be a smart and strategic choice.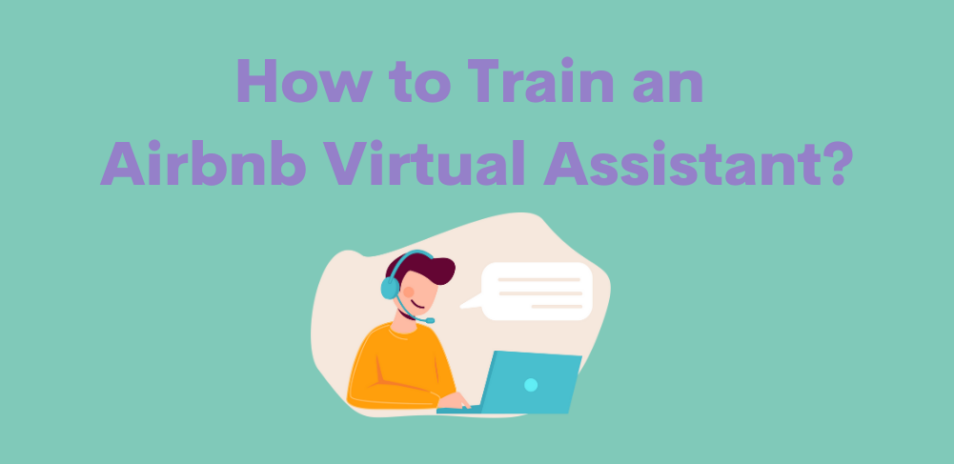 Introduction
A lot of Airbnb hosts think that they can already take things easy after hiring a virtual assistant. Sadly, it is not. While hiring the right people is important, providing them with the right skills and tools can ensure the success of your Airbnb business.  In this blog, we will talk about the onboarding process to set your Airbnb virtual assistant up for success. 
Airbnb Virtual Assistant Training Plan
Training a virtual assistant for Airbnb can be a complex task. Part of the training should definitely include business communication, navigation of multiple digital platforms, and Airbnb policies. But training is not as daunting as you think. With the right steps, you can set your Airbnb virtual assistant for success.
1. Define the tasks: Identify the specific tasks that your Airbnb virtual assistant needs to perform. This will determine the scope and focus of the training plan. These tasks can be responding to guest inquiries, managing reservations, and sending automated messages to guests. But you can also ask yourself, "What are the tasks that I need to outsource to an assistant?" These tasks may be something repetitive or complicated. This will depend on your willingness to entrust someone else to do it. It is best to set manageable expectations early on, as you can tweak your training plan whenever necessary.
2. Assess the Airbnb VA's current skill level: You pretty much know their virtual assistant's strengths from the employment interview. The next step is to closely evaluate their current skill level. There are certainly transferable skills, but there are also knowledge gaps. These areas for improvement should be the focus and the priority of the training.
3. Introduce them to your Airbnb data: Collect data related to the tasks you want your virtual assistant to perform. This can include previous guest inquiries, reservation details, and typical guest interactions. Introducing your virtual assistant to the big picture of your Airbnb business operation will make it easier for them to absorb information during the training.
4. Build the conversational flow: Build the conversational flow for your virtual assistant. This may include the prompts and corresponding responses that it will use to interact with guests. Generally, a conversation flow on Airbnb may follow the structure below:
Guest inquiries

: Guests ask the host to ask about the availability of the unit, the price, and any other details that they may need to clarify before booking.

Request booking

: Once the guest has decided on their preferred unit, they can submit a booking request to the host via the Airbnb platform. The host can then accept or decline the request. The host may even propose alternative dates or terms.

Pre-check-in

: Hosts and guests may communicate at this stage about the check-in and check-out protocols, local recommendations, or last-minute special requests and requirements.

During the stay

: If they have any questions or issues regarding their stay, guests can raise them to hosts via the Airbnb messaging system. This is also where the hosts can respond with solutions and recommendations or offer assistance to the guests. 

Post-stay: After checking out the guests, hosts may send a thank you message. Hosts can also use this stage to invite their guests to leave a positive review or offer them a discount for return stays.
There is no standard conversation flow that you have to follow. This is why it needs to be set during the training. You may read Best Free Airbnb Message Templates for inspiration. 
5. Be open to feedback: Develop a feedback mechanism to evaluate the onboarding program's effectiveness and make necessary changes to improve it.
6. Monitor progress: Monitor your new Airbnb virtual assistant's progress to ensure that they complete the required tasks and adjust the program accordingly.
Technological Tools for Airbnb Virtual Assitant
Being tech-savvy is among the top skills included in an Airbnb virtual assistant job description – because after all, they will be performing these tasks remotely. Technology is their most important bridge to your guest and to you as well, being the host.
We cannot stress enough the importance of computer literacy because it can ensure the success of your Airbnb. Here are some of the most commonly used tools for Airbnb:
Booking platforms

:

Airbnb, Booking.com, VRBO, or any other booking platform of your choice are where the business happens. These tools are used to manage listings, reservations, and guest communication. 
Channel managers

:

Chances are, you will not list your property on Airbnb alone. You will list your unit on multiple booking platforms. But to keep track of all transactions, channel managers can act as a centralized dashboard. Such channel managers are responsible for Guesty, MyVR, and Rentals United. They help a lot of hosts to save time by synchronizing availability calendars, rates, and bookings from various platforms.
Payment processing tools

:

Payment processing tools such as Stripe and PayPal can help hosts process payments from guests and manage their financial transactions. These tools can help hosts ensure that they are paid in a timely and secure manner. Payment tools can also help facilitate refunds and chargebacks if necessary.
Dynamic pricing tools

:

Dynamic pricing tools such as Airbtics, AirDNA, and Mashvisor have already become indispensable when it comes to ensuring the success of your Airbnb. Dynamic pricing tools use algorithms to adjust rental prices based on factors such as demand and seasonality. These tools can help hosts maximize their rental income and occupancy rates. Some of these tools like Airbtics can also give you insights into your next Airbnb market by showing you its revenue potential. 
Automated messaging tools

:

Automated messaging tools such as Smartbnb and Hostfully can help hosts automate guest communication, sending messages at specific intervals before, during, and after their stay. These tools can help hosts and Airbnb administrative assistants save time and improve guest satisfaction.
Property management software

:

Property management software such as Lodgify and Kigo can help hosts manage their entire vacation rental business, from marketing and booking to even basic accounting. If you're still deciding what property management software to use, here are the

top 10 available tools

on the market today.
Conclusion
Airbnb virtual assistant training may take some time, but it's a worthy investment to ensure the smooth operation of your short-term rentals. To successfully train an Airbnb virtual assistant, it's important to start by identifying your specific needs and targets. Communicate your expectations early and clearly. Additionally, take time during the training to establish trust and build a strong relationship with your virtual assistant. Reassure them that you will provide ongoing feedback and support to set them up for success while performing their duties.
While there may be some upfront investment in terms of time and resources, the benefits of having a reliable and efficient Airbnb virtual assistant can be substantial. So, if you're looking to scale your hosting business and take it to the next level, training an Airbnb virtual assistant may be a smart and strategic choice.