Last updated on June 21st, 2023
Managing listings and setting up your property's availability using an Airbnb calendar could be an easy task once you get used to it. However, one of the challenges that are often overlooked by hosts is getting gaps in your Airbnb calendar. During the first few months of starting an Airbnb business, it's certainly exciting to see your calendar full of reservations. 
But what happens to the actual date with a gap in the midweek? For instance, if your property is booked by a guest from Sunday – Tuesday, and another guest booked from Thursday to Saturday, then Wednesday is caught in the middle with no chance of getting booked. 
It's truly important to maximize your Airbnb revenue and there are ways to prevent these kinds of gaps in an Airbnb calendar. Continue reading to learn more!
Airbnb Calendar
In order to get the bookings that you want to be filled in your Airbnb calendar, it's a must to keep your calendar settings updated from time to time. Syncing your Airbnb calendar is also important to avoid cancellations, double bookings, and penalties. As long as the calendar that you're manually syncing supports the iCalendar (iCalendar) format, it will automatically sync.
Prevent Gaps: Tips on Setting up Airbnb Calendar 
To set a schedule that matches your availability for guests, here are some of the effective strategies to set up your booking settings:
1.
Change Pricing Based on Demand
If there are upcoming festivals or major events within your Airbnb property's area, it might be an ideal option to update your pricing. Using an Airbnb calculator, you can easily look at your property's demand and peak season. This data-driven insight will help Airbnb hosts like you to price smartly using a dynamic pricing tool.

Source: Airbtics Dashboard
2.
Set a Minimum and Maximum Length of Stay
Avoiding short stays is a preventative pricing strategy for having gaps in your Airbnb calendar. During peak season, it's advisable to set a week or longer length of stay to maximize your property's profitability.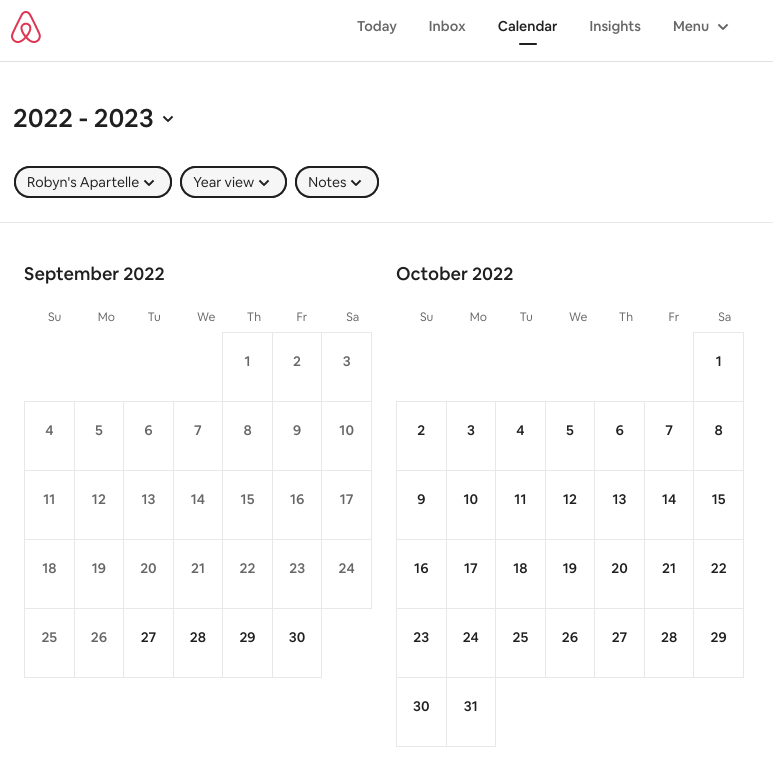 3.
Discounts on Open Calendar
As an Airbnb host, it could be stressful to have an open calendar and feel the pressure of not getting any bookings in between dates. This is why providing a 50% discount is a practical strategy. For instance, if you have the entire first and second week booked in your Airbnb calendar, you can provide a 50% discount a day before the open date. Through this proactive pricing strategy, more people will be able to see your listing and be enticed to book.
Conclusion
Now that you have a brief summary of preventing gaps in the Airbnb calendar, don't miss out on greater opportunities and set your Airbnb price fairly using Airbtics. It's important to have the assurance that your hard-earned money will be profitable by utilizing accurate Airbnb analytics data. Step forward to long-term profitability and stand out among your competitors with Airbtics!