Last updated on June 26th, 2023
Key Takeaways
Revr is one of the newest short-term rental analytics providers in the market. This tool helps property investors achieve their goals and target the right markets for investment.

Short-term rental analytics providers such as Revr are built to provide revenue projections and share investment opportunities in their preferred target markets.

While Revr does not have any reviews from its general users yet, we went ahead and checked the features and pricing to help determine if it's worth the money.
What is Revr?
Revr is a new short-term rental analytics company that provides Airbnb data. Particularly, STR providers like Revr Airbnb tool are built for property investors to compare any city that they plan to invest in.  
Short-term rental analytics platforms like Revr are extremely helpful for benchmarking and providing data. Particularly, for investors to make the best investment decisions! But is Revr the best tool for your business?
If you're thinking of using Revr for your Airbnb business, this article is for you! 
Continue reading as we discuss Revr's features, pricing, and reviews. At the end of this article, you'll learn whether Revr is the best tool for your short-term rental business. Bonus: We also added some great Revr alternatives to look at!


Features and Reviews of Revr
1.
Dashboard for Home Market
One of the primary features of Revr is a dashboard where you can select one home market. Users can see the overall revenue (both short and long-term), markets, and other STR insights. You can also check out the top-performing properties nearby with their prices, optimized CAP rate, and long-term CAP rate.
For a first-time user who wants to navigate the app, it is a bit confusing to see the numbers in 0 figures. Later, I figured that the account is in trial mode and requires payment for the subscription. You can only expand your search area once you pay a certain monthly fee.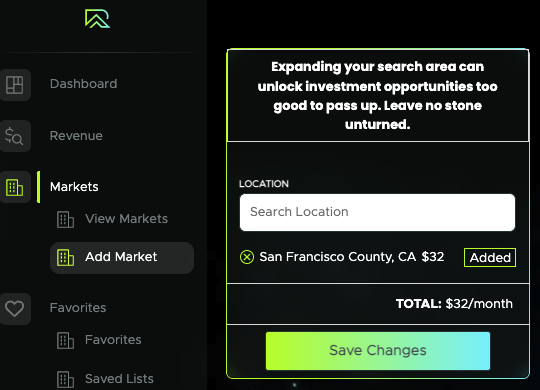 There are also not a lot of online tutorials or a built-in app guide on how to properly navigate the Revr tools. So it's safe to say that one might need to request a free demo with their customer representative to understand its features. Once you select a home market, here's what the dashboard looks like: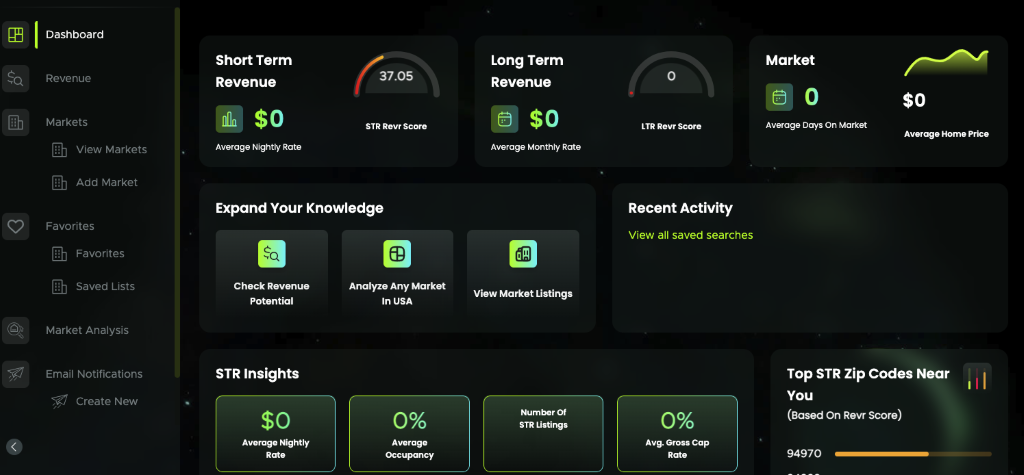 Revr is somehow similar to Mashvisor when it comes to data coverage. Both are only limited to presenting Airbnb data within the USA markets. Therefore, it may not be useful if you want to explore international markets. 
But the best part is that their Airbnb data source is accurate. Airbtics provides Airbnb and VRBO data for REVR, and there are several positive reviews about their data accuracy. You can also have a brief overview of the top-performing STR properties near your selected area.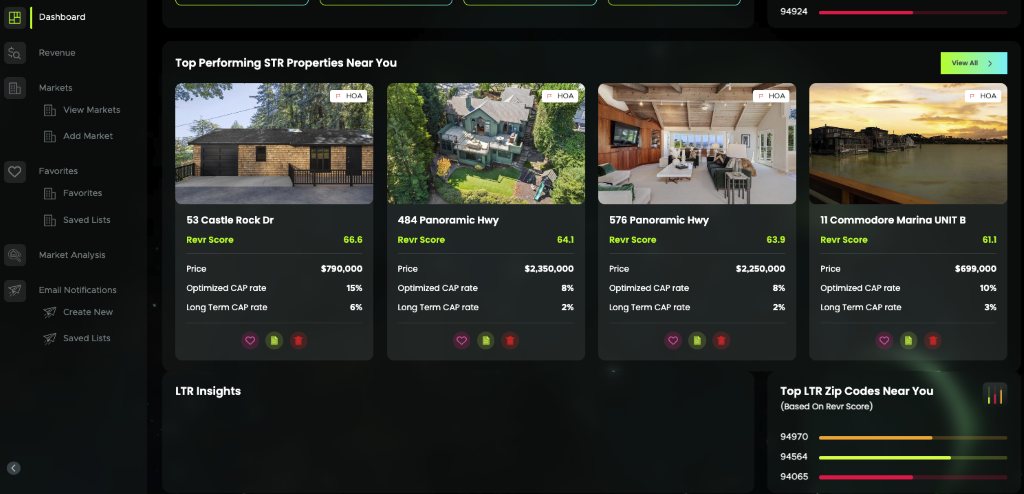 2.
Access Revenue to any USA Properties
Next to the dashboard section is the revenue, where users can enter their street address, filter the property details (number of bedrooms, baths, etc), and features. The final step will ask users to input location information with various options to select from (mountain skis, nearby restaurants, etc). 
If you have a specific target property in mind, this filter can be considered one of the top features of Revr. Once you have selected all the necessary information, you can choose whether it's for a short or long-term rental. Here's what the final view looks like: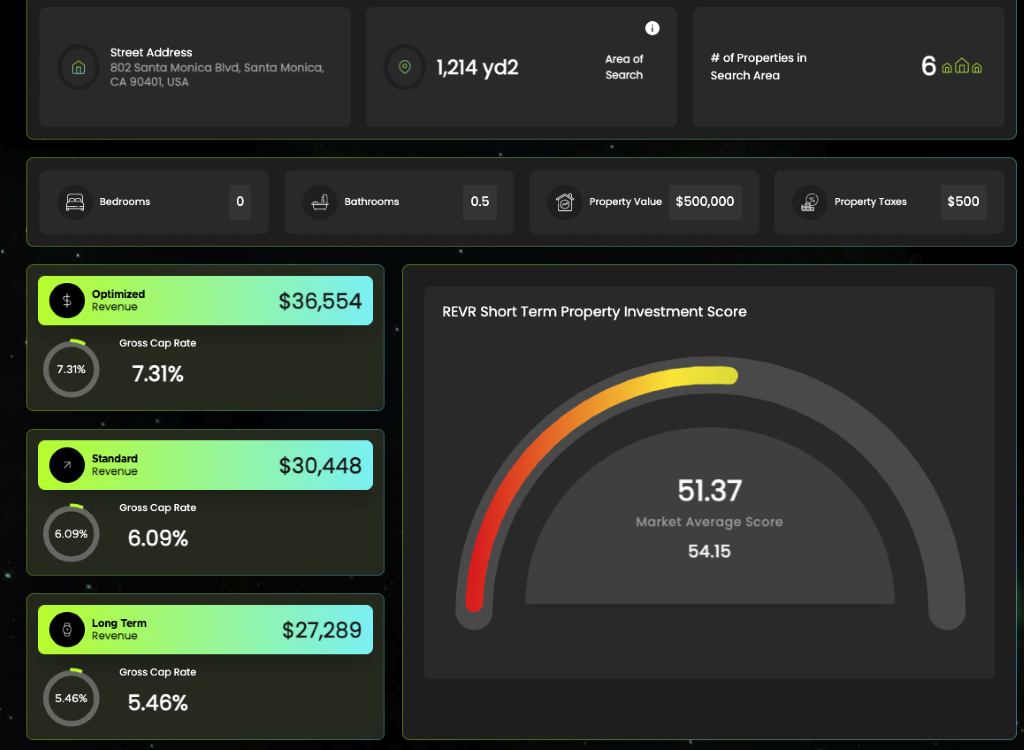 3.
View, Add, and Compare Markets
Under the Markets section, you can select a location and filter according to property type and price. It also presents various addresses nearby with their details. You also have the option to create email notifications to receive notifications about investment opportunities. 
From a brief look, this data can be a bit overwhelming for beginners. Revr also does not have any export option as a CSV file where you can look back into this data. So users will more likely need to take a screenshot instead.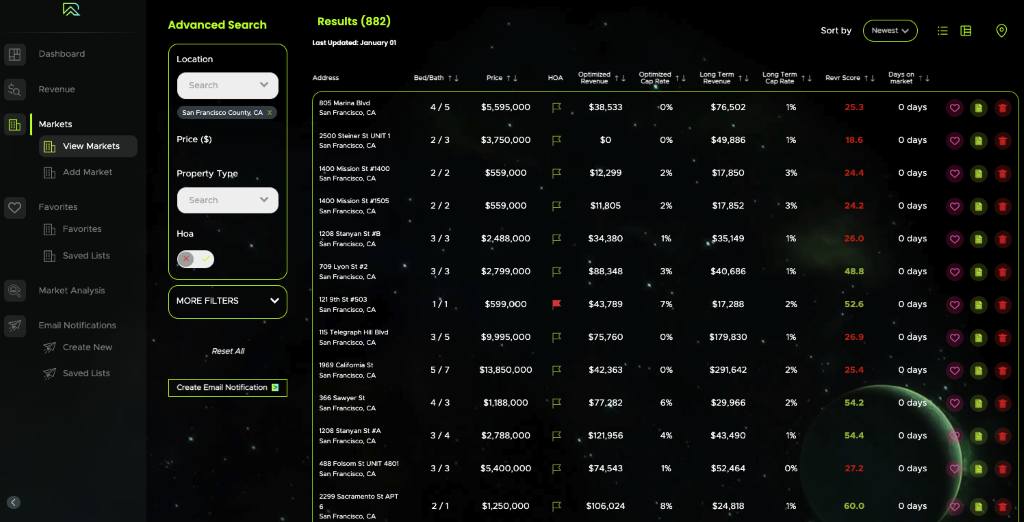 4.
Market Analysis
If you want to view Airbnb data for 4 markets all at the same time, the good news is that you can! With Revr's market analysis, you can see the highest and lowest revenue of your selected markets. Although their data coverage is only within the USA, there's no question about their data accuracy for each market.
Here's an example where I input 4 different markets. Specifically in Phoenix AZ, San Francisco CA, Las Vegas NV, and Chicago IL: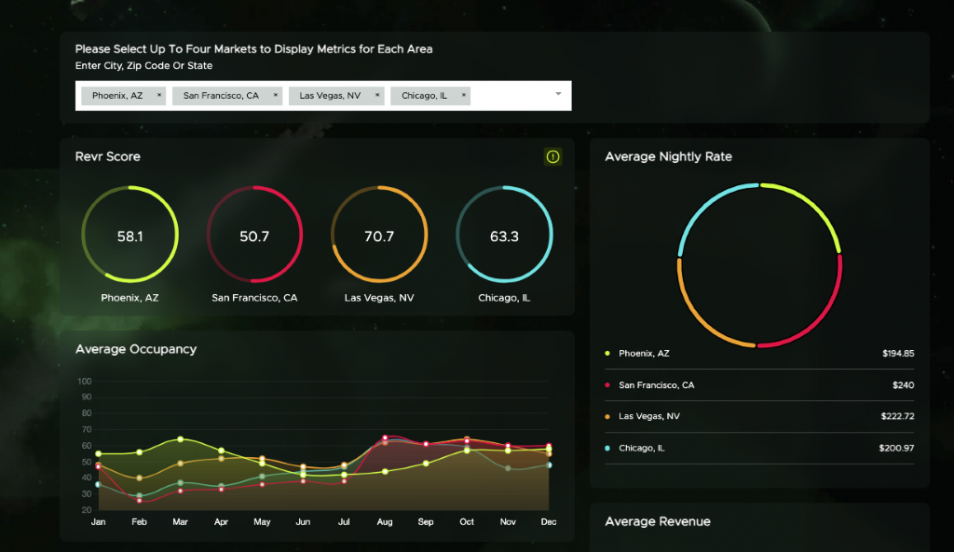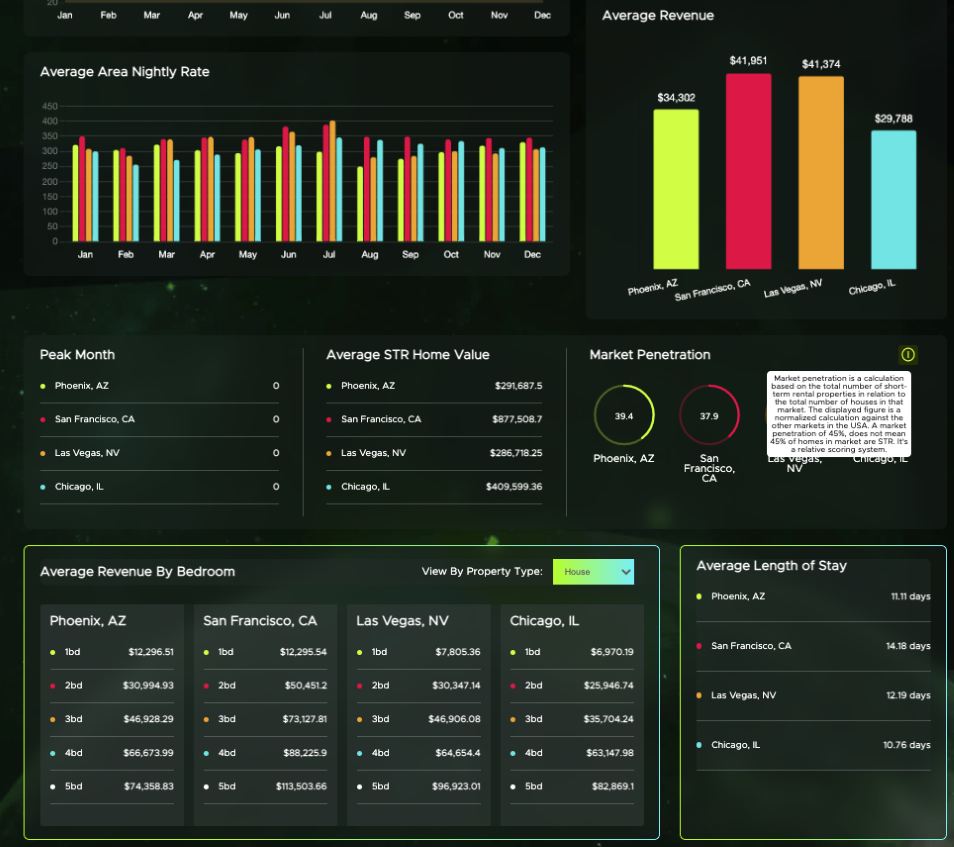 Revr Pricing: Is It Worth The Money?
Revr's pricing ranges from $19.99 to $45.99 per month. Check out Revr's multiple pricing packages:
Iron Butterfly

: starting at

$19.99 per month


– Unlimited revenue projections, custom market dashboard, and access to market listings.



The Hag: starting at

$32.99

per month
– Receive email notifications about investment opportunities
– Unlimited revenue projections, custom market dashboard, and access to market listings.
The Chief: starting at

$37.99

per month
– Access to USA Market Analysis
– Unlimited revenue projections, custom market dashboard, and access to market listings.
The King: starting at

$45.99

per month
– Access to USA Market Analysis and receive email notifications about investment opportunities.
– Unlimited revenue projections, custom market dashboard, and access to market listings.
Revr's packages offer unlimited revenue projections. However, the USA Market Analysis and email notifications features are only available for "The King" subscriptions.
USA Market Analysis & Email Notifications can be accessed by purchasing add-ons. The USA market analysis cost an additional $19.99, while email notifications cost $14.99.
If you are a beginner in the industry, Revr's pricing is considered cheap in the market. However, the pricing might also not be practical if you want to look at other markets at the same time. Making an investment decision is crucial and it can either make or break the business!
This is why we highly recommend looking at the top 5 markets before anything else. It's a fact that it is difficult to tell if a city is profitable by looking at a single market alone. To make a wise investment decision, it's important to compare each market and run the numbers.
The cheapest and most accurate STR tool for accessing 5 markets is Airbtics. For the price of $149.99, you can access 5 markets in different regions worldwide. 
Revr Alternatives
So are there any Revr alternatives that you can look out for? The good news is that there are plenty! In fact, there are also AirDNA alternatives that are useful for discovering other short-term rental analytics providers. Here are comparison charts that you can take a look at: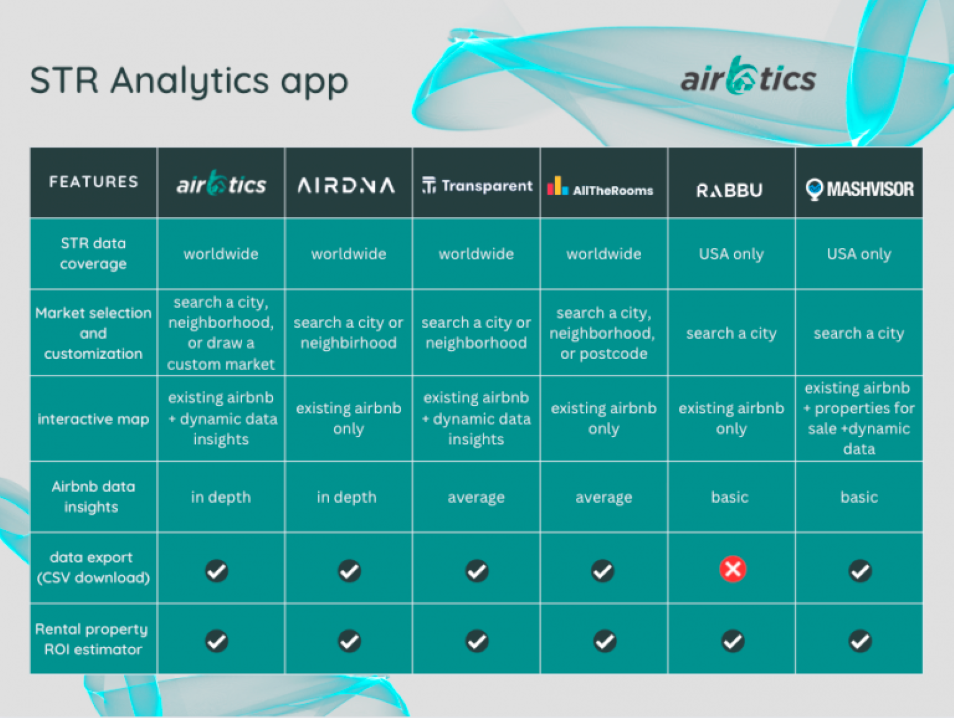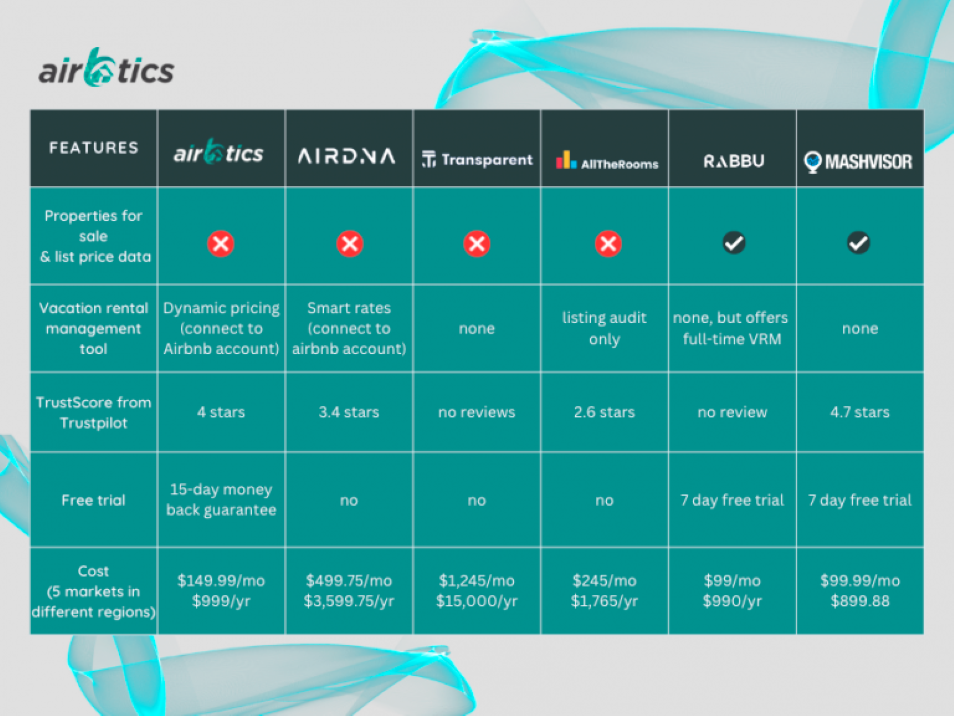 Summary: What's the Best Short-Term Rental Analytics for You?
Although Revr is a fairly new STR analytics provider, its features and pricing are a great starting point. If you aim to target the USA market alone, then it can also be recommended. Its tool can be a bit complex for newbies, but there's no question about its data accuracy.
In conclusion, the best short-term rental analytics should not only be limited to providing revenue projections. Its data should also be accurate, easily comprehensive, has wide data coverage, and most of all – it should be worth every penny.
Short-term rental analytics tool like Airbtics covers worldwide regions with specific markets that fully covers historical performance data, guest demographics, and more.
If you want to look at more detailed and advanced data which includes seasonality and discover specific neighborhoods, then Airbtics might be the best short-term rental provider for you. You can use the most accurate STR revenue calculator and speed up your game in the industry!