Last updated on September 4th, 2023
Short Term Rental vs Long Term Rental in Canada
Key

Takeaways
If you're a traditional landlord in Canada looking to increase your income, short-term rentals could be the solution you're looking for. However, as an Airbnb host, it's essential to do your part to make your short-term rental profitable. One effective way to do this is by incorporating

data analytics

into your rental strategy. By analyzing market trends and pricing, you can charge a competitive nightly rate and attract more guests.
Introduction
Everyone is bracing for the inevitable 2023 recession, which Canada is expected to experience second half of the year. As someone owning one or several rental properties in the Great White North, you are surely restrategizing your next step in the coming months. 
Whether you own short-term or long-term rental properties, this article provides you with valuable insights on how to make sound investment decisions. We believe that economic data should not only be accessible to analysts, but also to property owners. By incorporating easy-to-use data analytics, you can maximize your real estate investments and stay ahead of the game in the upcoming dreaded recession.
Differences between Short Term Rental Vs Long Term Rental
Let's first distinguish one from the other. As we all know, long-term rentals have been a traditional form of housing. They are offered to tenants who choose to reside on a property for at least 6 months with a binding lease agreement. Property owners decide to collect a higher rent than the mortgage to generate monthly income that remains unchanged regardless of the ever-changing economic circumstance.  
On the other hand, the setup for a short-term rental is renting out a property to visitors or guests for a very short period. It works pretty much like hotels where guests can stay in for only a couple of days. This can viably extend to weeks or even months. Short-term rentals offer a cozy atmosphere as well as significantly cheaper nightly rates compared to hotels. This is why guests keep coming back to short-term rentals. 
Since short-term rentals have become widely used all over the world, rental arbitrage is another popular trend.  It has given a lot of nonproperty owners a steady stream of passive income by simply re-renting a unit and listing it on Airbnb, VRBO, or HomeAway. This is a wise, effective, and legal income-generating hustle. Just imagine having a side income from a property that you do not own. 
Rental Regulations in Canada
Traditional rental
Rental regulations in Canada vary by province, but some of the common rules include the requirement for a written lease agreement, limitations on rent increases, and the right to privacy for tenants. Additionally, landlords are required to maintain their properties in a safe and habitable condition, and tenants have the right to request repairs or file complaints if necessary. By understanding the rental rules in Canada, both landlords and tenants can ensure a fair and transparent rental process.
Airbnb Regulations
To comply with the diverse short-term rental regulations across Canadian cities, it's crucial to review each law and ensure your requirements are met. For a comprehensive understanding of the legislation and policies governing short-term rentals, we recommend checking out our previous article titled "Airbnb Rules in Canada."
Advantages of Long-Term Rentals in  Canada:
Below are the advantages of operating a long-term or traditional rental property in Canada:
Record-high population – Canada recorded its highest annual population growth rate at

2.7%

for the first time last year since 1957. This was attributed to migration contributing at least 95% of the number of people increase.

A steady stream of income – You are ensured to have a steady and regular monthly income immune to erratic economic conditions. The average monthly rent in Canada is

$2,004

.

Steady operating costs – You do not need to shell out money upfront for furnishings since the tenants will most likely have their own.
Laid-back management – You will have less interaction with your tenants, and you do not need to be hands-on with managing your property. This is risky, however, since damages on the property can get worse if they're left unattended. 
Advantages of Short-Term Rentals in Canada:
On the other hand, here are the perks that short-term rentals can offer to Airbnb hosts in Canada:
Positive growth in travel and tourism industry –  In the next ten years, the

GDP of the local tourism sector

is poised to increase by an average of 4.4% each year, which is more than double the 1.9% growth rate of the country's economy as a whole. This growth is expected to bring the industry's GDP to almost CAD213 billion, which constitutes 6.8% of the entire economy.

Flexible pricing – You can adjust the nightly rate depending on seasonality or market demand.
Experience managing the property – Building connections with people by hosting different guests. If this is not your thing, you can still manage the property remotely via automated management tools.
Feel more control over the property –  Since guests only stay in for a limited time, you can easily make changes to your property. Without getting worse, any damages can be repaired in no time and also be covered by Airbnb insurance.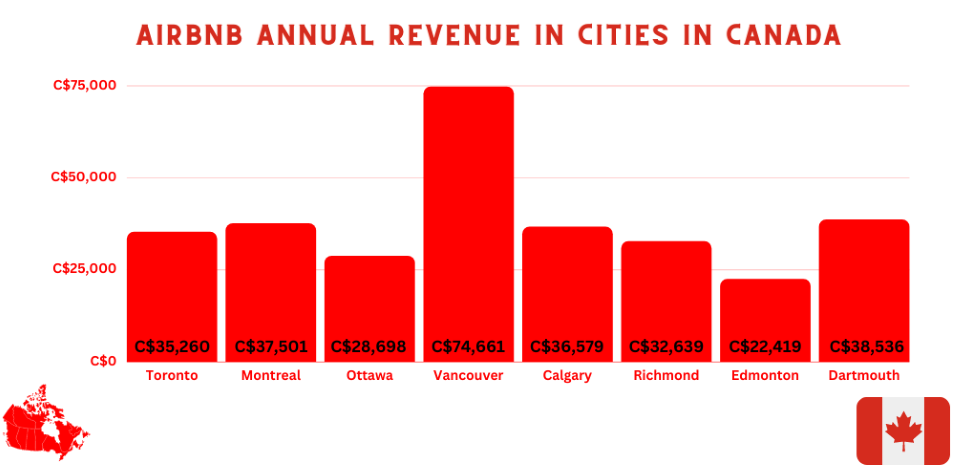 Canada Rental Markets
Here is a view of various parts of  the Canadian rental market with their respective average yields to gauge the profitability of short-term vs long-term rental properties:
Conclusion
As an investor, you want to make the most out of your capital, which can range from hundreds of thousands to millions of dollars. However, real estate investments can be tricky, with limited options for property optimization. That's why owners of Canadian rental properties should consider strategizing their rental business to ensure financial security, especially in the threat of an economic recession.
In addition, we recommend analyzing profitable real estate opportunities in Canada to earn a nice income stream. Yet, you can also explore other markets outside Canada! For instance, you could also check out best cities to Airbnb in the US.
Now that you know the difference between short-term vs long-term rental income, Airbnb is the key to having better returns. But to make it work, Airbnb hosts must also do their part. Incorporating data analytics into your strategy can provide valuable insights for setting the right nightly rates. Fortunately, Airbtics offers macro and micro views of rental markets, enabling you to make data-driven decisions and increase your market rent.
Be on Top of Your Airbnb Market &
Make Your Property Investment Recession Ready!