Last updated on September 19th, 2023
Airbnb Investing For Beginners: Unlock the secrets of Airbnb Investing for Beginners. Gain expertise and confidence with proven strategies for short-term rental success!
Airbnb Investing For Beginners: Investment Strategies for Short-Term Rental Success
Meet Uncertainty with the Best Airbnb Investment Strategies
In the ever-evolving world of real estate investments, Airbnb has captivated both seasoned investors and newcomers alike. The attraction of turning spare rooms or entire properties into lucrative side hustles has sparked a global scale of curiosity and excitement. Yet, Airbnb real estate investing is not without its fair share of uncertainties, twists, and turns.
But you can meet uncertainty with knowledge and savvy strategies! This can pave the way for financial empowerment as you embark on investing in Airbnb for the first time. This guide is your roadmap in the short-term rental landscape. We'll show key strategies and insights that will surely light your path in this exciting journey! 
Know The Local Airbnb Regulations
As a budding Airbnb investor, you might have already heard how regulations have become a major concern in the short-term rental industry. First-time Airbnb investors should prioritize understanding the Airbnb regulations in their preferred city before investing. Limiting the number of short-term listings, capping the number of booking nights, adding zoning restrictions, and imposing fees and taxes are a few stipulations in an Airbnb regulation. 
While this already becomes an issue among investors and hosts, you can leverage these regulations and use them to your advantage. Other than being a legal obligation, Airbnb regulations can become part of your investment strategy.
1. Financial Feasibility – Airbnb regulations can impact the financial feasibility of a rental property. Some locations may have registration and licensing fees. Aside from those fees, regulations can affect your Airbnb business with high taxes on your rental income. Understanding these financial obligations from the get-go allows you to assess the potential return on investment more accurately. 
2. Market Analysis – In any way, shape, or form, regulations can definitely dictate the landscape of an Airbnb market. Understanding the local rules helps investors assess the market conditions. A short-term rental market with strict regulations may have fewer hosts, this, however, can lead to higher demand for available properties. On the other hand, lax regulations can lead to increased competition but lower occupancy rates due to oversaturation of the market.
Pros of Doing Airbnb
The lure of Airbnb investing can be tempting, especially for first-time investors seeking to enter the real estate market. Here are some advantages of Airbnb:
Potential for Higher Returns – Nightly rates can be adjusted according to market demand. Hosts can charge premium rates if the property is in a popular tourist destination. They can be higher during peak seasons. This is why short-term rental properties often yield higher returns compared to traditional long-term rentals.
More Frequent Income Stream – Airbnb hosting can allow you to receive income multiple times per week, depending on how often your short-term rental is booked. The more bookings you secure, the more frequently you can expect income to flow into your account
Flexibility with Business and Personal Use – Airbnb gives hosts the freedom to set their own house rules. This allows them to establish expectations regarding smoking, pets, and noise. Charging the nightly rates is also at the discretion of the hosts.
Airbnb hosts can reserve their property for personal use (or maintenance) whenever they want. They can just block specific calendar dates, making their rentals unavailable for bookings. This means that they can enjoy their property for vacations, holidays, or family gatherings without coordinating with a long-term tenant.
Hosts can also decide to shift their strategy as they see fit. They can transition from a short-term to a long-term rental.
Be Part of the FIRE Movement – Because of the reasons above, Airbnb allows you to enjoy a FIRE (Financial Independence, Retire Early ) lifestyle. The higher income potential, flexibility, and control over your investments allow you to build wealth while enjoying your properties when they're not being rented out.
Cons of Doing Airbnb
All the best things in the world have some downsides. In the business of Airbnb, these are the following:
High Turnover

– This comes in the territory of doing short-term rentals. Managing an Airbnb can take much of your time due to frequent guest turnovers, cleaning, and maintenance.

Unstable Income

– Short-term rental income can be unpredictable, especially during off-peak seasons. You will have to plan for cash flow fluctuations and potentially lower income during lean months.

Operating Expenses

– Unlike traditional rentals where the tenants shoulder the costs, managing an Airbnb property entails various costs that will be covered by the hosts. These include cleaning fees, utility bills, listings commission, and different business and licensing permits depending on your state.  

Round-the-Clock Availability

– It is only a reasonable expectation for a host to be accessible whenever a guest needs them. Guests may encounter unexpected problems or have some urgent questions during their stay. These may range from a malfunctioning appliance to clarifying the check-in procedures. Being available allows hosts to address such issues swiftly, minimizing the guests' frustration and inconvenience. 
Important Factors in Airbnb Investing For Beginners
People always ask, "Is Airbnb profitable?" The answer is yes – but only in the right markets! 
Location remains the be-all and end-all in real estate investing, including short-term rentals. In this section, we will show how to invest in Airbnb by doing simple math!
1. Location
It might not be news to you that you should invest in an Airbnb in cities that have high tourist traffic. After all, tourists are your target customers. You must already have a list in mind of your target short-term rental markets. 
But which one will give you the highest return on investment? I believe this is the most important factor for first-time Airbnb investors. The faster you get your return on investment, the faster you can scale up your short-term rental operations from only one unit to having multiple rentals!
One of the industry standards to know the ROI is by getting the gross rental yield in a market. This is calculated by dividing the average annual revenue of an Airbnb by its median property price. 
Market's Gross Rental Yield =
(Average Airbnb Annual Revenue / Median Property Price)
Let us now compare the gross rental yields of 2 of the most visited cities in the United States. These are Washington DC and Chicago. 
The median property prices of US real estate markets are available on real estate websites such as Redfin. However, when it comes to getting accurate Airbnb metrics of any market worldwide such as annual revenue, your most reliable source is Airbtics Dashboard.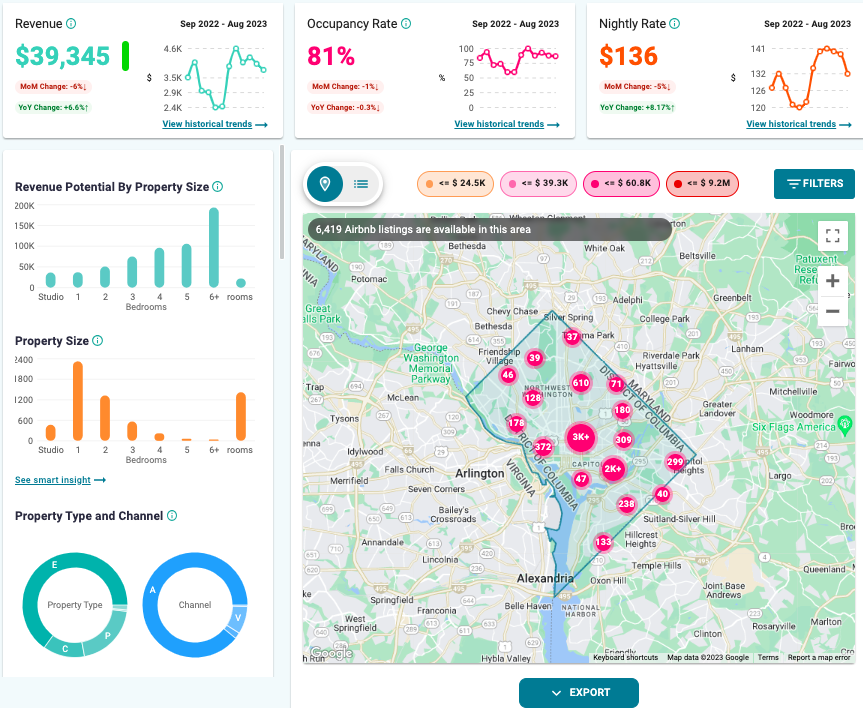 The Washington DC short-term rental market has 6,419 active Airbnb listings. A host can expect to generate an annual revenue of $39,345 by charging an average nightly rate of $136. According to Redfin, its average property price is $676,950. Let's now calculate the gross rental yield in Washington DC.
$39,345 / $676,950 = 5.81% Gross Rental Yield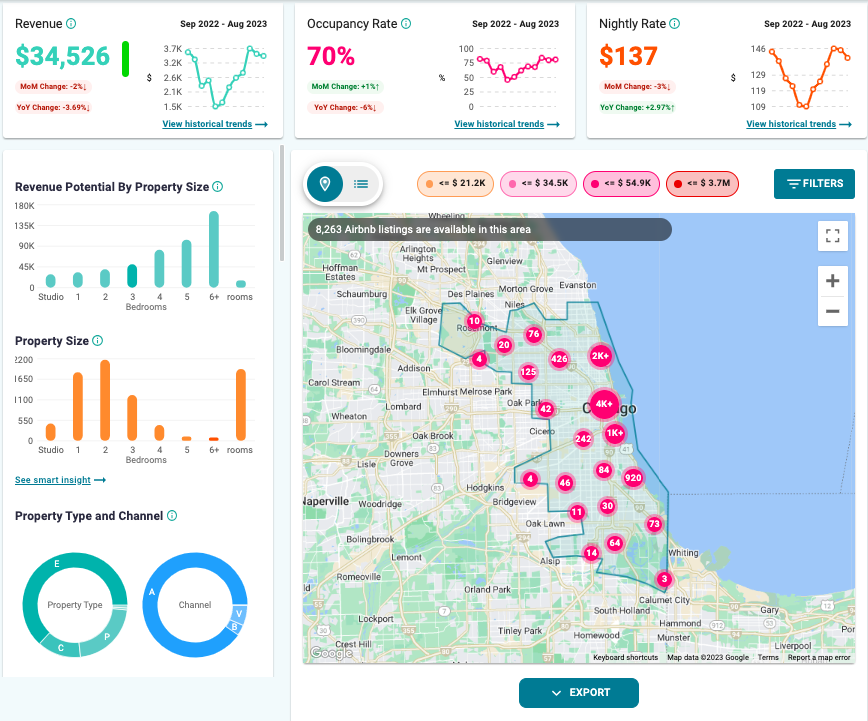 The Chicago short-term rental market has 8,263 active Airbnb listings. A host can expect to generate an annual revenue of $34,526 by charging an average nightly rate of $137. According to Redfin, its average property price is $379,000. Let's now calculate the gross rental yield in Chicago.
$34,526 / $379,000 = 9.11% Gross Rental Yield
Based on calculations, you get a faster ROI by investing in Airbnb in Chicago. This makes Chicago a better place for your first Airbnb investment even if the competition is stiffer with a higher count of active Airbnb listings. Given this, we will now lead you to what type of property is best in Chicago for first-time Airbnb investors. 
2. Best Property Type
In the previous section, we have underscored the competitive environment of the Chicago Airbnb market. Now, we will optimize your investment by leading you to the best property type in this location.