Last updated on December 13th, 2022
If you are looking to buy investment properties in Canada, knowing the Airbnb rules in your preferred city is the first step. It's also important to consider the occupancy rates in Canada in order to have successful investment & long-term profitability! In this article, we featured Airbnb regulations in Edmonton along with short-term let policies, rental properties, things to consider in property investment, and more. Continue reading and learn more about the Airbnb rules in Edmonton.
Is Airbnb legal in Edmonton? 
Don't worry, Airbnb is legal in Edmonton! Known for its wonderous festivals, this city is abundant with urban green space and is home to North America's largest shopping district.
Here is a little proof! As of August 2022, there are 21,084 nights available in Edmonton from Airbnb alone. John manages 42 listings, while Michael & Katrina and Patricia operates 28 and 25 respectively. 
How much can I make by running an Airbnb in Edmonton?
Currently, there are 1,645 Airbnb listings in Edmonton, with 58% of entire houses earning up to C$1,612 a month. The Average Occupancy Rate in Edmonton is 53% and the average daily rate is C$66. According to vacation rental market data source Airbtics, a 2-bedroom apartment in Edmonton can make up to C$25,503 each year. Check out our Short-term Rental Calculator to know how much profit you can make with Airbnb!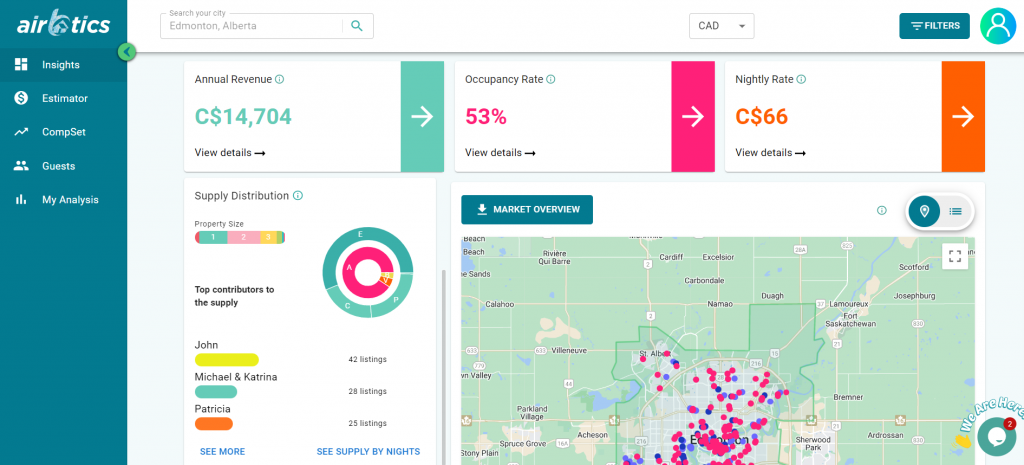 Short-term Rental Policy in Edmonton
Hold a

valid City of Edmonton business licence

and include your valid business licence number on any advertisement for the rental property.

Comply with the approved

Operational Plan submitted to the City

as part of your business licence application. If the information in your approved Operational Plan changes, you must provide a new proposed Operational Plan to the City.



Do NOT allow your property to be used by guests to operate a business

, unless the guest has a valid business licence authorizing the business activity.




Only rent up to two sleeping units, each of which can be occupied by a maximum of two persons, if you live in the same residence while guests are present. To rent more than two sleeping units, you must apply for a

Major Home Based Business Development Permit

prior to the issuance of your business licence.

A

building permit may be required

if there are changes to the physical floor plan of the property.

Rental Demand in Edmonton
Numerous hosts are doing rental arbitrage in Canada because it is not required to own a property. Based on recent Edmonton market statistics, the city of Edmonton has an increasing rental pressure and a 2.3% year-over-year increase!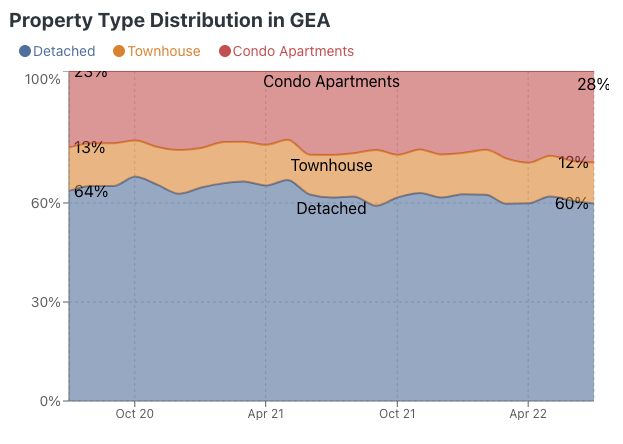 Source: Edmonton Rental Demand
Property Investment in Edmonton
If you are looking to start an Airbnb business in Canada, particularly in Edmonton, you have to consider which areas are the most profitable. Whether it is located in the city centre or in the countryside, knowing your estimated annual revenue and high-return investment opportunities is important. Using an accurate short-term rental calculator, it shouldn't be a difficult task at all!
Rental Properties in Edmonton
Once you have decided to buy a property, you have to consider the average price, population, nearby landmarks or attractions, and rental yields to expect – among the rest. It could be a challenge to find rented properties in Edmonton, so here are some of the most recommended areas that you can look into & consider purchasing:
| Area | Average House Price | Average Rent Price (pcm) | Average Airbnb Revenue |
| --- | --- | --- | --- |
| Bonnie Doon | C$490,667 | C$1,036 | C$1,669 |
| Garneau | C$303,950 | C$1,263 | C$1,625 |
| Oliver | C$255,894 | C$1,179 | C$2,057 |
Conclusion 
In my personal opinion, the biggest advantage of running a short-term rental is high return! I've talked to hundreds of Airbnb hosts over the past years and frequently met hosts making 15-30% gross rental yields, and 10-20% net. It's also fun to do!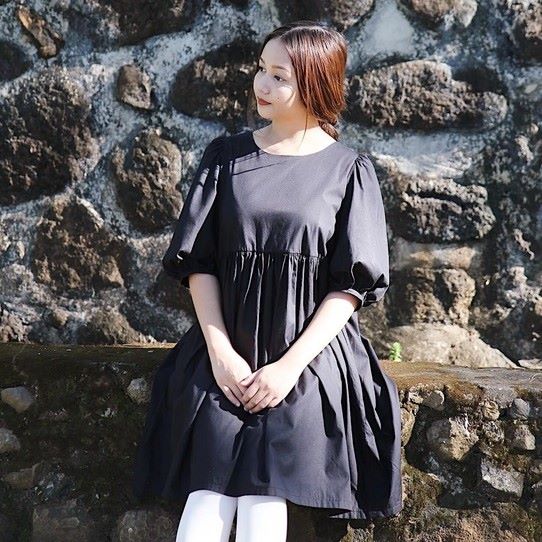 Robyn is a passionate content writer about short-term rentals and is dedicated to research & sharing property investment strategies and analysis worldwide. She is a graduate of Alliance Française de Manille, a songwriter, an animal advocate, and an avid fan of The Beatles since birth.