Last updated on December 13th, 2022
If you are looking to buy investment properties in Canada, knowing the Airbnb rules in your preferred city is the first step. It's also important to consider the occupancy rates in Canada in order to have successful investment & long-term profitability!  In this article, we featured Airbnb regulations in Niagara Falls along with short-term let policies, rental properties, things to consider in property investment, and more. Continue reading and learn more about the Airbnb rules in Niagara Falls.
Is Airbnb legal in Niagara Falls? 
Don't worry, Airbnb is legal in Niagara Falls! This city is home to the famous waterfalls itself – Niagara Falls and is a popular neighborhood because of its easy accessibility to tourist attractions, shopping districts, restaurants, and more.
Here is a little proof! As of July 2022, there are 7,599 nights available in Niagara Falls from Airbnb alone. CChloe manages 20 listings, while David and Mary operate 19 and 16 respectively. 
How much can I make by running an Airbnb in Niagara Falls?
Currently, there are 482 Airbnb listings in Niagara Falls, with 51% of entire houses earning up to C$1,612 a month. The Average Occupancy Rate in Niagara Falls is 39% and the average daily rate is C$124. According to short-term rental market data source Airbtics, a 2-bedroom apartment in Niagara Falls can make up to C$29,565 each year. Check out our Short-term Rental Income Calculator!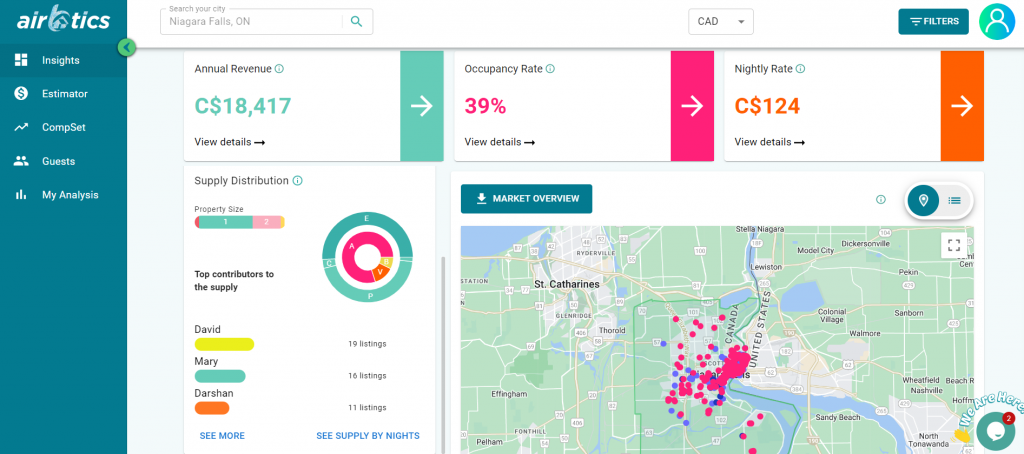 Short-term Rental Policy in Niagara Falls
A licensed Bed and Breakfast (BNB) is permitted with an owner occupied detached dwelling

(or dwelling unit of a duplex or semi-detached dwelling), where these dwellings are permitted in residential and commercial zones, subject to the regulations contained in By-law No. 2018-91.

Operators of Vacation Rental Units and Bed and Breakfasts are to be in possession of an

active license to operate

.  Applications for Vacation Rental Units and Bed & Breakfasts can be found on the

Business Licensing Page

.

Council passed a bylaw to allow a bed and breakfast of up to

three bedrooms in an owner-occupied dwelling unit

in three residential zones and up to four. bedrooms in the River Road district.

The new bylaw establishes new contemporary definitions, operational rules and inspection requirements which must be met before opening.

Under the new bylaw, these licences remain the property of the city and are non-transferrable. In addition, any operator who receives three violation notices will have their licence suspended. Anyone caught operating without a licence would be subject to a chargeable offence.

The city requires a $65 fee per year for a tourist-home licence. A new annual fee of $500 will be required for a new vacation rental unit or bed and breakfast licence (or change of ownership), and an annual fee of $250 for the renewal of any existing licence.

Rental

Demand

in Niagara Falls
There are many hosts who are doing rental arbitrage in Canada as it does not require you to own a property. Based on a recent real estate forecast of Niagara Falls, the demand is set to remain strong for sellers and the house prices are likely to increase 14%.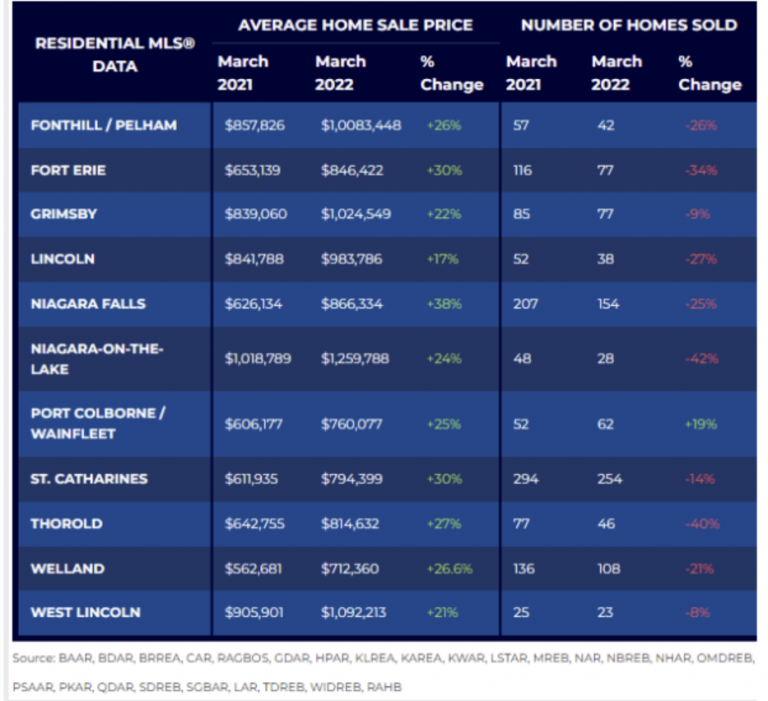 Source: Niagara Falls CA Housing Demand
Property Investment in Niagara Falls
If you are looking to start an Airbnb business in Canada, particularly in Niagara Falls, you have to consider which areas are the most profitable. Whether it is located in the city centre or in the countryside, knowing your estimated annual revenue and high-return investment opportunities is important. Using an accurate short-term rental calculator, it shouldn't be a difficult task at all!
Rental Properties in Niagara Falls
Once you have decided to buy a property, you have to consider the average price, population, nearby landmarks or attractions, and rental yields to expect – among the rest. It could be a challenge to find rented properties in Niagara Falls, so here are some of the most recommended areas that you can look into & consider purchasing:
| Area | Average House Price | Average Rent Price (pcm) | Average Airbnb Revenue |
| --- | --- | --- | --- |
| Niagara Falls Centre | C$816,720 | C$1,650 | C$2,989 |
| Ryerson | C$742,240 | C$1,800 | C$2,773 |
| Corwin | C$700,000 | C$1,500 | C$2,127 |
Conclusion 
In my personal opinion, the biggest advantage of running a short-term rental is high return! I've talked to hundreds of Airbnb hosts over the past years and frequently met hosts making 15-30% gross rental yields, and 10-20% net. It's also fun to do!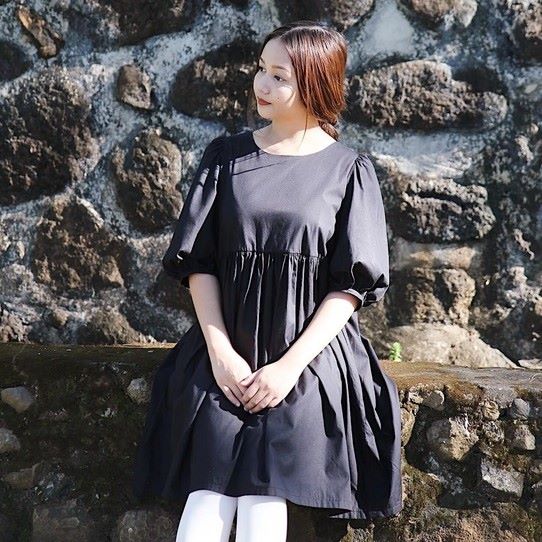 Robyn is a passionate content writer about short-term rentals and is dedicated to research & sharing property investment strategies and analysis worldwide. She is a graduate of Alliance Française de Manille, a songwriter, an animal advocate, and an avid fan of The Beatles since birth.