Last updated on September 4th, 2023
Do you want to invest in real estate in BC province? Then the best way to start is to know the top places to Airbnb in British Columbia!
Best Places to Airbnb in British Columbia
British Columbia's robust economy and great quality of life have helped many hosts and investors to create a good rental income by owning Airbnb properties.
Find out why owning investment properties in British Columbia is a profitable idea.
The best cities for real estate investment in British Columbia are revealed – along with their respective data such as recommended property types, gross rental yields, Airbnb revenue, and many more.
Introduction
Mountains. This location allows the province to have a wide amalgam of natural areas. This diverse and cosmopolitan province is composed of a variety of fascinating cities with great cultural influence and breathtaking natural landscapes.
In Canada, British Columbia is the third most populated province and also one of the top richest regions with a GDP per capita of C$47,579. Among BC's most popular cities are Victoria and Vancouver. Both of which are its major metropolitan areas and economic centers. 
While the cities of British Columbia certainly are a catch for investors, you may still be wondering – what are the most profitable areas for real estate investing, right?
In this blog, we help you by revealing the best places to invest in Airbnb in British Columbia. We also feature the main advantages that this province offers to real estate investors. Interested in learning more? Then continue reading!
Why should you consider investing in rental properties in British Columbia?
If you're looking to generate a good passive income that will ultimately lead you to financial freedom, then owning an investment property in one of the cities of British Columbia certainly is an excellent idea. Albeit, there's still a question that needs to be answered – what are the advantages that British Columbia offers to investors? 
Check out some of the reasons why investing in real estate in British Columbia is a great idea:
British Columbia is one of the richest Canadian provinces. Thus, its cities and communities own a sustainable and diversified economy. Some of the key sectors that strongly contribute to the province's economy are tech & innovation, trade, tourism, filmmaking, forestry, and real estate.
Moreover, BC is regarded as a hub of transportation between the Asia-Pacific region and North America, with Port Metro Vancouver as the largest and most diversified port in the country. 
Outstanding quality of life
British Columbia's cities and local communities not only offer great natural attractions and unique cultural scenes but also a high standard of living that is second to none. With a clean, safe, and healthy environment, the cosmopolitan cities and communities in this province surely draw people from all over the world.
The BC province offers access to high-quality amenities, top-tier educational institutions, an unparalleled healthcare system, and a wide range of recreational infrastructures. For this reason, more people are looking to move to any of the cities or communities in BC, and this consequently creates strong demand in the rental market.
Experience unforgettable adventures
Looking for memorable adventures and experiences? Then you'll love British Columbia! While the province has many urban centers, they're just one step away from picturesque natural surroundings and wilderness that open the doors to a plethora of outdoor ventures. But not only that because BC also owns plenty of cultural heritage sites and hosts a variety of festivals and events throughout the year.
Thanks to its convenient location between the Pacific Ocean and the Rocky Mountains, British Columbia offers a wide array of activities. Renew your spirit by visiting enchanting places like islands and forests or those with great ocean and mountain views. You can go to a whale-watching base camp like Orca Dreams or do snowboarding and skiing in Whistler Blackcomb.
On the other hand, if you prefer visiting cultural sites you can explore some of BC's finest museums such as Victoria's Royal BC Museum or discover the historic town of Barkerville. 
Is Airbnb Profitable in British Columbia?
Are you considering buying an investment property in Canada, specifically in BC? Great news here! Airbtics confirms that investing in a rental property around British Columbia certainly is a financially rewarding experience. As a matter of fact, cities like Vancouver and Whistler are among the top-ranking Airbnb cities in Canada.
For instance, according to Airbtics' data, an average Airbnb host can earn up to C$54,272 with a median occupancy rate of 88% for operating a 1-bedroom property in Victoria. 
Investing in rental markets in BC cities like Victoria can be a profitable plan since they offer attractive opportunities to real estate investors. Having said that, investors must still consider other key factors like the property type and location to generate a good income stream.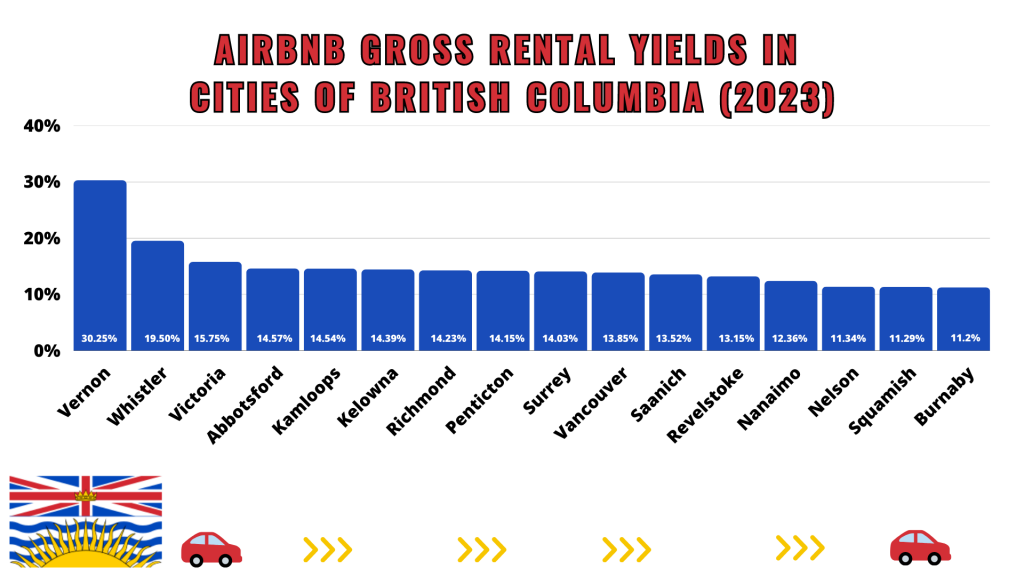 Source: Airbtics Dashboard
Best Rental Markets for Real Estate

Investments

in BC, Canada 
While there are many Airbnb host expenses to consider before investing in a rental property, the most crucial part of this journey is to evaluate the property's location. 
British Columbia has over 161 municipalities. So, you can guess that the profitability in each of these cities is different! Therefore, it's understandable if you're having a difficult time choosing the right location to set up your rental property around British Columbia.
Check out the best cities in British Columbia that are recommended for starting an Airbnb business:
Location

Number of Airbnb Listings

Best Number of Bedrooms

Median Property Price

Airbnb Annual Revenue

GRY

Vernon

180

4 bedrooms

C$624,900 (4 BD)

C$186,032

30.25%

Whistler

2,238

3 Bedrooms

C$740,000 (3 BD)

C$144,334

19.50%

Victoria

854

2 Bedrooms

C$509,900 (2 BD)

C$80,314

15.75%

Abbotsford

118

2 Bedrooms

C$254,900 (2 BD)

C$37,132

14.57%

Kamloops

133

1 Bedroom

C$247,900 (1 BD)

C$36,038

14.54%

Kelowna

923

2 Bedrooms

C$424,900 (2 BD)

C$61,137

14.39%

Richmond

557

1 Bedroom

C$248,000 (1 BD)

C$35,281

14.23%

Penticton

329

2 Bedrooms

C$365,000 (2 BD)

C$51,630

14.15%