Last updated on June 22nd, 2023
There's no doubt that the city of love is consistently adored for many decades because of its romantic vibe, classic French gastronomy, and world-renowned tourist attractions. According to recent statistics, Paris, France brings in over about 30 million tourists annually. 
Can you imagine the number of visitors that have booked their respective accommodations in a span of one month? We have one word to describe it: Fully-booked!
In general, Paris is one of the most visited destinations across the globe because of its famous attractions such as The Eiffel Tower, River Seine, Notre-Dame Cathedral, and many more. Let's not forget that this city is also a global center for art & fashion.
Property investors who want to start an Airbnb business in France should certainly do thorough research about rules and regulations as they vary per city. For instance, hosts should know that the Airbnb rules in Montpellier prohibit rent for more than 120 days per year and limits one per fiscal household for secondary housing. 
Continue reading to learn more about Airbnb's long-term profitability in Paris, France.
Is Airbnb Profitable in Paris, France?
Paris Property Group declared that this city has the most Airbnb rental accommodations with very high demand, however, has limited supply. Based on Airbtics, an average host can earn an average of €40,109 yearly for a 1-bedroom apartment/condo in Paris. 
These Airbnb metrics are necessary in order for property investors to have an outlook of potential revenue and avoid losing hard-earned money. Knowing your preferred area's occupancy rates, average daily rates and annual revenue is important in starting an Airbnb business to achieve success.
By using an accurate short-term rental calculator, you'll be able to confirm that Paris is one of the best places for investment. There are indeed plenty of high-return investment opportunities in Paris.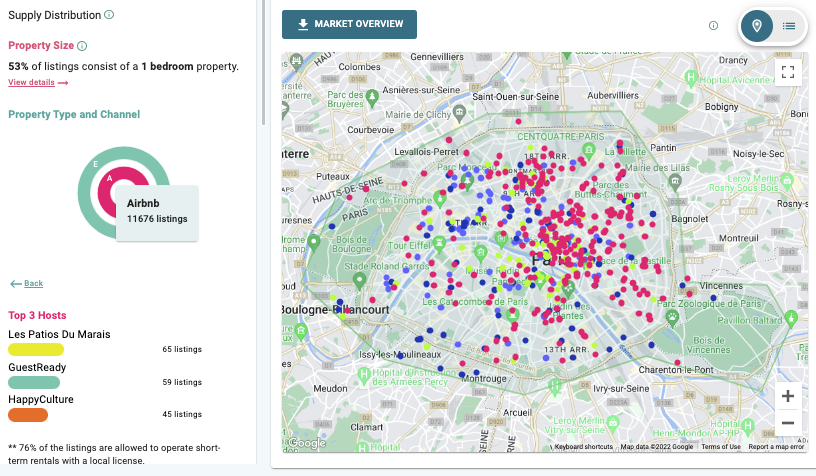 Source: Airbtics Dashboard
What is the Average Occupancy Rate for Airbnb?
An excellent Airbnb occupancy rate should be around 65% with a remarkable increase monthly. The good news is that for Paris, the occupancy rate should not be doubted at all. Based on Airbtics, the YoY change in Paris, France increases by 324.16% and has had a 100% occupancy rate since April 2022. Talk about profitability!
Paris is one of the Airbnb cities with the highest occupancy rates, particularly during the peak season in September. In addition to this, Schengen Visa recently announced that France has the highest number of tourists this summer of 2022. 
It's interesting to know that despite the post-pandemic restrictions in various countries, the international traveler's ratio in Paris remains at 76%.

Is Paris a Good Place to Invest in Real Estate?
Before purchasing an investment property in France, it's important to have knowledge of the various kinds of mortgages, ongoing and upfront costs, and other fees associated with real estate. Based on a recent study, Paris real estate is a steady profitable investment that has tripled over the last 30 years. Sweet money deals for investors!
However, this may vary depending on the exact location of your Airbnb business in Paris. In order to track the Airbnb performance of your preferred neighborhood in Paris, it's practical to take advantage of smart technology. By using a precise short-term rental calculator, you'll be able to consistently monitor the demand & supply and spy on your competitors located within the area – and stand out among the rest.

What are the Airbnb Rules in Paris?
If you are worried about strict Airbnb rules in Paris, the good news is that there are only a few things to take note of:
​​Registering your Airbnb property is NOT necessary if you're only

offering private rooms for short-term rental

, but is necessary if you're renting an entire property, and if the

property is your primary or secondary residence

.

If you manage multiple listings,

you'll need to register each listing individually

, receiving a registration number for each property you intend to list.

Rentals with

bail mobilité or mobility lease are NOT required to register

with the city.

 If you plan to host guests throughout the year, you will need to convert your accommodation's destination status by

filing an application for urban planning permission to the City Hall.

 Subsidized housing usually has rules that

prohibit subletting without permission

.
Top 3 Neighborhoods in Paris for Airbnb Investment
In order to properly identify which particular area is best for investment in Paris, here are the top 3 neighborhoods with the highest occupancy rates:
Considering that this area is the most populated in Paris, The 15th Arrondissement is certainly home to prime areas for rental investment due to its close proximity to tourist attractions including The Eiffel Tower, Montparnasse Tower, and Bourdelle Museum.
Average occupancy rate:

79%

Annual revenue:

€38,048

77% of the listings are allowed to operate short-term rentals with a local license.



Home to Champs-Elysées and Avenue Montaigne, The Golden Triangle is one of the most prestigious neighborhoods to invest in Paris.
Annual revenue:

€59,924

Average occupancy rate:

84%

95% of the listings are allowed to operate short-term rentals with a local license.
If you are looking to invest in properties that are family-friendly, this neighborhood is highly recommended. Its close proximity to the Paris capital makes it accessible to travel.
Annual revenue:

€30,604

Average occupancy rate:

58%

82% of the listings are allowed to operate short-term rentals with a local license.
Conclusion
If you are looking to invest in an Airbnb city with maximum cash-on-cash return and 100% assurance that it will bring long-term profitability, in-depth research is a stepping stone. However, the data points mentioned in this article such as Airbnb occupancy rates, annual revenue, & traveler's ratio should be your basis for investing in an Airbnb business in Paris.
Now that you are aware of how this Airbnb city became fully booked, don't miss out on greater opportunities! With the help of our reliable data analytics tool, you can vastly enhance your monthly revenue, create a comparison for each neighborhood, add the appropriate amenities and so many more exciting features.