Why am I eligible to give a Mashvisor Review? 
Finding a good investment deal is no easy task. You need a bit of luck on your side to execute a great investment. Before data was in the picture, getting a good deal was a matter of being at the right place at the right time. Or having the right connections of information. But after the introduction of tools like Mashvisor, Airbtics, and AirDNA everyone has access to information they need to invest in a great property. In this blog, we'll be doing a Mashvisor review and breakdown of its features to see "Is it still worth it in 2021"? 
Read More: AirDNA Review
Mashvisor was launched back in 2014 and was a hit instantly. It was the only data analytics tool available out in the market at that time for property investors. I used Mashvisor back in 2016 when I was looking into investment properties in the Brighton area. In real estate, timing and knowledge are the most important things to master. Mashvisor was one of the first tools to deliver that to the general public and give power to everyday investors. Mashvisor leveled the playing field for everyone, be it an experienced property investor or someone just getting started. After Mashvisor, everyone had the same opportunity to have accurate data and knowledge.
But it's been 7 years since its launch and there have been many competitors in the market providing similar service. So I'll try my best to show as many reviews of existing customers and their overall thoughts on Mashvisor. Also, I'll list down all the features to help you get started. A list of good alternatives will be at the bottom as well that have recently been providing more accurate data and great service. 
What is Mashvisor?
Mashvisor is a property analytics data tool. It is designed to help real estate investors to acquire good investment properties. It does this in 2 ways, find these potential good deals, and second, then use data to predict their performance on long and short-term leasing. 
How does Mashvisor obtain data?
Mashvisor has multiple channels from which it obtains its data. It exports the same data from various channels to verify the accuracy of data by comparing it to multiple sources. Some of their sources are Realtor.com, Zillow, MLS, Airbnb, Auciton.com, Roofstock, etc to name a few.
Each source has its own agenda and type of data it provides. Websites like Realtor.com, Zillow, and MLS provide the publically available data of properties. This includes Physical Description, Past Owner history, Price, and Size. Whereas, Airbnb provides data of the short-term rental market, using which Mashvisor predicts STR rental income of properties. Similarly, Roofstock helps in acquiring single-family houses that have a guarantee of a minimum rent. But, this is only on properties that have been not occupied or vacant for more than 45 days. The last source Autction.com helps in gathering data of bank foreclosures. Residential properties that are for sale through offline or online auctions are monitored and their data is updated on Mashvisor using Auction.com API.

Existing Customer's Mashvisor Review
1. Trustpilot
Mashvisor has an average review score of 3.5/5 on Trustpilot. This shows people somewhat like this tool but there is a lot of room for improvement still. In our AirDNA Review, we saw the majority of the users had problems related to the pricing and not data that much.
But here it seems that most of the negative reviews and comments are related to the quality of data. Many people are complaining about missing listings and properties and incomplete data. Having incomplete data can be a huge con as it can give wrong results when analyzing an area to make a investment decision. 
Dashboard
In the last 7 years, Mashvisor has made significant improvements in its UI and Data. The dashboard is very user-friendly and easy to use. For someone new, it shouldn't be hard to get hang of the dashboard quickly.
The color-coded "Heatmap" of the search function is especially useful. Users can sort the database for a specific variable such as listing price, cap rate, or cash on cash return with results displayed for neighborhoods in hues of "red" for low and "green" for high. A prospective buyer, for example, would theoretically look for properties that are green for cash on cash return and red for market price. A user with unique search criteria can modify the search metrics at will. For example, an investor can quickly move from a cash purchase to a mortgage (and vice versa) with unique down payments, terms, and interest rates to see the impact on rates of return.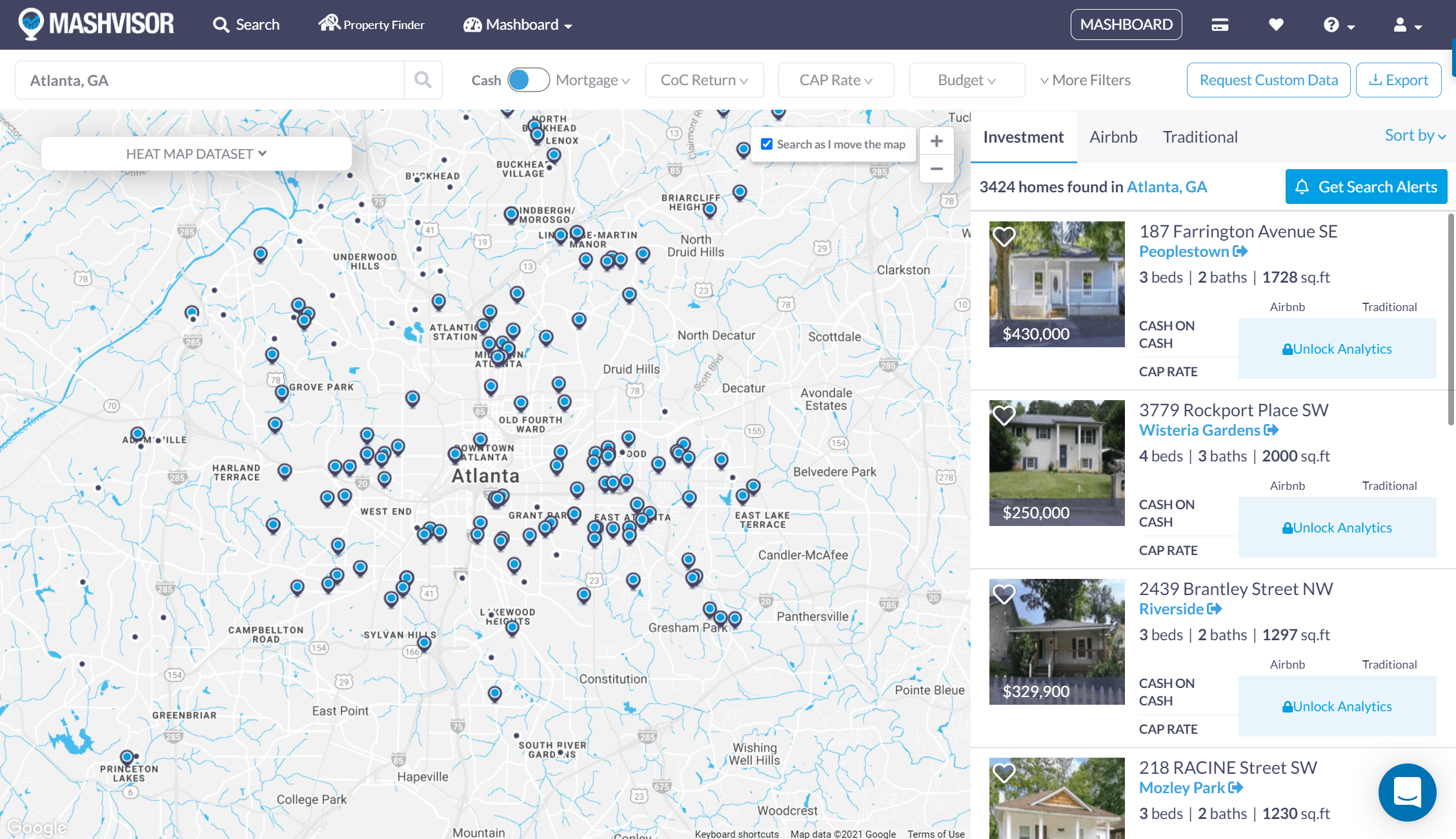 Property Finder
The properties identified through the Property Finder should be further analyzed to ensure they meet an individual investor's threshold for minimum returns. The process typically requires developing a spreadsheet of probable profits, expenses, and cash flows.
Building a unique spreadsheet or a fill-in-the-blanks model can be a daunting task for those who do not regularly work with spreadsheets. Mashvisor's Property Analysis tool is a mathematical model designed solely for residential real estate investors. Its format identifies the major categories of revenues and expenses necessary to calculate net operating income and subsequently, rates of return and cap rates.
Errors in the calculations arise because investors typically over-estimate revenues and underestimate expenses. The model minimizes the chance of gross errors by populating revenue figures from data collected with the Property Search function and estimates costs – start-up and ongoing – based on averages for comparable properties in the database. The software allows users to override each element to create a unique worksheet based on their experience that more accurately represents future results.
Mashvisor's analysis modeling also helps investors determine the best usage of a potential property. It compares returns for short-term Airbnb renting versus long-term leasing. In some markets, short-term rentals don't make ideal investments!
The Property Analysis model, in my opinion, successfully transforms a usually messy project into an elegant, easily understandable, and audit-able result to make the right investment decision.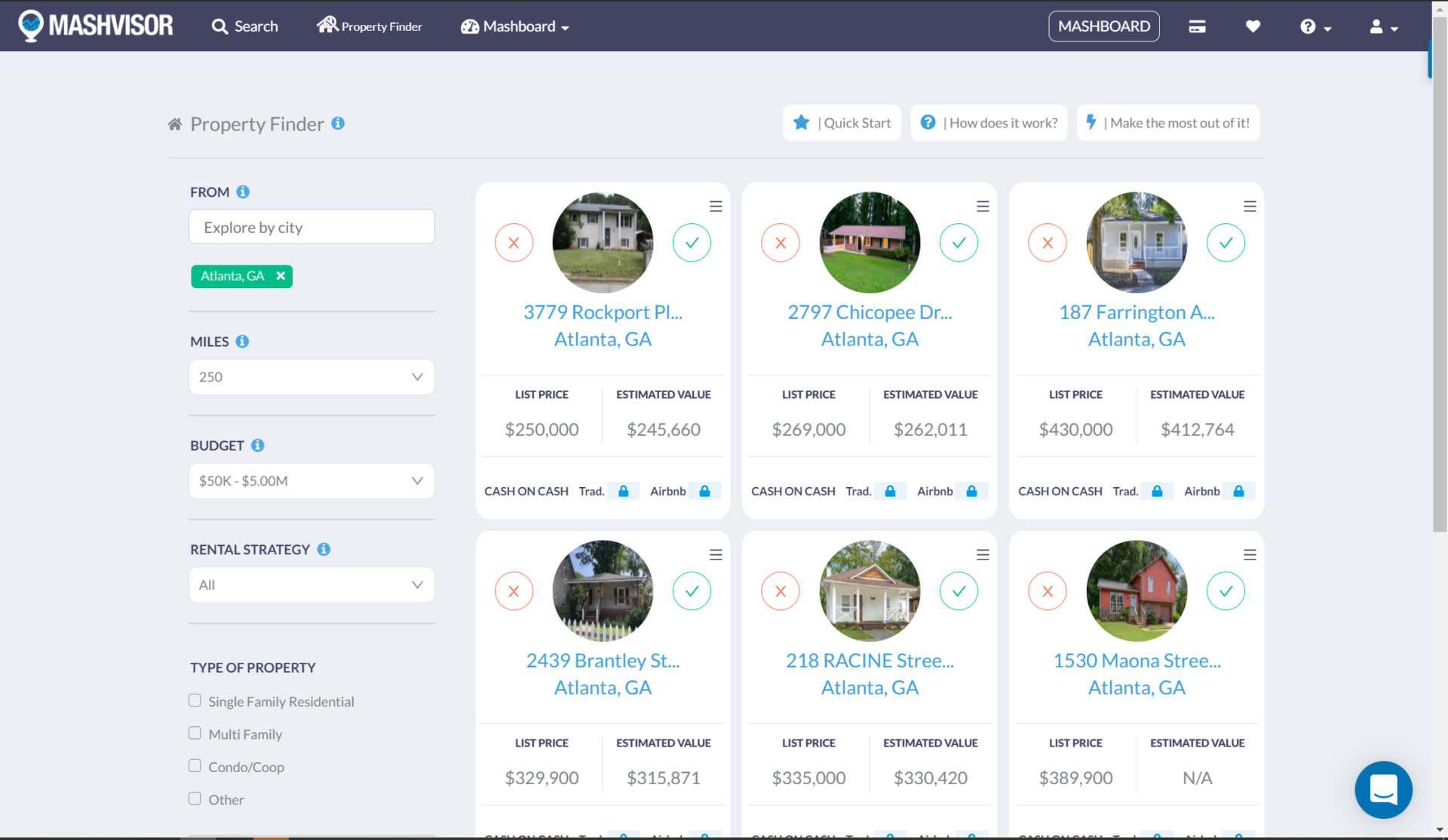 Pricing 
The company offers a range of plans and pricing; each billed annually with a free 7-day trial period:
Starter Plan. Investors can focus on one or two city markets for $7.50/month (if billed annually). The fee includes most of the identification and analytic capabilities of the full program except access to Heatmaps.
Basic Plan. For $25 monthly, a subscriber gets access to three city markets plus Heatmaps, property sales history, and property tax history.
Professional Plan. For $49.92, investors have access to five city markets (of their choice) plus the ability to export reports and findings.
Enterprise Plan. For $79.17 monthly, a subscriber gets access to Mashvisor's full offerings plus telephone access for assistance.
Read More: 
AirDNA Alternatives
Airdna vs Mashvisor (What's Best for you?)