Why am I eligible to give an AirDNA Review? 
When AirDNA was launched back in 2015, it took the market by storm. It was the only data analytics tool available out there at that time. I was also an avid user of AirDna back in 2017 when I was managing 3 condos in Brighton. That time I didn't have anything else to compare Airdna with and validate the data I was seeing. With little to no competition in the market making Airdna Review was impossible to find. But being a resident of Brighton, and having experience of running a short term rental business for 3 years. I figured a lot of the data is either missing, wrong or old. As I was not seeing a complete list of all my competitors and their daily rates.
Also after talking to AirDNA's support I figured that the data was not as frequently updated as I expected. This led to inaccurate predictions for my business on a short interval basis.
What did I do about it?
I did what anyone else would have done, try to find a better solution. I switched to many other data analytics tools over the next 2 years. AlltheRooms, Beyondpricing and few more. Some had great graphics, cheaper prices, more regions, etc but the main thing was missing for me. Accurate Data!
So in 2019, I thought of finding a solution by myself "Airbtics". This is a tool I developed after not being able to find anything good and reliable in the market. The data is updated every single morning and custom requests are always welcomed. Support my work and give feedback to improve this tool and help me make the perfect short-term rental analytics out there for hosts/managers and investors.
What is Airdna?
AirDNA is a short-term rental (Airbnb, VRBO) data analytics tool. Founded in 2015 by Scott and Will Shat Ford. It was founded to help out Airbnb hosts with Airbnb data and help them make better and calculated predictions. Earlier they used to have two products that they were focusing on, Market Minder and Investment Explorer.
Recently it seems their main focus has shifted solely to Market Minder and Enterprise Clients. Airdna seems to have removed the Investment Explorer from their main home page. After reviewing their updated UI and website there are many major changes. Airdna has increased their pricing and now has 3 tiers on the website. Starting from $19 to $99 and one separate enterprise solution.
How does Airdna obtain data?
Airdna gathers data of 4 million Airbnb rentals mostly through scraping the Airbnb website. A very small amount of their data also comes from their partnerships with vacation rental managers. This allows them to re-evaluate their data to increase its accuracy. 
They update their rental database every first week of the month. Which is not a problem for many users but you have to consider the fact that the data is not real time. Airdna only updates their database 12 times a year. Whereas the majority of the new companies have a shorter timeline. For instance Airbtics updates its data every day mid-night which gives the user much more real time experience.

Existing Customer's Airdna Review
1. Trustpilot
The majority of Airdna review on Trustpilot are regarding the pricing structure and not data. This might imply that majority of the users might satisfied with the data Airdna is providing but not with the pricing structure and service.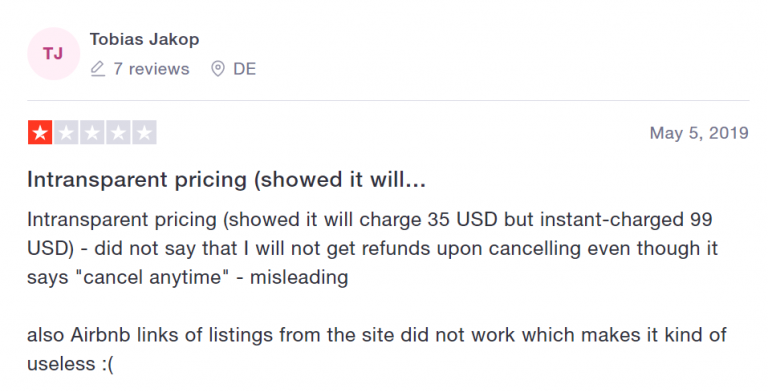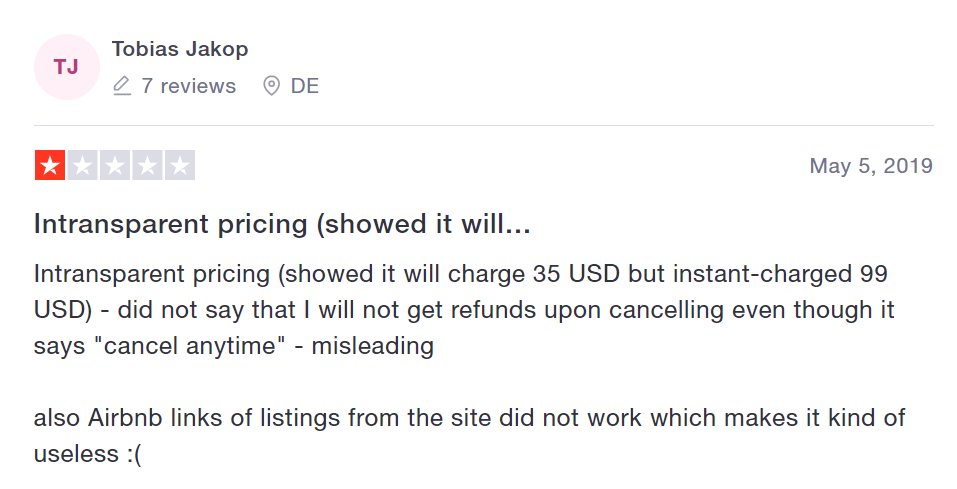 Airbnb community seems to have mixed feelings about AirDNA. Many people gave Airdna review by criticizing the data and how it is not accurate for non-major locations. Airdna seems to be focusing more on big markets which bring it a lot of high ticket clients and neglecting other regins.
Dashboard Updates and Tutorial
Over the last 6 years, Airdna has made significant changes in its dashboard. Namely, including more metrics and improving the user interface. For someone new, it shouldn't be that hard to understand the user interface. In fact, it is designed keeping the mass market user in mind. It has been kept simple for a moderate user to grasp the interface easily. 
Let's do a quick run-through of all the features one by one:
As the name suggests the overview page is a collection of the most important metrics that AirDNA provides. The top bar on the overview page gives you a quick glance at metrics like Average Daily Rate, Occupancy, Revenue, and supply/demand of an area. You can click on these cards and do an in-depth analysis of a particular metric.
On the top left corner, you'll find the "Market Grade" card which is the rating out of 100 that Airdna gives to a particular city or an area. You can also see the parameters on which Airdna has based this rating. Namely, Rental Demand, Revenue Growth, Seasonality, Regulations, and Investability.
After that, you'll find "Average Daily Rate" which as the name implies it the average daily booking price of a room in the area. You can add filters to get the ADR(Average Daily Price ) of a specific type of property or rental.
Similar to ADR, you'll find an "Occupancy Rate" card which is also very self-explanatory. The graph shows the average occupancy rate of the area. To see the occupancy rate of a particular size and type of rental you can click on "View Occupancy" and add filters. This is a very important metric to look at when researching an area to invest in. Having consistent high occupancy rates is very important to generate consistent long-term profits from a rental property. 

Middle Section
The middle section of the "Overview Page" consists of an "Active Rentals" Section. This section describes the breakdown of Active Rentals in the area based on the rental type. Also a card that shows the breakdown of rentals that are listed on Airbnb, VRBO or both.
Lower Section
The lower section of the "Overview Page" consists of many useful cars. Namely, the "Rental Size", "Rental Growth", "Amenities" and "Airbnb Ratings" cards. Out of these, the most important ones are the "Rental Size" & "Rental Growth" if you are using AirDNA to find your first rental property. These cards as their name explains helps you to see the breakdown of number of properties of a particular size in the area & quarterly growth in the area respectively. 
Rentalizer section is a great tool to help you estimate your revenue and ROI on a property. You can add address or zip code and add filters like the number of bedrooms, bathrooms, and capacity of guests. Then using historical data Rentalizer helps you forecast the future revenue and occupancy rate of a property.
From my testing, it was able to give estimates in the ballpark of what were the actual stats of my property of mine.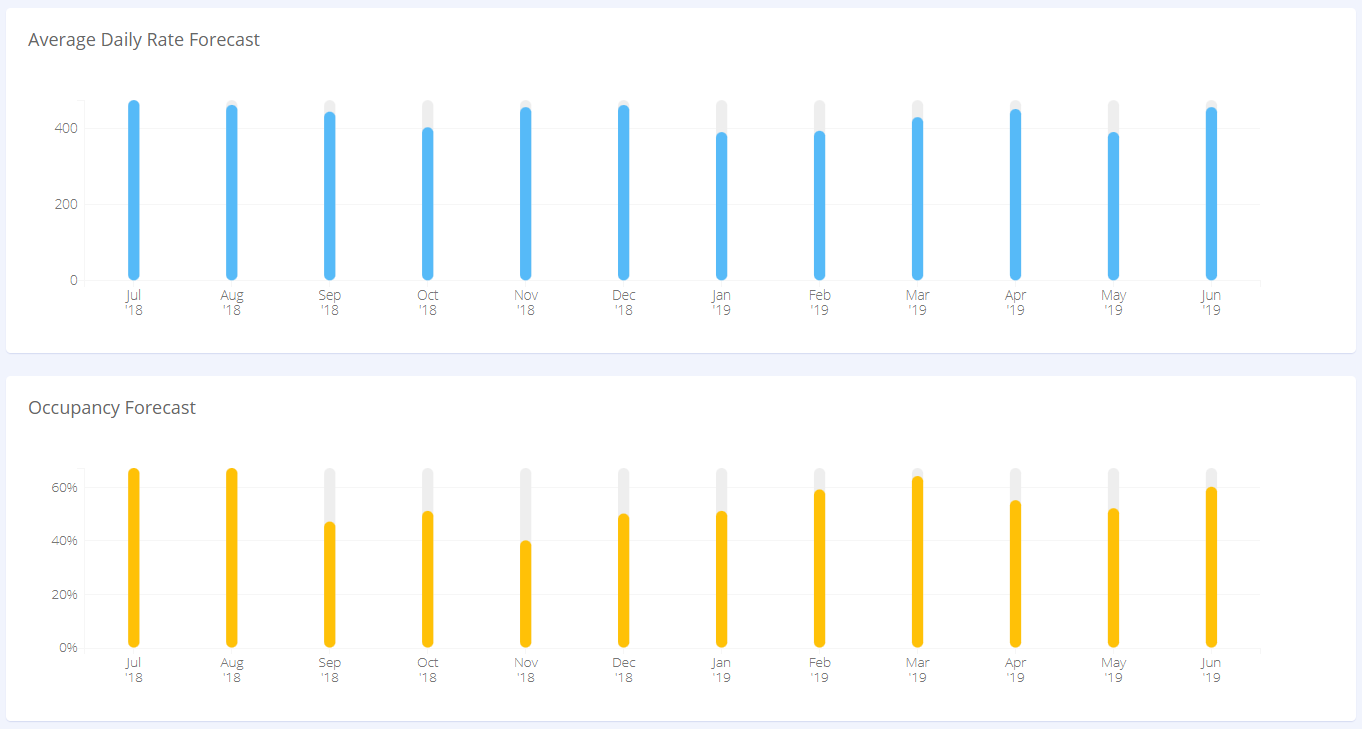 As you can see in the data below. "July" is shown as the best month with the average revenue per room being $258. This monthly data can be very useful in planning out your yearly strategy. This data can help you choose from "High Rent – Low Occupancy", "Low Rent – High Occupancy" or "Hybrid" strategies to maximize your profits.


As you can see in the yearly seasonality calendar. December and January are the months with least occupancy and revenue and June and July being the highest.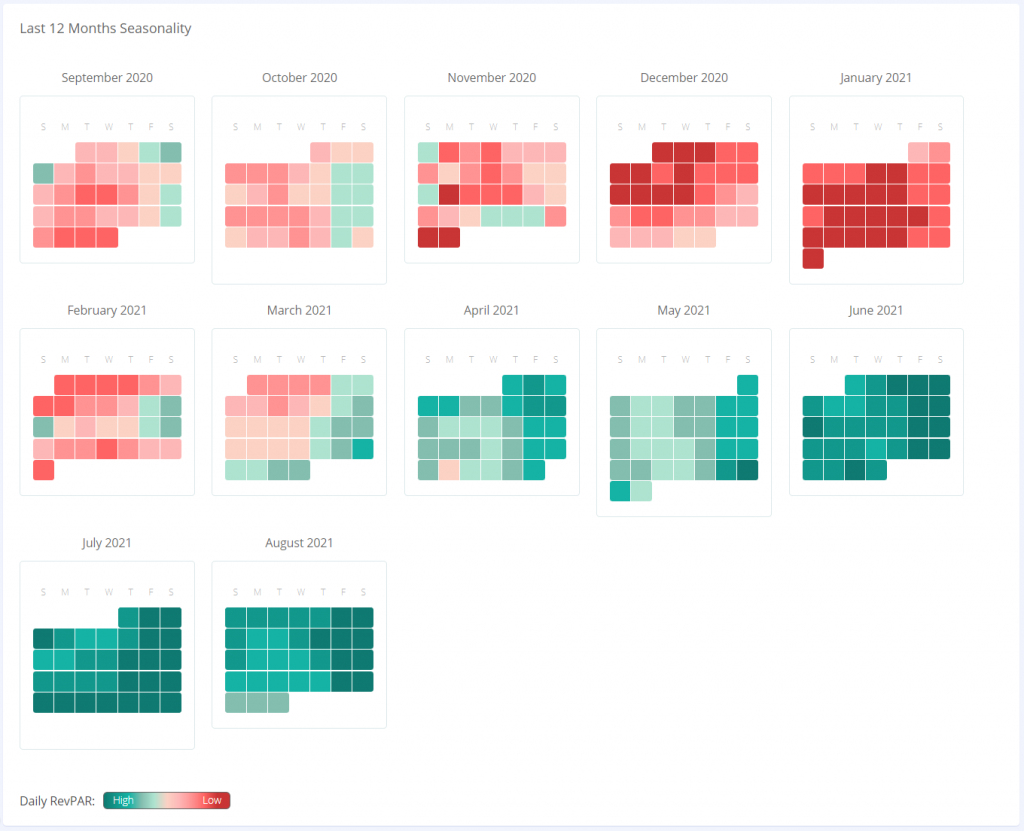 "Lead Time" is the metric that tells you about the number of days before a property is booked from arrival. This metric helps you to keep track of your future occupancy. Also keep a check if you need to make some changes in future pricing if the occupancy rate, based on the lead time, drops below the market standard.
The "Rates" section gives you a breakdown of the Average Daily Rate of different types of rentals in the area. Top bar will show you the ADR of the entire rental, private room, or shared space. This will help you determine ADR for your own property based on its type.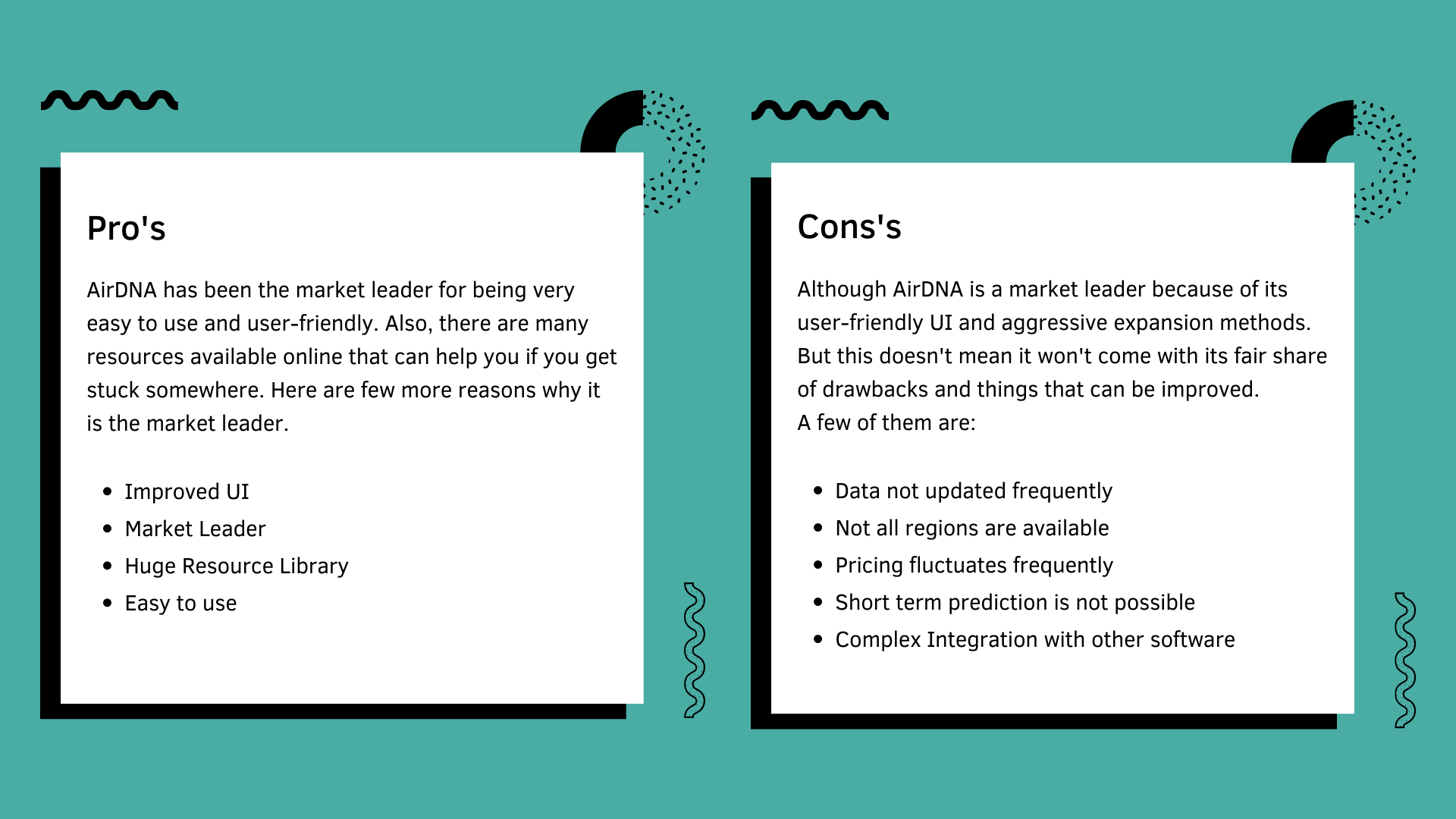 Carrer de Muntaner 292 6.2
08021 Barcelona, Spain
Ph: +34 932 205 569 (Sales and Customer Success)
or chat from 11am – 11pm CET (GMT+2)
—————-
1507 Blake Street
Denver, CO 80202
United States
Ph: +1 720 372 2318 (Corporate Headquarters)
or chat from 3 am – 3 pm MST (GMT -6/7)
The customer support email is [email protected].
Conclusion
My final thoughts on Airdna are that "It's a great tool that will help you a lot if you are just starting and a moderate user." Airdna data can be really useful in making decisions when out in the market looking to invest in a rental property. Post-purchase tools of Airdna lack in providing accurate data when managing a property. The data is not completely accurate when making decisions on a daily basis or at short intervals. 
When Airdna was launched it was definitely a revolutionary tool. It gave power to the hands of hosts and gave them a medium to leverage data and increase revenue. But looking at the current market conditions Airdna has fallen behind in keeping up with some of the new and innovative tools that are giving hosts the ability to do a lot more with data. There are tools out in the market which are providing a lot more accurate data and a lot more metrics with less work. With Airdna you would have to put in a lot more work and need to have deep knowledge of your area or the area you are looking for data for.
My one-line Airdna Review will be "Solely relying on Airdna data will lead to making wrong decisions and inaccurate predictions".
Read More: 
AirDNA Alternatives
Airdna vs Mashvisor (What's Best for you?)