Last updated on September 15th, 2023
What is STR Insights?
STR Insights is a new short-term rental analytics company that provides Airbnb data for real estate investors. It gives the entire US market its subscription service. Some of STR Insights' features include access to revenue metrics and property details among others.
Short-term rental analytics platforms like STR Insights are extremely helpful for benchmarking and providing data for investors to make the best investment decisions. But is it the best one for your business?
If you're considering using an STR Insights tool for your Airbnb business, this article is for you! 
Continue reading as we discuss STR insights' features, pricing, and reviews. At the end of this article, you'll learn whether STR Insights is the best tool for your short-term rental business. 
Features of STR Insights
Similar to other short-term rental analytics providers, STR Insights has an ROI feature where you can input your address and predict profitability. Their software includes a dashboard, market profile, comparison report, and support.
STR Insights' dashboard can't be accessed after a free sign-up. They require users to subscribe to their premium subscriptions first to gain access. Their tutorial video & website present the following features:
Discover markets with the latest Airbnb data

Research-based on the types of vacation destination

Compare different markets using the ROI calculator
The CEO of STR Insights, Kenny Bedwell, was also featured in a podcast that explains the tool's major features. He shared all the details on STR Insights and tips for what markets you should keep an eye out for based on data he has seen.
Based on their tutorial video, this is what their dashboard looks like: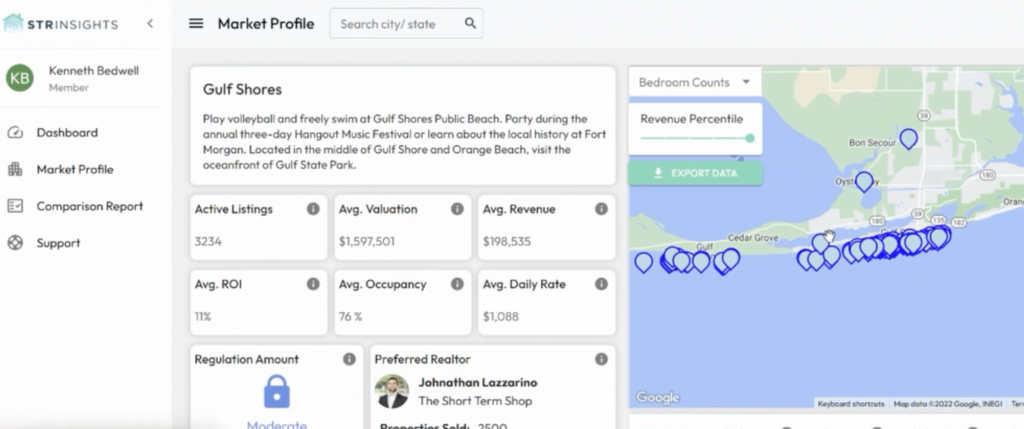 STR Insights provides Airbnb data coverage within the USA region. Similar to Mashvisor, it's not recommended for those who want to explore global investments. 
If we also have to compare STR Insights vs AirDNA, it's safe to say that AirDNA has more reviews and has been tested by many users. Although AirDNA has several popular tools such as MarketMinder and AirDNA Rentalizer, one thing to note is that even though AirDNA offers worldwide data coverage, it isn't always the best option for other users. 
Due to several complaints about AirDNA's inaccuracy and data quality, people have actually sought AirDNA Alternatives. When choosing an STR analytics tool for your business, it's always best to look at other people's experiences and compare each feature to make the best decision.

STR Insights Pricing: Is It Worth The Money?
STR Insights offer monthly, quarterly, and annual subscriptions. Since the features for each subscription are not stated clearly, it can be difficult to gauge if it's worth the money. 
For the price of $194 per month without any assurance on how many markets you can access, it can be a costly mistake. STR Insights' quarterly subscription costs $449.99, while the annual subscription for $1,599.99.
Let's face the fact that it is difficult to tell if a city is profitable by looking at a single market alone. So if you are looking to invest in a market, it's highly recommended to look at the top 5 markets. It's important to make a comparison for each market and run the numbers to make a wise investment decision.
The cheapest and most accurate STR tool for accessing 5 markets is Airbtics. For the price of $149.99, you can access 5 markets in different regions. Check out the STR insights alternatives available in the market: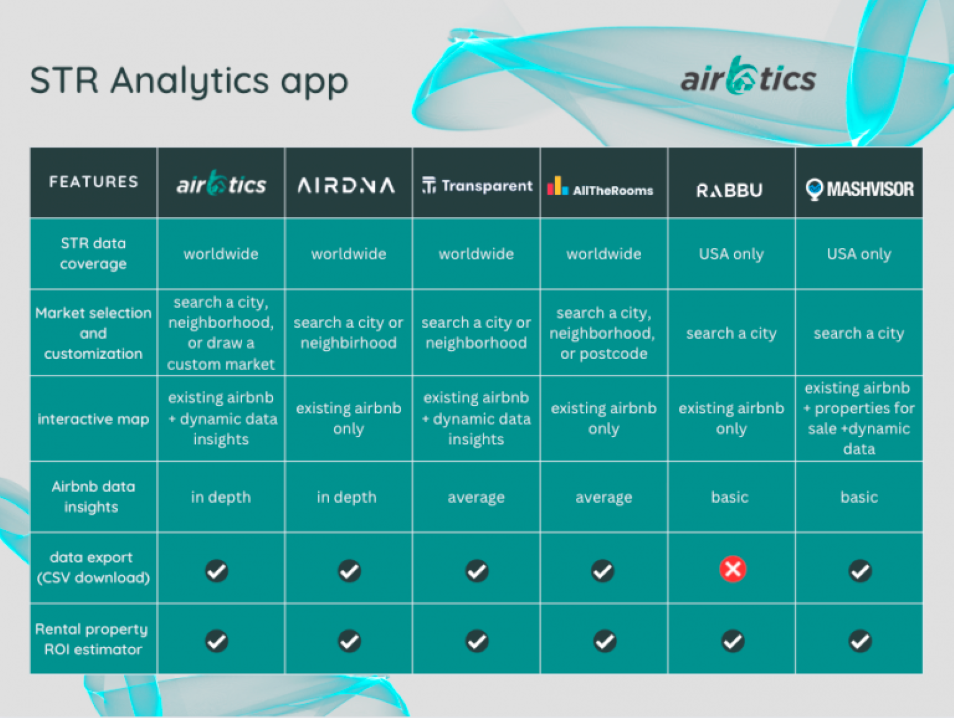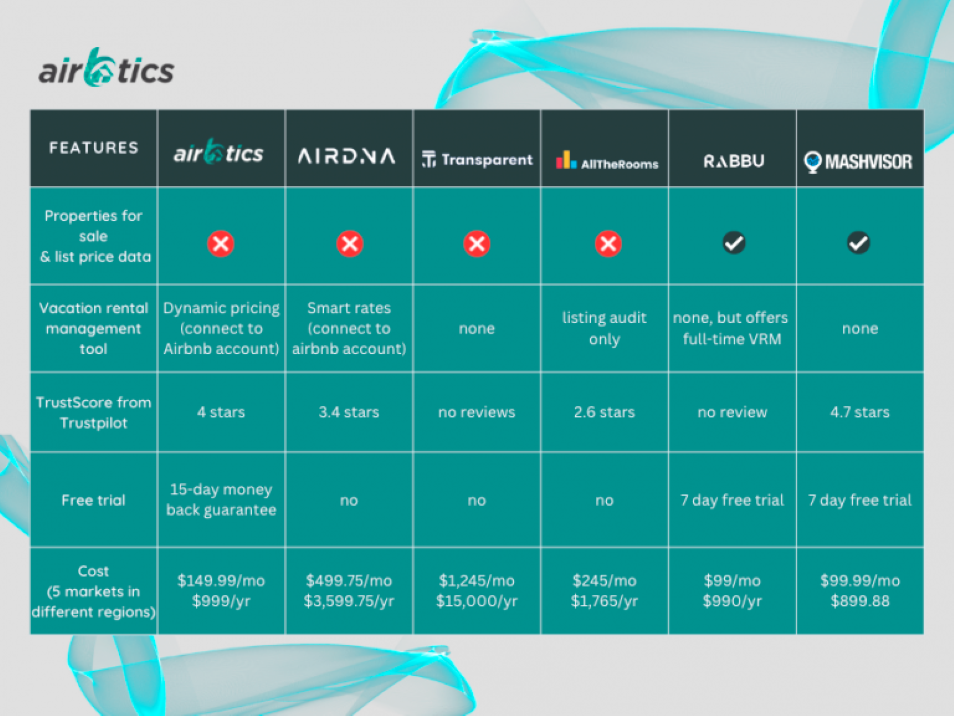 STR Insights Review
STR Insights does not have any existing reviews from users, aside from the ones promoted on their website. However, the dashboard can be a bit overwhelming for beginners. And while it provides most of the necessary info for property investment, its accuracy is another question.
Summary: What's the Best Short-Term Rental Analytics for You?
To sum it up, STR Insights only offers basic Airbnb data services for real estate investors. While it has an ROI calculator that presents the most important data, it's also limited to accessing markets within the USA region. 
In comparison to short-term rental analytics tool like Airbtics, it covers worldwide regions with specific markets that fully covers historical performance data, guest demographics, and more.
If you want to look at more detailed and advanced data which includes seasonality and discover specific neighborhoods, then Airbtics might be the best short-term rental provider for you. You can use the most accurate STR revenue calculator and speed up your game in the industry!