Key Takeaways
Miami is known for its festivals throughout the year, but the biggest events are held in March, which attract the most number of visitors from all over the world. 

Short-term rental data analytics can help investors see the earning potential of an Airbnb market. An investment property in Miami can earn as much as $46,053 annually. Discover the best areas on where to invest in Miami and learn expert tips!
Introduction
If you'd like to know where to invest in Florida, why not consider investing in Miami? The city is known for its sunny weather and beach coasts that have been the set of blockbuster Hollywood movies. But is investing in Miami worth it? Short-term rental data analytics can definitely answer this. 
You'll learn the city's best neighborhoods for Airbnb so you can bask in Miami heat knowing that you've made the right investment choice. Continue reading this blog to know more. 
Is Miami a good place to buy a rental property?
Of course! Based on Airbtics Dashboard, Miami has 6,767 Airbnb listings with an average annual revenue of $46,053 and a 68% occupancy rate. Hosts owning one-bedroom properties can earn $42,884 yearly with a 72% occupancy rate. 
You can also rest assured that your rental property is in a good economy, the best one in Florida at that. Miami also boasts a meager unemployment rate of 1.9%.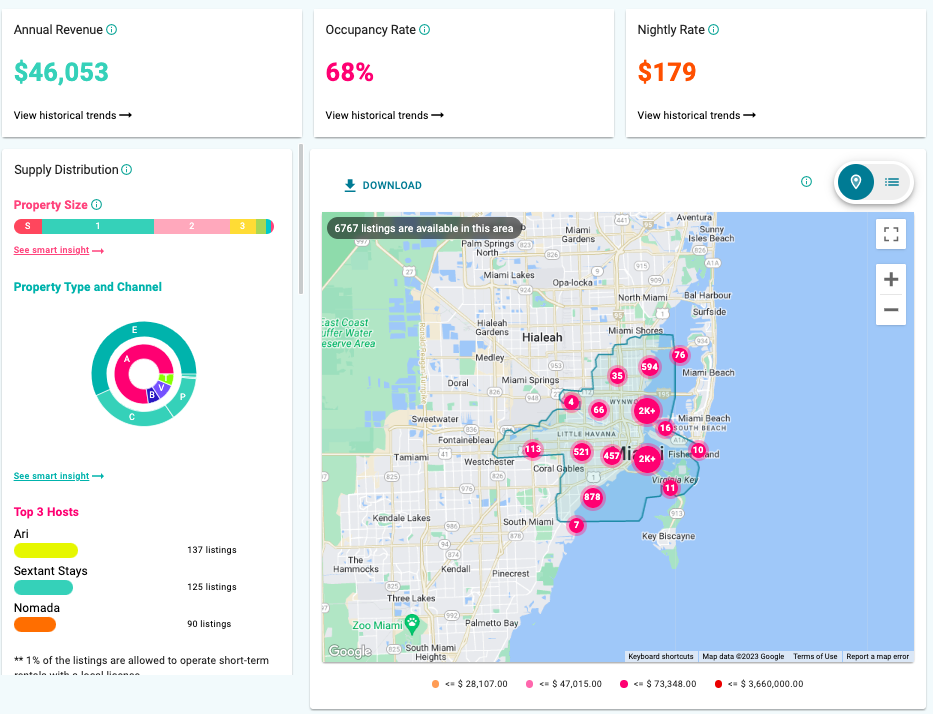 Big Events in Miami this March 2023
Buying rental property in Miami is a good investment since it will be profitable all year round. Additionally, March is the peak season for short-term rentals because of the following events:
Miami International Film Festival

– This festival annually attracts 45,000 visitors – ranging from directors, producers, and other film professionals to movie enthusiasts from all over the world. More than a hundred international films across multiple genres will be showcased in this festival from March 3 to 12, 2023.

Ultra Music Festival

– Music people will not be left out this March in Miami because of the Ultra Music Festival, an outdoor electronic music concert held on March 24 to 26, 2023. This three-day music festival will headline the talents of global electronic music superstars such as David Guetta, Swedish House Mafia, Armin van Buuren Marshmello and Tiësto, among many others.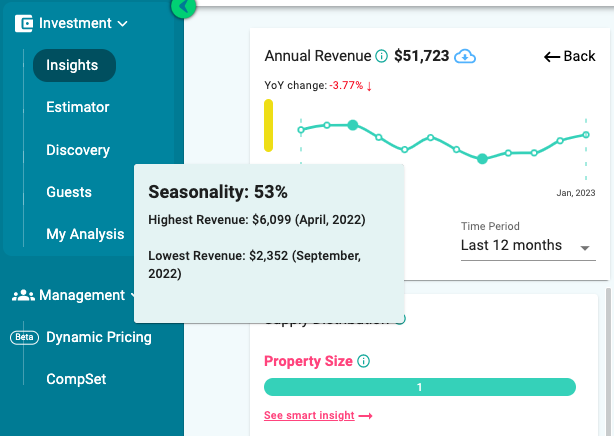 Both of the said events are held annually in Downtown Miami. And for hosts owning one-bedroom properties in the area, they earned as high as $,6099 during the peak season in March 2022. This contributed a lot to the expected yearly revenue of $51,723.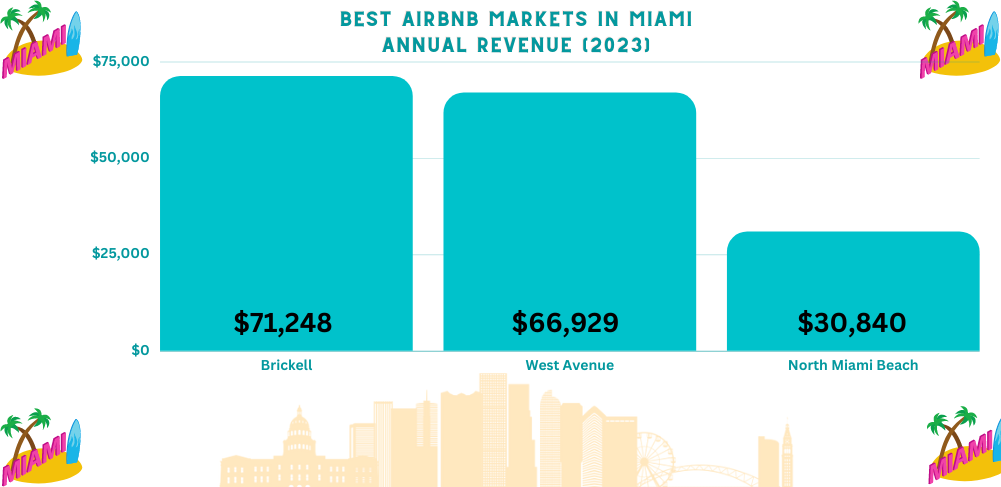 Where is the best place to buy Airbnb in Miami?
Airbtics lists down the best 3 neighborhoods in Miami for your next Airbnb Market. For first-time investors, they do not even need to own a property in these neighborhoods. This is possible via rental arbitrage, which is also applicable to the following areas:
1.
Brickell
Airbnb occupancy rate: 69%
Average daily rate: $261
Airbnb annual revenue: $71,248
Best property size: 4 bedrooms
Existing Airbnb listings: 502 listings
2.
West Avenue
Airbnb occupancy rate: 59%
Average daily rate: $273
Airbnb annual revenue: $66,929
Best property size: 4 bedrooms
Existing Airbnb listings: 219 listings
3.
North Miami Beach
Airbnb occupancy rate: 62%
Average daily rate: $142
Airbnb annual revenue: $30,840
Best property size: 3 bedrooms
Existing Airbnb listings: 135 listings
Conclusion
Short-term rental data analytics has just led investors to their potential Airbnb markets in Miami by providing the most useful insights that will guide them toward financial freedom. Airbtics has shown us the profitability of real estate investing in Miami all year round and even alerted us when is the best time to enter its Airbnb market.
Don't just wing your short-term rental pricing. Check our free Airbnb profit estimator to make sure you're doing it right!
Ramon Meris is a content writer for Airbtics. Guided by data analytics, he produces articles on various US short-term rental markets. Outside work, he is a reader, animal lover, and foreign language learner.