Last updated on December 13th, 2022
Are you interested in achieving financial independence through passive income? Here's a disclaimer: you don't need to own a property to start the Airbnb rental arbitrage business. Learning about important Airbnb key metrics including average daily rates & annual revenue is just one step to forecasting successful investment. For instance, occupancy rates in New York City vary on your preferred area.
In this article, we featured the entire process of Airbnb rental arbitrage in Brooklyn, its profitability, along with the best areas and neighborhoods. Continue reading to learn more about short-term regulations and ways to convince landlords to sublet properties for rental arbitrage.
What is

 

Rental

Arbitrage? 
Rental Arbitrage is a perfect way to start an Airbnb business with no money. By convincing landlords to lease you a property, you can furnish and sublease it on Airbnb and VRBO. No need for you to buy a property.
It is perfectly legal and is a proven scalable business model. In my podcast, I have spoken to various entrepreneurs doing Airbnb arbitrage full-time. 
Here's a proof! In Brooklyn, Vida manages 23 listings and there's a huge possibility that she doesn't own all the properties. She has made $464,376 in the last 12 months.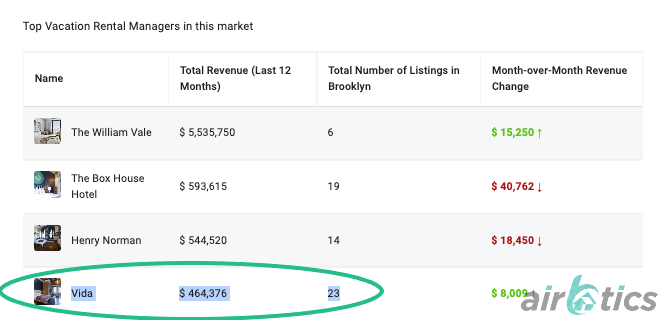 Is

Rental

 Arbitrage

Profitable in Brooklyn?
Before you dive in and start putting out your hard-earned money on a property, it's important to know how much profit you can make. For instance, the best neighborhood to invest in is Park Slope where an average host can earn $6,903 monthly for a 3-bedroom apartment.
Using Airbtics' income generator, you can easily discover that rental arbitrage in Brooklyn is profitable.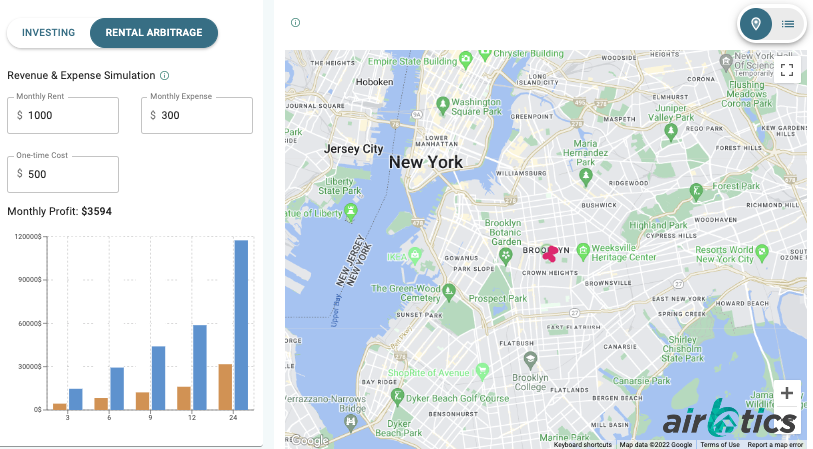 Profit & Monthly Expense in Brooklyn
Based on Airbtics' data, you can earn a whopping $6,903 per month for a 3-bedroom apartment in Park Slope alone. With the data provided, you can certainly tell that investing in a property in Brooklyn is profitable.
| Average Rent Price | Airbnb Monthly Revenue | Monthly Expense | Monthly Profit |
| --- | --- | --- | --- |
| $4,200 | $6,903 | $1,381 | $1,322 |
Source: Airbtics dashboard
The monthly profit can be calculated by subtracting the Airbnb monthly revenue, the rental price, and the monthly expenses ($6,903 – $4,200 – $1,381 = $1,322).
 

Startup Cost in Brooklyn
Now that you have an overview of how much your monthly expense & revenue, let's talk about the start-up cost. How long does it take for an investor to get back the startup cost? Let's take a look at this calculation:
| Total Startup Cost (Average startup cost + 2 months rent price) | Cash Return Time |
| --- | --- |
| $10,400 | 8 months |
The average estimated startup cost (for furnishing) in Brooklyn is around $2,000. To compute the total startup cost, it is necessary to add the 2 months of average rent price ($8,400). Now that we have a total startup cost of $10,400, cash return time can be calculated by dividing this by the monthly profit ($1,322). 
Given your monthly revenue of $1,332, it will take approximately 8 months time to get back the startup cost! In such a short period of time, you can already expect profit and consider starting your second unit for rental arbitrage. If this sounds promising to you, then go ahead and look at the other best areas for rental arbitrage in Brooklyn.
Best Areas for Rental Arbitrage in Brooklyn
Before investing in a particular area in Brooklyn, you have to take a look at the top markets and number of listings to set your expectations towards success. Check out the top 3 suburbs in Brooklyn ranked by their annual revenue, along with their occupancy & daily rates:
This neighborhood is known for food enthusiasts and offers an excellent selection of wine & cheese. Check out the Airbnb data such as the average revenue, occupancy rates, and more in Williamsburg:
| Type of Bedrooms | Average Rent Price | Average Airbnb Revenue | Occupancy Rates | Average Daily Rate |
| --- | --- | --- | --- | --- |
| 1 bedroom | $2,600 | $4,143 | 98% | $250 |
| 2-bedroom | $3,199 | $5,029 | 95% | $308 |
| 3-bedroom | $3,800 | $6,412 | 93% | $552 |
According to our Airbtics Dashboard, there are more than 810 Airbnb listings with 314 private room properties and 284 one-bedroom properties in this area. The monthly revenue for most properties in Williamsburg is more than $4,121 per month with occupancy being more than 87%.
Crown Heights' street festivals, diverse communities, and historic architecture attract the majority of tourists in Brooklyn. Check out the Airbnb data such as the average revenue, occupancy rates, and more in Crown Heights:
| Type of Bedrooms | Average Rent Price | Average Airbnb Revenue | Occupancy Rates | Average Daily Rate |
| --- | --- | --- | --- | --- |
| 1 bedroom | $2,025 | $3,477 | 93% | $164 |
| 2-bedroom | $2,350 | $3,477 | 91% | $233 |
| 3-bedroom | $3,000 | $5,282 | 89% | $307 |
This area has a total of 492 Airbnb listings with 232 private room properties and 133 one-bedroom property. The monthly revenue for most properties in Crown Heights is more than $3,811 per month with occupancy being more than 77%.
Park Slope has pedestrian-friendly sidewalks and a street full of restaurants, slope bars, and food markets. Check out the Airbnb data such as the average revenue, occupancy rates, and more in Downtown Park Slope:
| Type of Bedrooms | Average Rent Price | Average Airbnb Revenue | Occupancy Rates | Average Daily Rate |
| --- | --- | --- | --- | --- |
| 1 bedroom | $2,775 | $4,614 | 97% | $195 |
| 2-bedroom | $3,495 | $5,688 | 95% | $334 |
| 3-bedroom | $4,200 | $6,903 | 97% | $372 |
This area has a total of 179 Airbnb listings with 50 private room properties and 75 one-bedroom properties. The monthly revenue for most properties in Park Slope is more than $4,827 per month with occupancy being more than 90%.

Short-term

rental regulations

in

Brooklyn
To begin with, it's certainly important to be familiar with the Airbnb rules in Brooklyn to make sure that your business will run smoothly. Here are some of the short-term rental regulations and laws to take note of:
Hosts are prohibited from renting out their entire home as an STR,

even if one owns or lives in the building. When renting a private room in an apartment or home as an STR, the host must be present during the stay.

NYS Multiple Dwelling Law

prohibits short-term rentals in buildings with three or more units.

New York City Building Code

prohibits short-term leasing in one and two family homes.
In order to have short-term (less than 30 days) guests, a property owner or renter should take note of the following:
1. You must be present during your guests' stay if it is for less than 30 days and share your apartment or home.
2. You may have up to two paying guests staying in your household for fewer than 30 days, only if every guest has free and unobstructed access to every room and each exit within the apartment.
3. Internal doors cannot have key locks that allow guests to leave and lock their rooms behind them. All occupants need to maintain a common household, which means, among other things, that every member of the family and all guests have access to all parts of the dwelling unit. Internal doors with such key locks create barriers to escaping in an emergency and may result in the issuance of a temporary vacate order.
Under the NYC Administrative Code, property owners are responsible for ensuring their properties are maintained in a safe and code-compliant manner at all times

. Property owners can and will be issued violations for any illegal short-term rentals at their property — even if it is conducted by tenants without the consent of the landlords.
Rental

Properties

in Brooklyn
There are plenty of best places to Airbnb in New York, particularly in Brooklyn. Here are the ranging prices of rental properties in Brooklyn: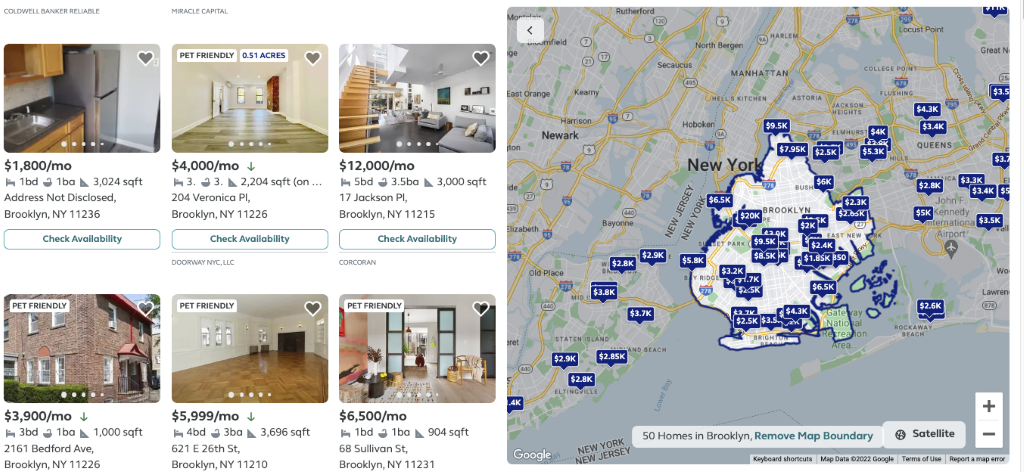 How to Find Landlords for Airbnb Rental Arbitrage
Airbnb investment through rental arbitrage is one of the best strategies to have passive income. However, it could be a challenge to find a landlord that allows their property for subletting on Airbnb. You can also convince a landlord by following the rental arbitrage email template & be extra creative! 
Here are ways how you can find landlords that allow Airbnb rental arbitrage:
Real Estate Websites
Renters in the digital world who are looking for properties online can easily connect with landlords. Some of the most recommended online real estate websites which allow you to filter by city, state, or ZIP code are:
However, you can also find apartment & condominium properties online in the following websites:
Search Engines & Marketplaces
There are numerous property owners who are leasing their properties and you can easily find them on Google & online marketplaces. Check out some of the most recommended marketplaces:
Craigslist

allows renters to specifically state what kind of property they are looking for. You can try typing in 'landlords allowing Airbnb' or 'sublease property in (city name)' and try other keywords to get you on the right track.

Facebook marketplace has a vast community of landlords & renters, so you can try joining the right groups to lead you on the right path. Here are some of the finest Facebook groups that you can join:
Communicate with Landlords
If you are currently renting a space or know someone who is, then it's also recommended to speak with them. Start by asking if there are vacant rooms or properties and let them know about your intentions of putting them up for rental arbitrage. They might also be able to recommend neighbors or local friends who are also interested in this idea!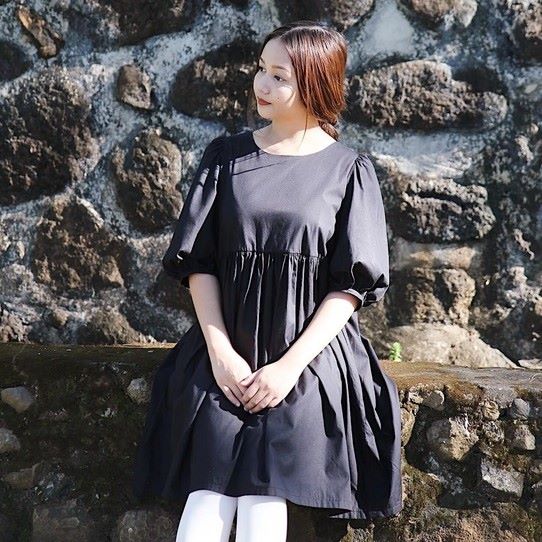 Robyn is a passionate content writer about short-term rentals and is dedicated to research & sharing property investment strategies and analysis worldwide. She is a graduate of Alliance Française de Manille, a songwriter, an animal advocate, and an avid fan of The Beatles since birth.