Last updated on September 4th, 2023
How to start airbnb in canada, this question is in every new host's mind when starting out their journey. Let's get the answers today!
How to Start Airbnb in Canada
If you're wondering how to start Airbnb in Canada, you've come to the right blog. Before we get to the answers to your questions, let's talk about Airbnb.
Most people who start their STR (Short-Term Rental) journey usually do it as a side hustle. Many are looking to rent out a spare room, a second home, an attic, or a vacation home. On average, an Airbnb income potential is $1,000/-month as a side hustle. But there are many hosts doing STR as a full-fledged business and making a fortune. In fact, most people making a fortune doing Airbnb full-time are mostly doing Rental Arbitrage.
Here's what you need to know about Airbnb
Airbnb has established itself as a stronghold in the real estate industry, connecting property owners with individuals who want to learn about different cultures and activities. Airbnb, a prominent short-term home rental service, offers both homeowners and visitors new options. When done correctly, Airbnb hosting can help you earn a lot of money. If you have spare space in your home, Airbnb might be a great way to supplement your income or perhaps convert your hobby into a full-time job.
How Airbnb works for hosts?
Airbnb offers a variety of hosting choices, including renting out the extra room in your house, renting out your complete home, and hosting local experiences. Here's a step-by-step guide on how Airbnb works for hosts:
1. You must first create a free Airbnb account in order to start renting out the extra room in your house.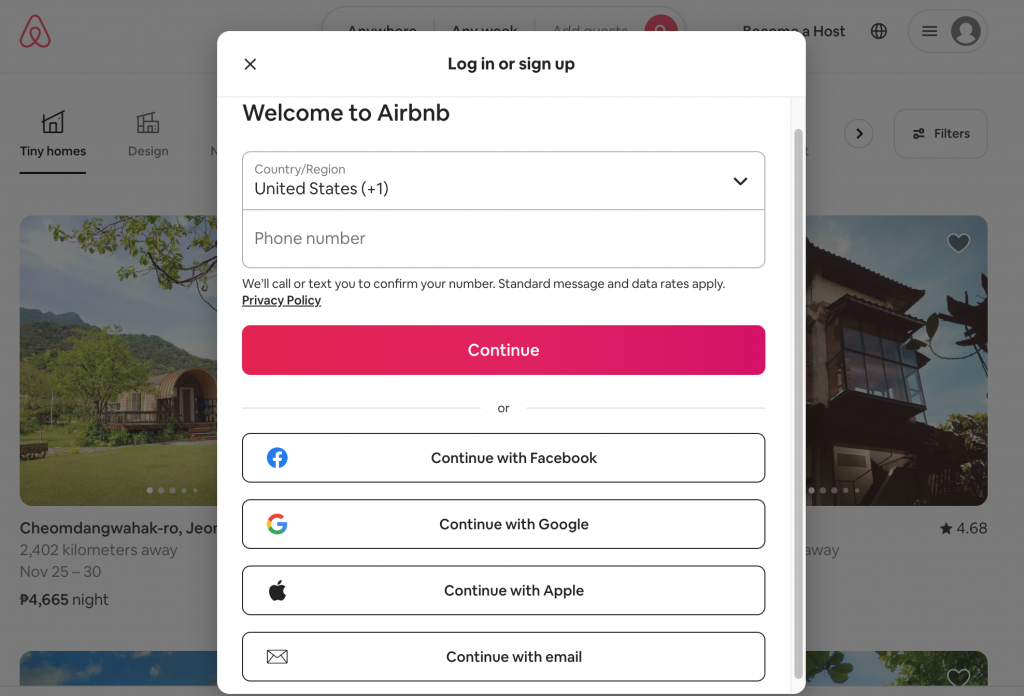 Then, in the upper right-hand corner of the page, click "become a host."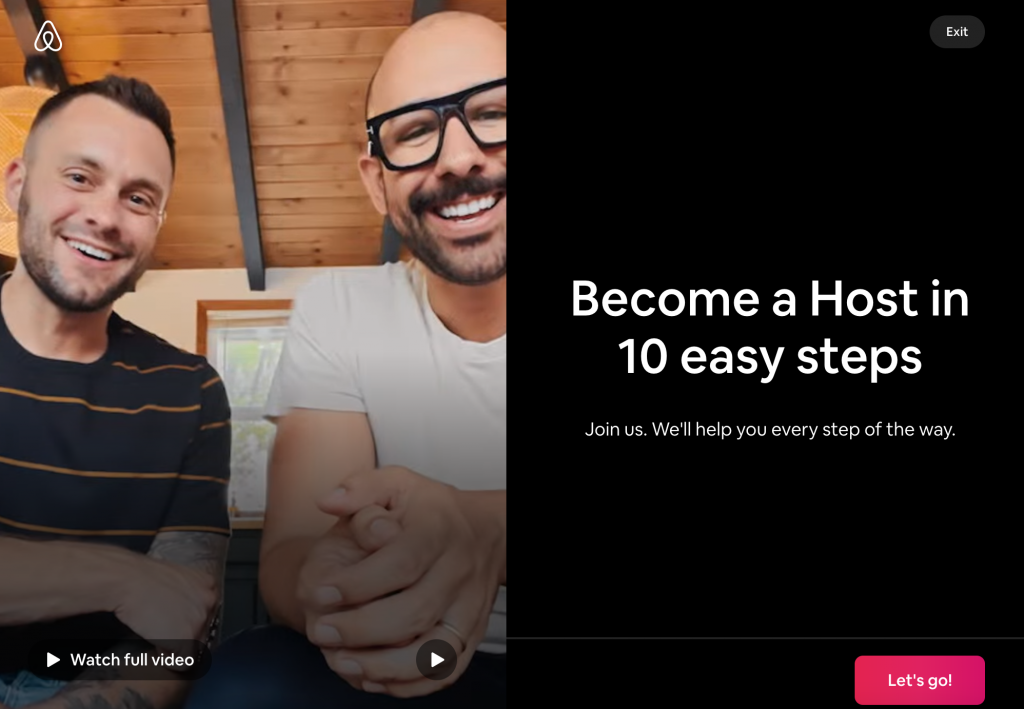 2. The next step is to establish a listing for your space. A listing is similar to a profile page for the place you wish to rent which issimilar to a social media profile. The more attractive and descriptive your page is, the more people will see it.
3. It's a good idea to make your area as appealing as possible and learn how to take the best Airbnb photos. What should your fee be? Airbnb assists you in determining pricing by displaying local averages.
On Airbnb, you can also make money by hosting an experience. "Airbnb experiences are activities created and conducted by locals who are passionate about what they do. They go above and beyond traditional tours or seminars by immersing guests in a host's unique world," according to the Airbnb website.

If you wish to host an experience, look over Airbnb's quality guidelines for experience criteria. Basically, the visitor must be given access to something, be able to participate in something, and be given a unique perspective. Design your experience after studying the quality requirements and submitting it to Airbnb for approval. You are now ready to publish and host your experience after it has been authorized.
2. Airbnb host requirements in Canada: 
Given the fact that collecting rent from Canadian real estate or disposing of Canadian real estate might make you liable to Canadian income tax, determining whether you are a resident or non-resident of Canada can be rather complicated.
You must pay Canadian income taxes if you are a non-resident of Canada and have taxable rental income in Canada as a consequence of your Airbnb taxes. The income tax treaty between Canada and the United States, however, can offset the tax rate. You should follow the guidelines described in Income Tax Guide Under Section 216 since you are receiving rental income.
However, you can decrease the amount of tax you owe by filing a separate Canadian tax return to report your rental income.
If you are deemed a Canadian resident, you must adhere to the tax regulations that apply to residents. Except for Quebec citizens, Airbnb hosts in Canada are required to report their Airbnb revenue to the Canada Revenue Agency (CRA). Your gains from rental activities will most likely be deemed rental income if you include typical amenities that are common to all rentals, such as heat, electricity, in-suite laundry, and parking. If you offer extra services like cleaning, security, or meals, you will be deemed a company.
Before you second-guess yourself, remember that because you're reporting the income, you're also eligible to deduct expenses linked to that revenue.
3. What are the  

tax benefits that Airbnb hosts claim in Canada

?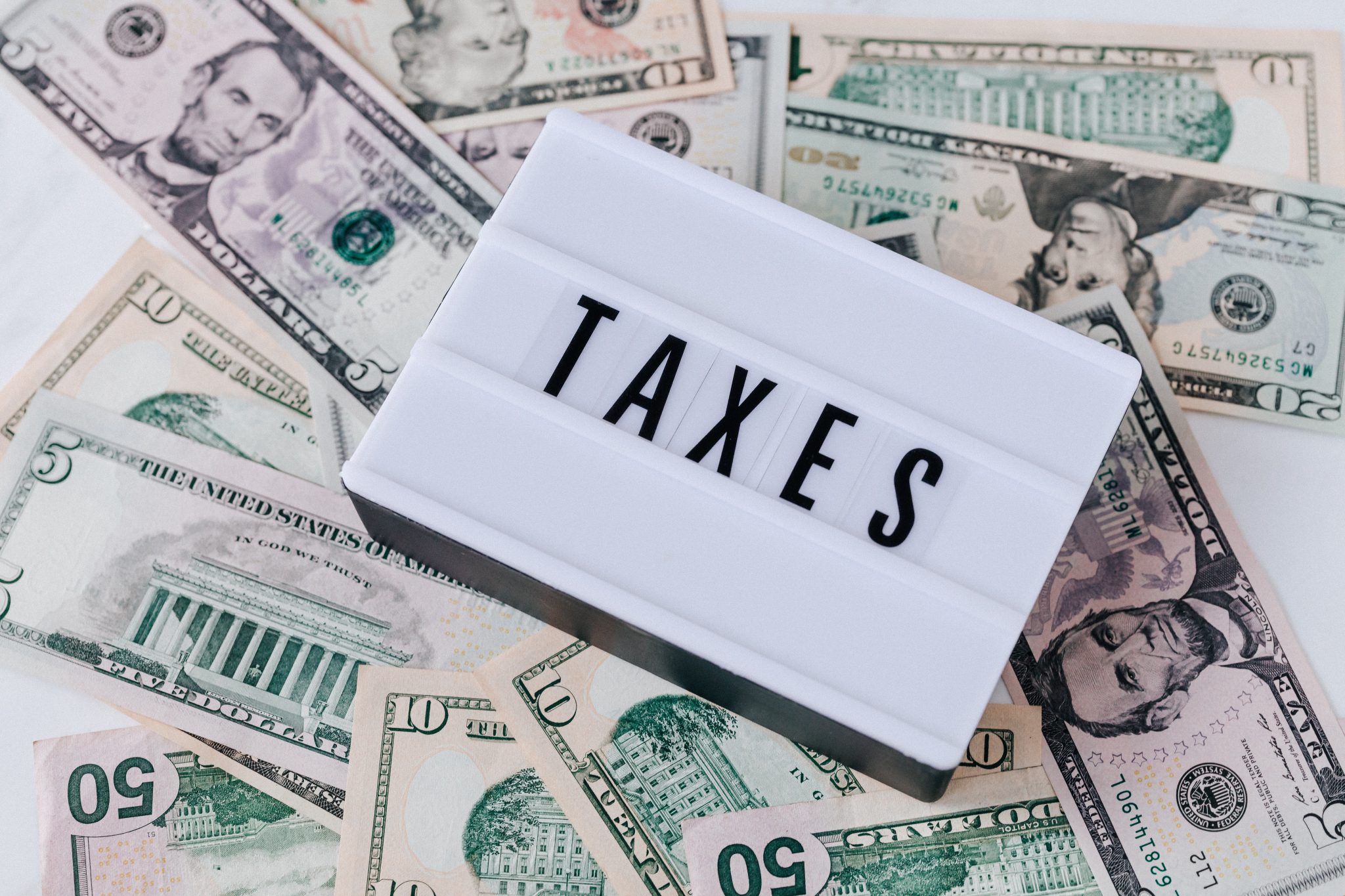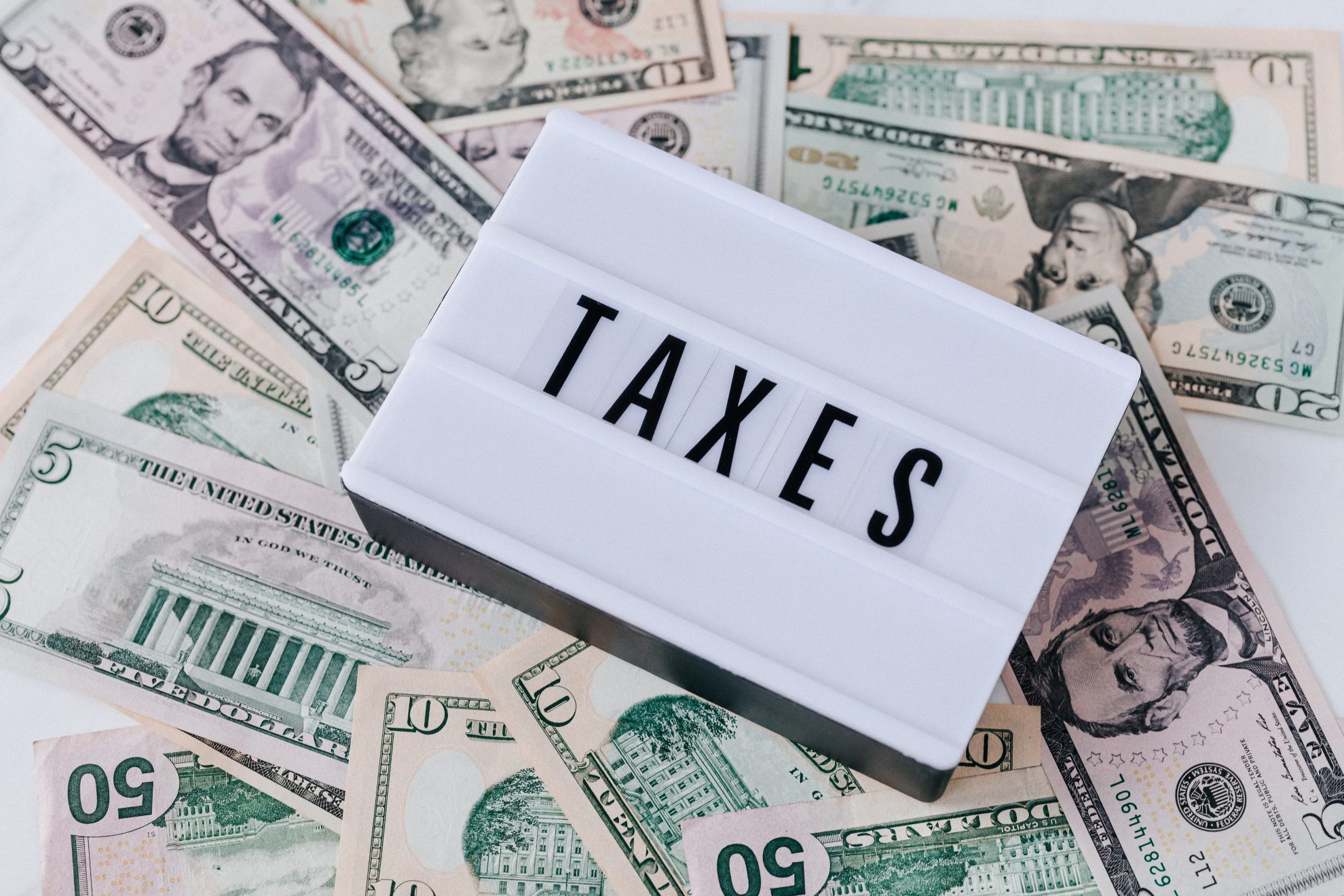 Whether your Airbnb revenue is classified as rental or company income, you'll want to deduct as many qualified costs as possible to lower your tax bill. Here are some examples of vacation rental charges you can claim:
The interest on your rent or mortgage
The cost of cleaning products or the cost of a cleaning service
The cost of new towels and bedding for guests
Any small additions or renovations to the guest area (i.e., adding a fresh coat of paint to the room)
The price of breakfast and snacks for visitors
Soap, shampoo, and other toiletry costs
Whether you rent a storage locker or place a lock on a cabinet, you may have to pay fees to store your belongings
The expense of adding a keypad or lockbox so that guests may check in themselves
The price of creating new keys
Any maintenance or administration costs you could pay to have your listing maintained by a third party
If you own your house, you will have to pay property taxes (only for the period your property was available for rent)
Travel expenses to and from your rental property to collect rent, check on visitors, prepare the property, and so on.
4.
Responsible hosting in Canada
Cleanliness and good health-

 In general information about hosting places to stay, you may find information on Airbnb's 5-step improved cleaning procedure.
5.

Permissions and general regulations
It's crucial to double-check that you're allowed to host on your property. Contracts, legislation, and community rules are all examples of constraints. Consult a lawyer or your local government to learn more about the regulations, limits, and requirements that apply to your situation.
Permits and contractual agreements- Subletting and hosting are sometimes prohibited by leases, contracts, building regulations, and community rules. Examine any contracts you've signed or get in touch with your landlord, community council, or other government agency.

Mortgage stipulations-

Check with your lender to see if there are any limits on subletting or hosting if your home has a mortgage (or any other type of debt).

Housing limitations that are subsidized-

Subsidized housing frequently includes restrictions prohibiting unlicensed subletting. If you live in a subsidized housing neighborhood and want to become a host, contact your local housing authority or housing association.

Housemates-

 Consider creating a formal agreement with your housemates to outline expectations if you share a home with others. Housemate agreements might cover topics such as how often you expect to host, guest etiquette, revenue sharing, and more.
6. Courtesy
Helping your visitors understand appropriate practices for interacting with your community is an important part of being a responsible host. You're helping to create a fantastic experience for everyone when you share local norms and customs with your guests.
Rules of the house- Your home rules can be entered in the Additional remarks area of your Airbnb account's Listing information. When you express your expectations with your guests up front, they typically appreciate it.

Neighbours-

If you're going to host, it's typically a good idea to notify your neighbors. This provides them the opportunity to express any issues or reservations they may have.

Parking-

Inform your visitors about any parking restrictions in your building or area. For example:

Only park in an allotted spot on Tuesdays and Thursdays due to street cleaning
Don't park on the west side of the street on Tuesdays and Thursdays due to street cleaning
Street parking is only accessible between 7 p.m. and 7 a.m.

Pets-

 To begin, check your lease or building bylaws to see if there are any pet restrictions. If you allow guests to bring their dogs, they'll enjoy knowing where they can exercise them and dispose of their waste. If a guest's pet annoys the neighbours, have a backup plan in place, such as the phone number of a local pet kennel.
7. Insurance
Work with your insurance agent or carrier to figure out what kind of responsibilities, restrictions, and coverage you'll need for your individual situation.
Host Protection Insurance and Host Guarantee-

The Host Guarantee and Host Protection Insurance offered by Airbnb provide minimal coverage for the stated damages and liabilities. These, however, do not replace homeowners' or renters' insurance, nor do they provide enough liability coverage. You may also be required to meet other insurance requirements.

Basic insurance benefits and liability-

Check with your insurance agent or carrier to see if your homeowners or renters policy provides enough liability coverage and property protection for your listing.
Looking for the Best Canadian Cities for Airbnb Investments?
8.
How much can an Airbnb host earn in Canada?
While Airbnb occupancy rates in Canada vary per city, it's important to know beforehand about your profit as a host. For instance, here is a graph of the average monthly revenue and occupancy rates of 5 major cities in Canada.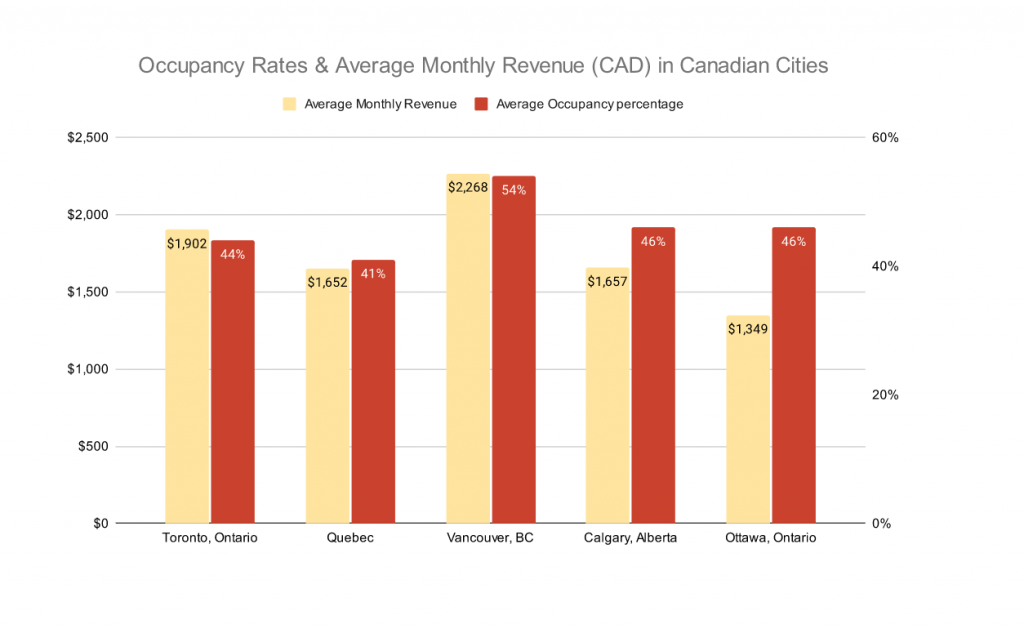 Occupancy rate:

75%

Annual revenue:

C$33,228

Average Daily Rate:

C$131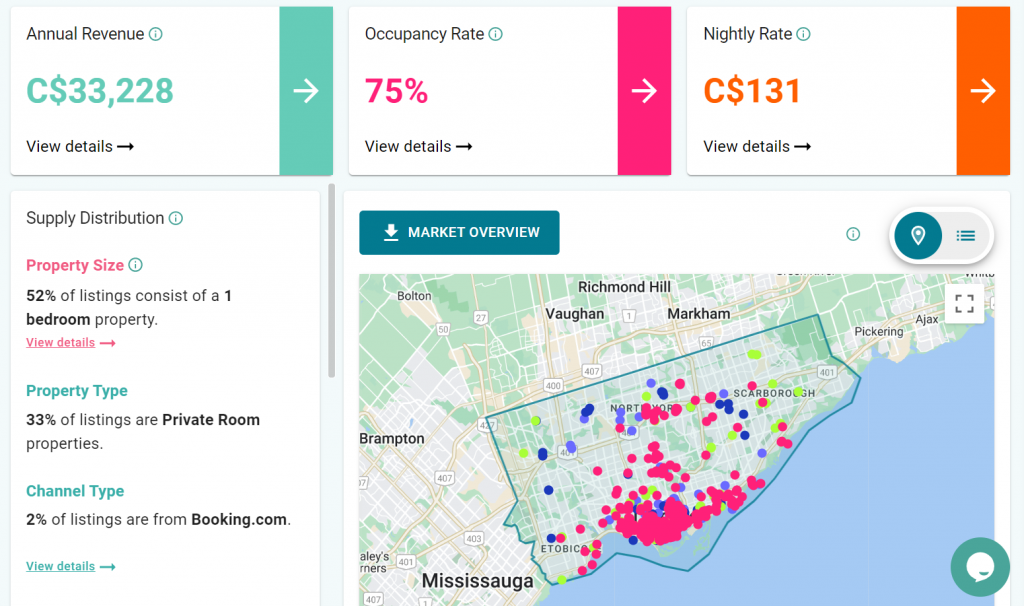 Occupancy rate: 69%
Annual revenue:

C$44,460

Average Daily Rate:

C$179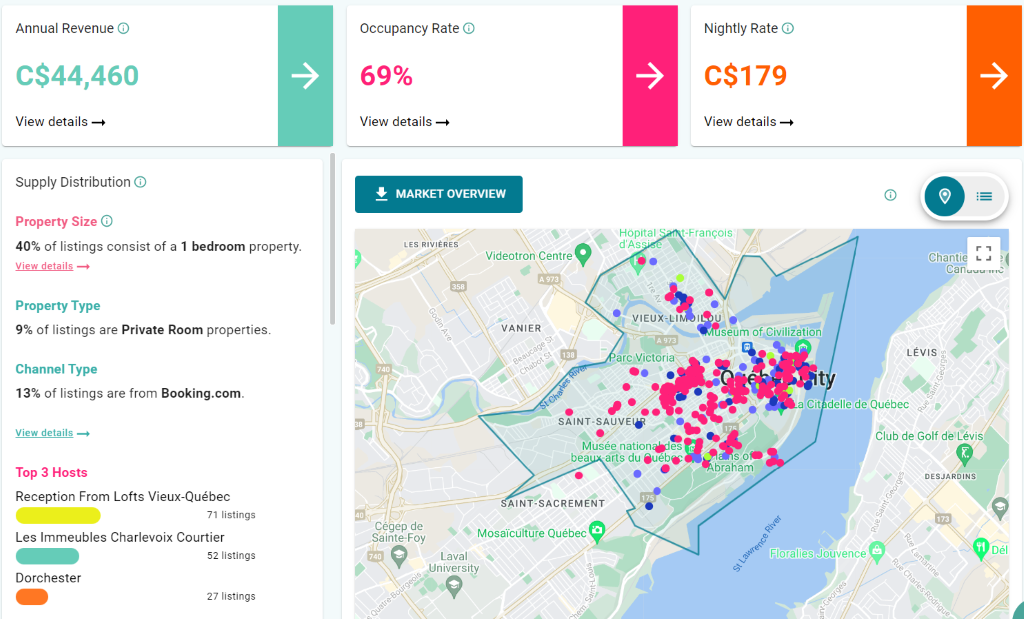 Occupancy rate:

87%

Annual revenue:

C$57,119

Average Daily Rate:

C$168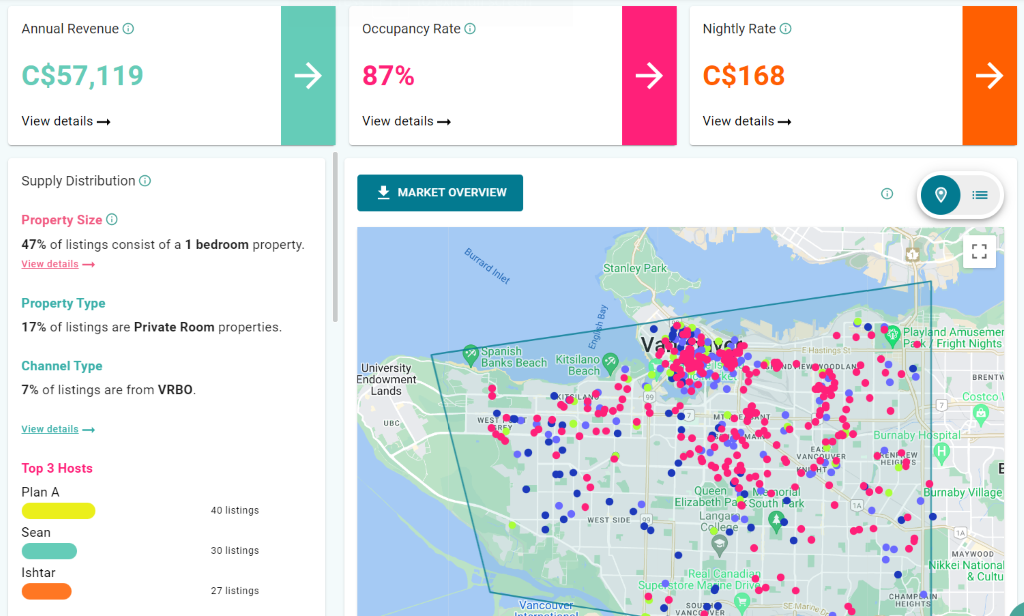 Occupancy rate: 67%
Annual revenue:

C$27,328

Average Daily Rate:

C$102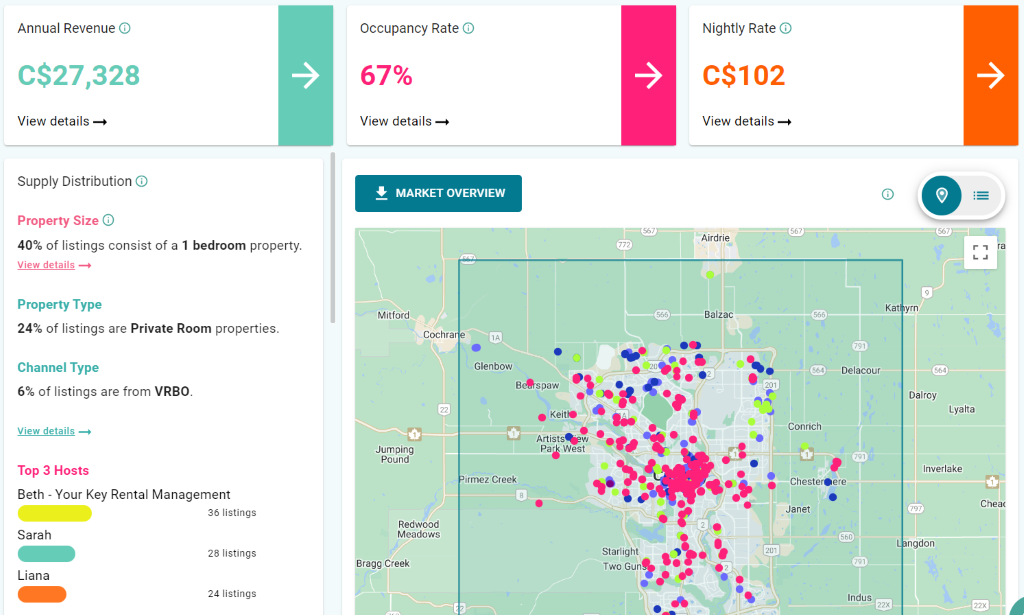 Occupancy rate:

65%

Annual revenue:

C$27,605

Average Daily Rate:

C$111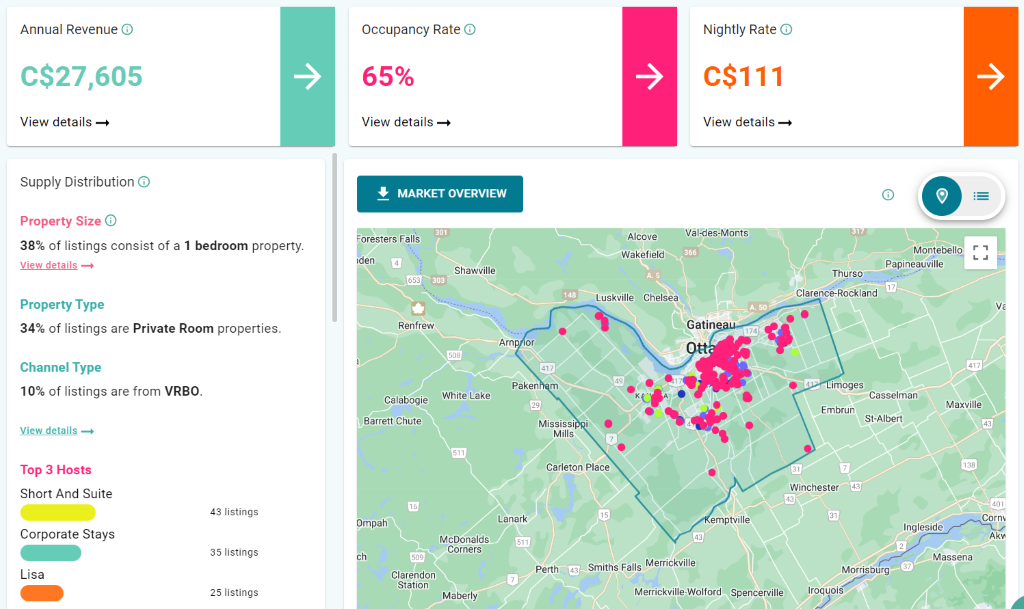 Find a profitable
investment property
Use powerful analytics to discover lucrative & traditional Airbnb properties within minutes.
Find a profitable
investment property
Use powerful analytics to discover lucrative & traditional Airbnb properties within minutes.