Add a header to begin generating the table of contents
Fueled by the rise of Airbnb, AirDNA has become known to many Airbnb hosts as a short-term rental analytics tool. AirDNA provides two products:
1) MarketMinder
2) Investment Explorer
The product is priced at around $299/mo for most of the major cities in the world. 
AirDNA may be a well-known short-term rental analytics software option, but many users have been complaining about the data not being accurate. What most Airbnb hosts and short-term rental investors don't know is that there are currently AirDNA alternatives out there and people are starting to look for alternatives so they can make better investment decisions. 
There are actually so many awesome short-term rental analytics tools in 2023! Choosing the right short-term rental analytics application is a hard task because it is probably your first time hearing about the alternatives or considering subscribing to one. 
We have tried our best to list out all the AirDNA alternatives to help you find what's best for you, but first, let's quickly review why you would want to use a short-term rental analytics tool in the first place.
We also included one free AirDNA alternative at the end of the article!


What is the use of Short-term Rental Analytics?
To understand the potential cash return of a new short-term rental investment
People who are thinking of buying a vacation home need to figure out how much they will make if they buy a certain property. It's especially important for short-term rental investments because depending upon the location and demand for the property, the net rental yield can vary from 1% to 25% annually. The right data points should allow you to differentiate high-yield properties from low ones.
To increase Airbnb's income by pricing better
If you already own rentals, pricing is one of the most important aspects if you'd like to increase your revenue. The correct pricing helps you to get more bookings at better prices, attract the right guests, and keep running a profitable short-term rental business! The right short-term rental analytics should provide actionable insights into the prices you should set for your property. 
To set benchmarks based on the top-performing properties
The saying goes, "If you can't measure, you can't improve". If you'd like to improve your short-term rental business, you need to compare your property against the market's top performers and average performers. What is your property's performance (occupancy rate, daily rate, booking lead time) when measured against your market? The right short-term rental analytics should allow you to benchmark your property against competitors. 
There are two points to mention in our coverage of short-term rental analytics options. 
Data quality is important and we measured data quality by the type of metrics shown and the granularity of the data.
Data coverage is another essential factor, and we measured data coverage by geographic coverage and data update frequency. Now, let's get to the tools we looked at for this article.
Review of Top 8 AirDNA alternatives & competitors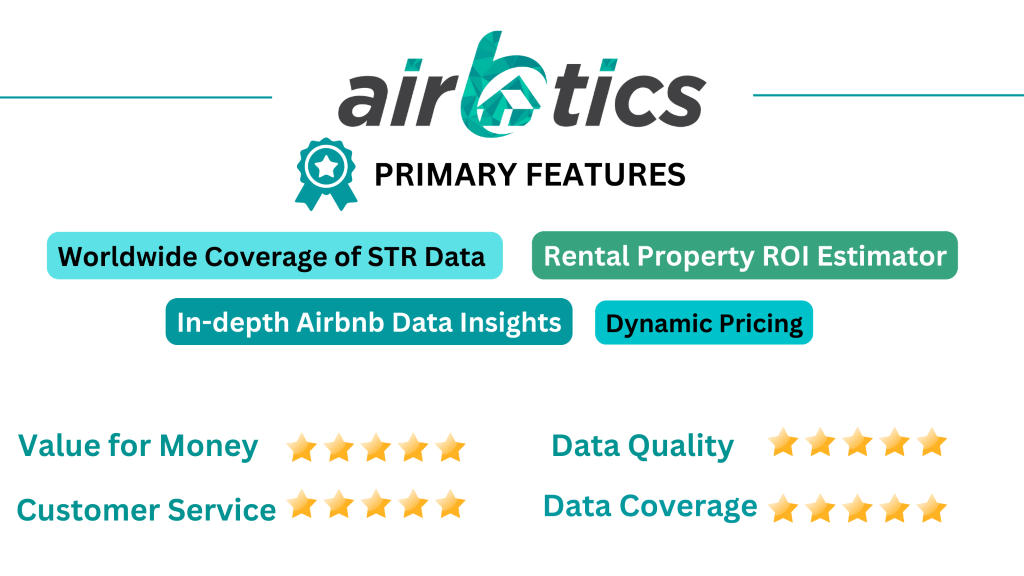 Airbtics provides all the short-term rental data for investing in and managing your Airbnb business smarter. Apparently, their data is trusted by the biggest names in the STR industry such as Awning, Vacasa, PropR, TechVestor, and many more! 
We gave five stars for data coverage since they cover global markets and update data every day or every week, depending on which plan you choose. For data quality, we would give it five stars because they provide individual booking and pricing projections, guest origin, detailed revenue breakdown, and individual property performance data. Furthermore, they have the best Airbnb Calculator.
The only downside is that their pricing isn't as cheap as other providers. (Updated as of Aug 2023: Their pricing is now lower, $59/starter plan) Unlike AirDNA, this STR analytics tool provides a 15-day money-back guarantee, which means if you aren't happy with their service, you can cancel your subscription. Nevertheless, Airbtics customers seem to be pretty happy with the value they're getting.
Alongside this, you can book a free consultation call with their customer support if you want more guidance in finding the best places to invest.
Another great thing about Airbtics is, they also provide custom data and API for vacation rental managers and in-depth STR reports for property investors who would like to make faster and smarter decisions.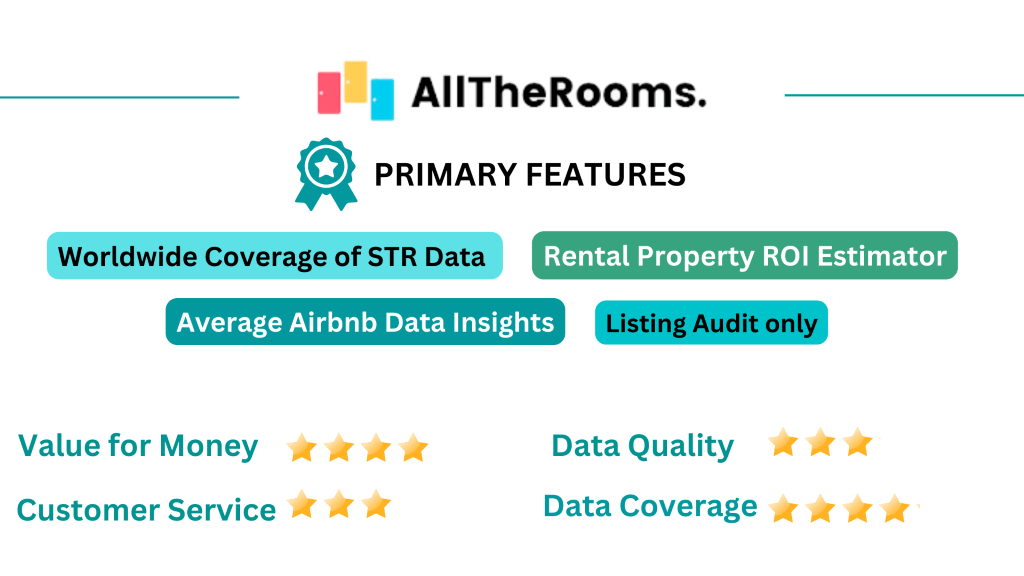 AllTheRooms Analytics helps you to analyze short-term rental markets and monitor your short-term rental competition.
First, we gave four stars for data coverage since they cover global markets, but they don't clearly state how frequently they update their data. What our analysts found is that their market data seems to be updated every month.
Secondly, we gave three stars for data quality because AllTheRooms provides supply, booking lead time, and future booking data at the market level. Unlike Airbtics, the platform doesn't have guest origin or individual property performance data. All The Rooms have basic and pro plans which cost $19 and $49 per month. Their filter allows you to get insights into the market performance of various types of properties and has a few more options than AirDNA.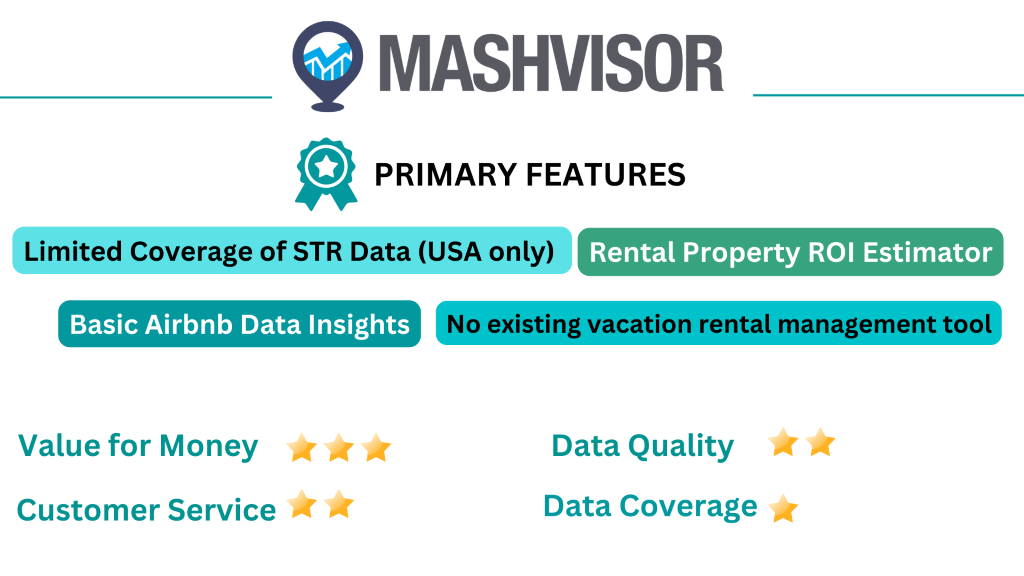 Mashvisor helps property investors immediately find out what kind of returns a property will provide and what you need to outperform the rental market. We gave one star for data coverage since Mashvisor only has U.S. market data.
Next, we gave two stars for data quality because Mashvisor doesn't provide details for important metrics like booking lead time, property level future pricing data, extra guest fees, and the like.
Even though they don't provide detailed short-term rental metrics, their pricing seems to be attractive for U.S. property investors. At this time, you can explore market data of a few U.S. neighborhoods at $75/month.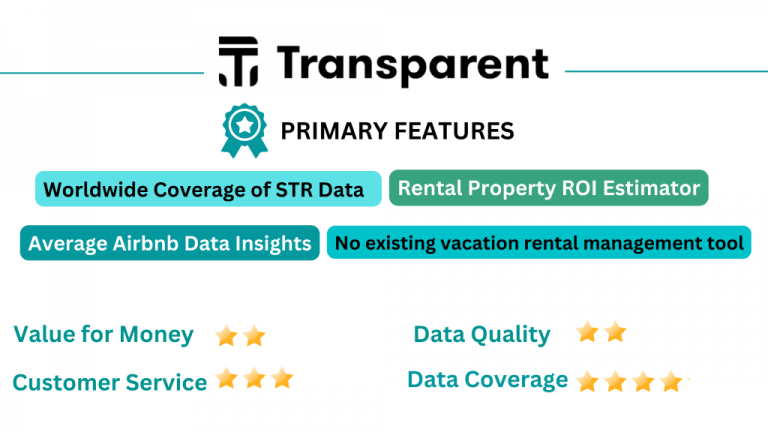 See Transparent offers data solutions for real estate, investment, and property managers. Users can compare Airbnb, VRBO, Booking.com, and Trip Advisor to distribute properties and strategize occupancy rates. However, since their website isn't clear on its services, there are no reputable reviews with the tool. You can explore its Smart Rental Pro subscription for $240.25 per month.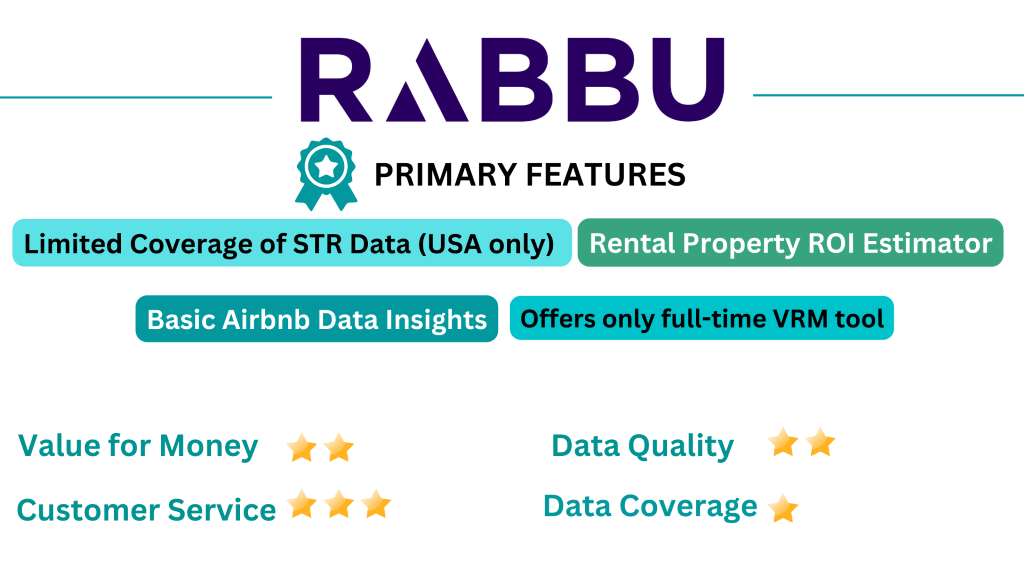 Data Rabbu is an online platform that tracks the performance of Airbnb properties in the USA. Particularly assisting real estate investors and property managers to determine profitability and optimize business, Data Rabbu offers end-to-end property management services. Although it has a feature that presents insights into Average Daily Rates, Occupancy Rates, and Monthly Revenue, one of the downsides of using Data Rabbu is it could be difficult for new users to navigate data. It's also limited to accessing data only within the USA, therefore, property investors who want to invest in other places outside America will need to use the right software that focuses on short-term rental analytics with the option to analyze data from other countries in the world.
Data Rabbu's pricing offers Airbnb data for $30 either by zip code, state or county from third-party providers. Access to Data Rabbu's Marketplace costs $299 monthly and offers no annual subscriptions. Their terms and cancellations also state that subscriptions can be canceled at any time via email and phone.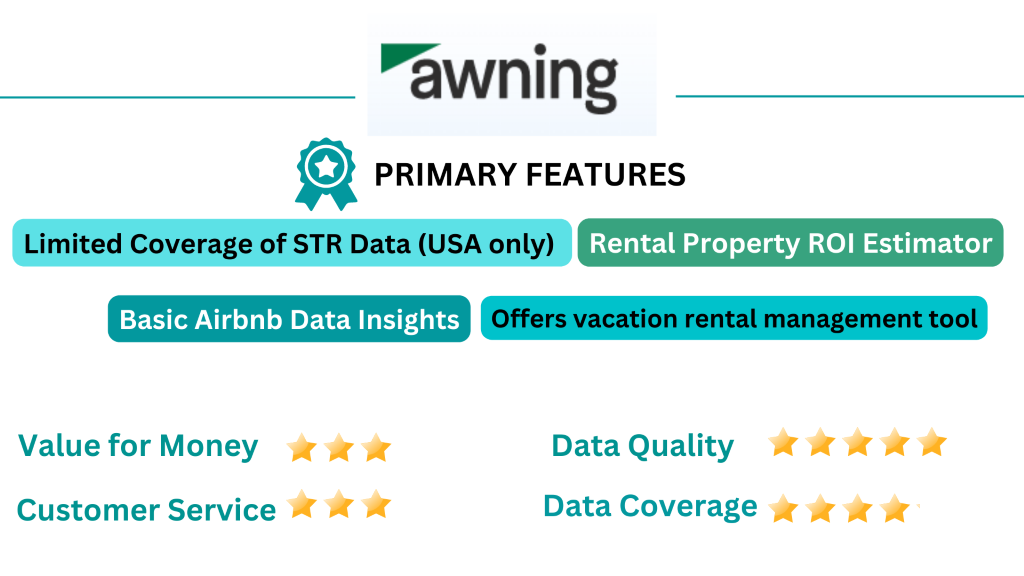 Awning offers more services aside from providing short-term rental inisghts. This tool is highly recommended if you want an all-in-one software which also takes care of message automation, property management, and even Airbnb licensing. Awning offers revenue simulation based on comps and their major data source is Airbtics.
The pricing for Awning's services starts at 15% of revenue and depends on the contract term.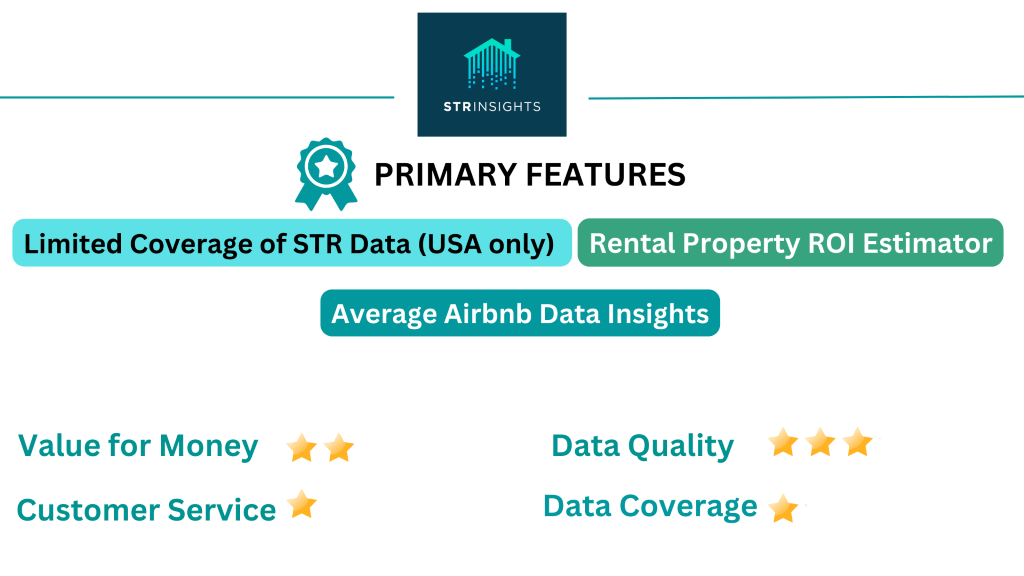 STR Insights is a new option that features the US market for your short-term rental property. Similar to other short-term rental tools, STR insights presents comprehensive data for revenue potential and property values. According to their website, a monthly subscription with STR insights costs $194.99, quarterly for $449.99, and annually for $1,599.99. On a personal note, it's a little difficult to gauge this software's reliability as there aren't a lot of user reviews yet.
8.
WheelHouse, PriceLabs, DPGO and others
Before we sum up, we'd also like to mention the above dynamic pricing solution providers in this post since AirDNA also offers future pricing data to properly set a price for your rentals. But did you know that these dynamic pricing tools also show some basic market insights and advanced pricing data for your markets? If you already manage properties and you are looking for a tool for pricing, these 3 tools are for you. 
Still, many tech-savvy revenue managers (or Airbnb hosts) are not happy with dynamic pricing solutions because they constantly have to override the suggestions. If this sounds reasonable to you, you may want to check out Airbtics CompSet page, which allows you to build your own Competitor Sets and track their next 365 days' rates and booking situations.
To learn more, here is a youtube video that explains more about the CompSet feature.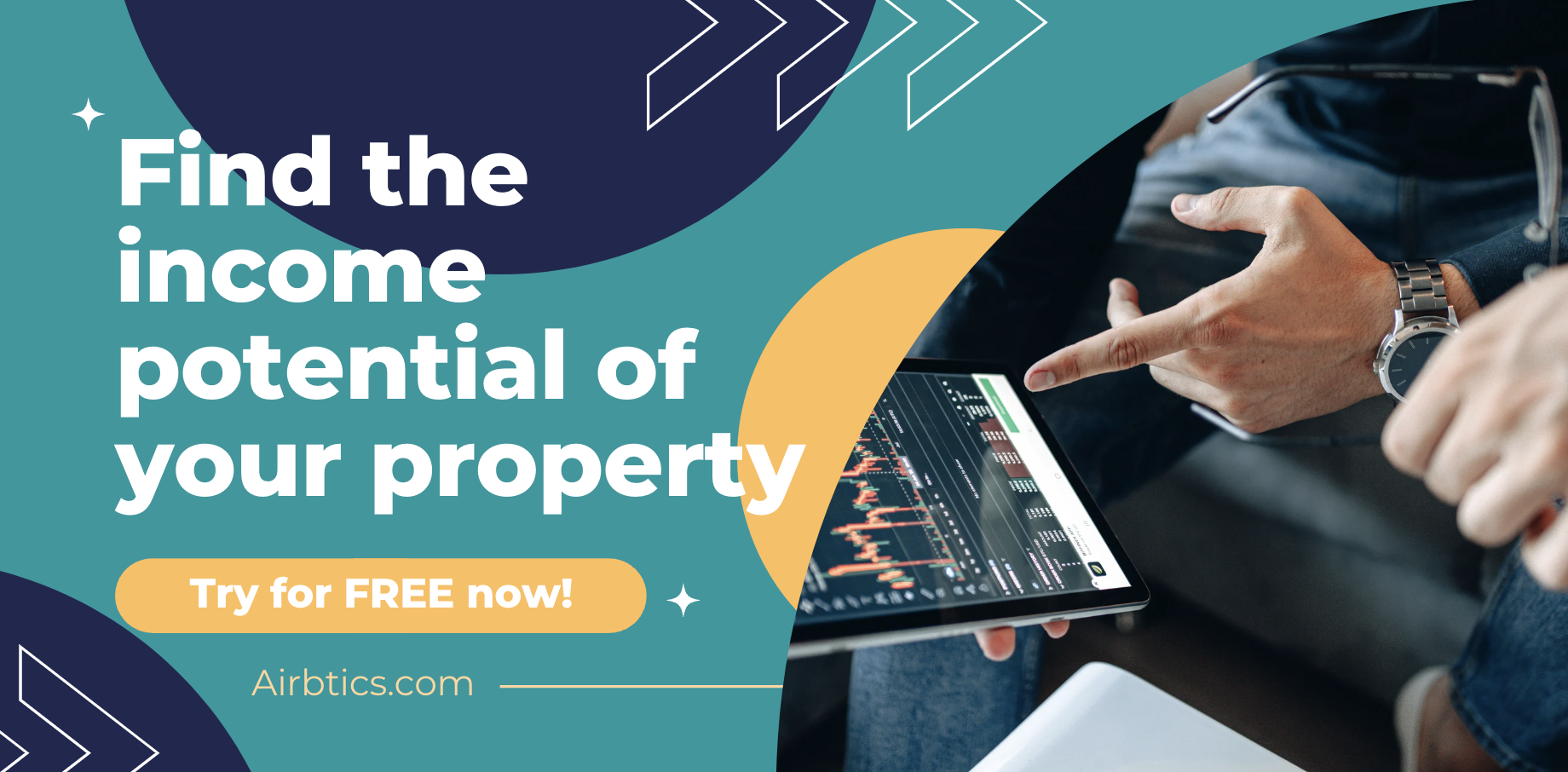 What are the best AirDNA alternatives?
To sum up, Airbtics, AllTheRooms, and SeeTransparent are AirDNA's direct competitors. On the other hand, Mashvisor, WheelHouse Pricing, and Beyond Pricing are AirDNA's indirect competitors.
After our analysts compared all the tools, they concluded that Airbtics is the best AirDNA alternative based on our criteria (data volume, data coverage, pricing). Here are the things we liked best about Airbtics:
Covers markets globally and has daily updated data 

Has 12 months of projected pricing data at the property level

Features historical individual listing performance data

Has advanced filtering options  
A growing number of people are choosing Airbtics over AirDNA in 2021, but as you can see, choosing the right short-term rental analytics tool for your property investment or Airbnb management business requires you to evaluate quite a few things! Not a simple task. Hope our post guided you a little better. 
Are there any free AirDNA alternatives? 
InsideAirbnb: It's a free website launched by Murray Cox in 2016 to debunk illegal Airbnb listings in NYC. It only has coverage in a few cities. Therefore, if you are looking for data points for investing or managing Airbnb, this might not be the best tool.
Conclusion
In summary, there is a wide variety of best short-term rental analytics in the market that are extremely reliable and accurate. Airbnb investors should certainly not make impulsive decisions without conducting thorough market research.
It's 2023 – and you shouldn't settle for less! Basing your investment decisions on guesses and intuitions are no longer applicable in the digital era. The AirDNA alternatives mentioned in this article will open doors to even greater opportunities to leverage your business.
Whether you are a property investor, manager, or an Airbnb host running a short-term property business, it's highly recommended to check on several alternatives to find the best fit for you. With the help of comprehensive and updated STR software like Airbtics, you can stand out from vast competitors within your area and make the wisest investment decisions based on accurate data.