If you're an Airbnb investor eager to expand your property portfolio, it's essential to explore the top Mashvisor alternatives. Find out the other short-term rental analytics tools tailored for Airbnb investors:
1. Airbtics (Best Overall)
2. All The Rooms
3. AirDNA
4. Rabbu
5. Inside Airbnb
About Mashvisor
Mashvisor offers a property analytics tool that assists real estate investors in identifying profitable investment properties. It utilizes data to analyze potential deals and predict their performance in both long and short-term leasing. Currently, its data is only limited to the US, excluding other regions and countries.
Mashvisor Review
Although Mashvisor is a very good tool with a comprehensive property analysis model and a great visualization with color-coded heat maps, it still has drawbacks.
Despite the good reviews of 85% on Trustpilot,  5% of the customers on the same platform voiced out their dissatisfaction with Mashvisor . What are the things to improve?
Low-quality of customer support

Data privacy

Complicated dashboard

Inflexible subscription plan

Limited coverage, in US only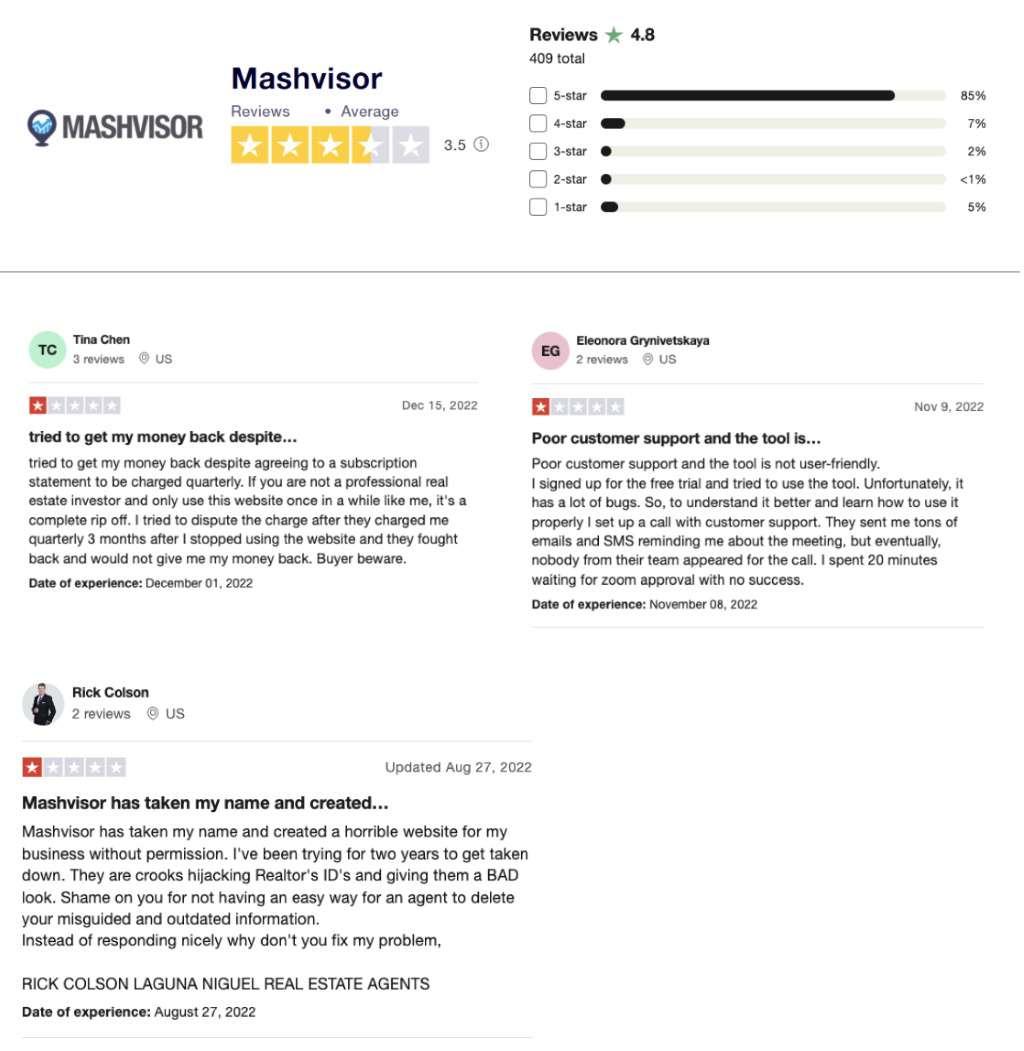 Overall, as a data analytics platform, Mashvisor should be more client-centric in this case thinking that every user experience has a huge impact on their success. Read more about the Mashvisor Review
As someone who already uses Mashvisor, I bet you are reading this to learn the alternative tools that are more promising and can fit your needs. Meanwhile, if you are new to these tools and into exploration, this article is for you as we embark on the other Top STR tools for Airbnb investors.
This article consists of:
1. The key features to look for when enhancing your Airbnb investment
2. A comprehensive review of Mashvisor competitors
3. The best alternative to Mashvisor
Key Features to Enhance Your Airbnb Investment
Expanding your property portfolio on Airbnb requires data-driven insights. Fortunately, there are reliable analytics tools that offer a wide range of useful features. As you look into these tools, keep in mind the following: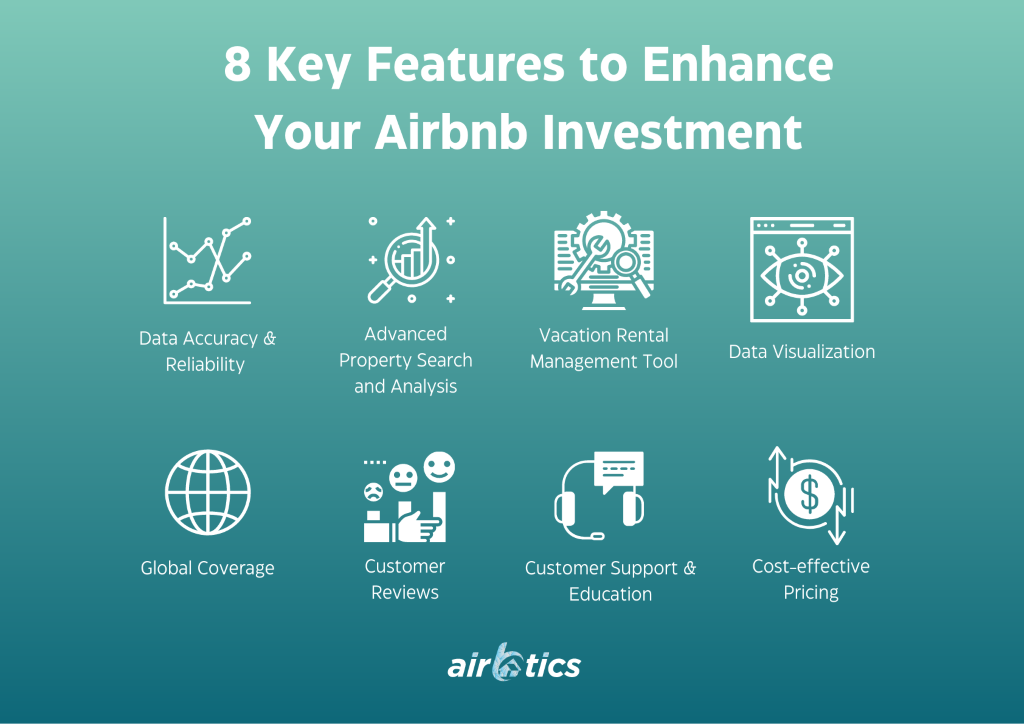 1. Data Accuracy and Reliability: This should be the #1 on your list. Make well-informed decisions with trustworthy data, ensuring your investment choices are based on reliable information.
2. Advanced Property Search and Analysis: Identify lucrative opportunities quickly and effectively, saving time and maximizing potential returns.
3. Vacation Rental Management Tool: Streamline your property management tasks, optimizing operations & pricing, and enhancing the overall guest experience.
4. Data Visualization: Gain visual insights into market trends and hotspots, enabling you to make data-driven decisions with ease.
5. Global Coverage: Expand your investments worldwide by choosing a tool that covers the countries where you plan to operate, unlocking new opportunities.
6. Customer Reviews: Benefit from the experiences of other users, gaining valuable insights into the tool's performance and potential drawbacks.
7. Customer Support & Education: Receive quick assistance when needed and access educational resources to sharpen your skills and leverage the tool effectively.
8. Cost-effective Pricing: Ensure you maximize your ROI by finding an affordable plan that offers the right balance of features and value.
By prioritizing these key features, you can elevate your Airbnb investments to new heights, harnessing the power of accurate data, efficient property management, visualization tools, global reach, valuable user insights, reliable support, and cost-effective pricing. Embrace these benefits and propel your real estate ventures forward with confidence.
Comprehensive Review of Mashvisor Competitors
Now that we've established the importance of data-driven decision-making and introduced the top three Mashvisor alternatives, let's go deeper into each platform's unique features and offerings.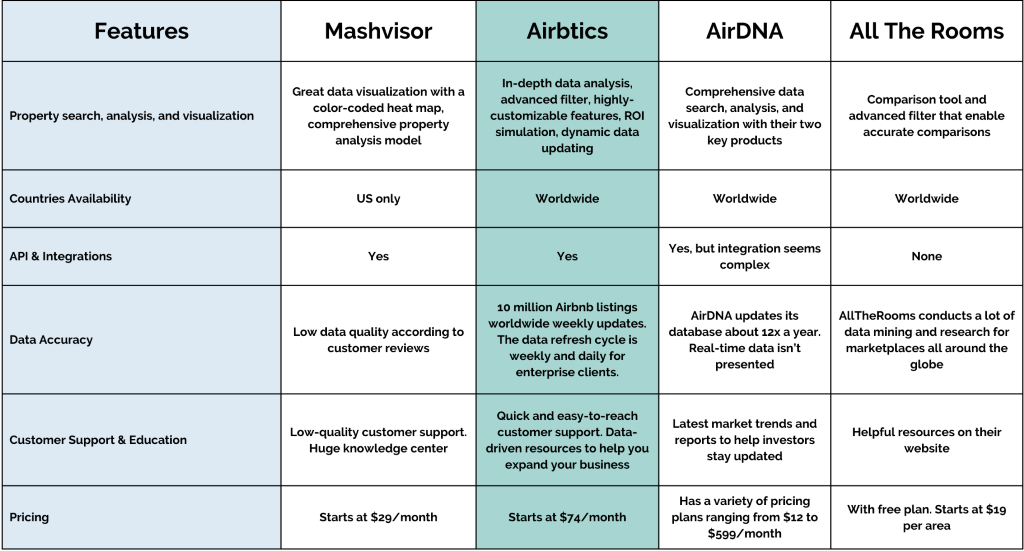 Airbtics: The #1 STR Analytics Tool for Airbnb Investors
Airbtics emerges as the frontrunner among Mashvisor alternatives. It's the top choice among STR analytics tools due to its data accuracy, reliability, and customizable features. It offers in-depth information tailored to the Airbnb ecosystem, ranging from vacation rental income projections and occupancy rates to market trends and property performance analysis.
Why do customers prefer Airbtics?
Dynamic Map. Airbtics is able to get dynamic data updating while you move around the map in the app. The data such as the occupancy rate, nightly rate, and annual revenue is updated in real-time. This allows Airbnb investors to compare data in a specific and custom manner. 
Tailored Region.

Unlike other tools, Airbtics permits users to "draw" the area of their preferred markets. This notable feature gives Airbnb investors a customizable experience.
Data Accuracy.

10 million Airbnb listings worldwide are updated every week on Airbtics to ensure we are providing accurate information to our users. Additionally, the data refresh cycle is weekly and daily for enterprise clients, making the data reliable for sudden changes.

User-friendly Interface.

Airbtics understands that not all STR investors are proficient in data analytics tools. Our user-friendly dashboard is designed for both first-time investors and experts.

5-star Customer Reviews.

Don't take our word for it.

Read true success stories of our customers at

Capterra

where we received 5-star ratings.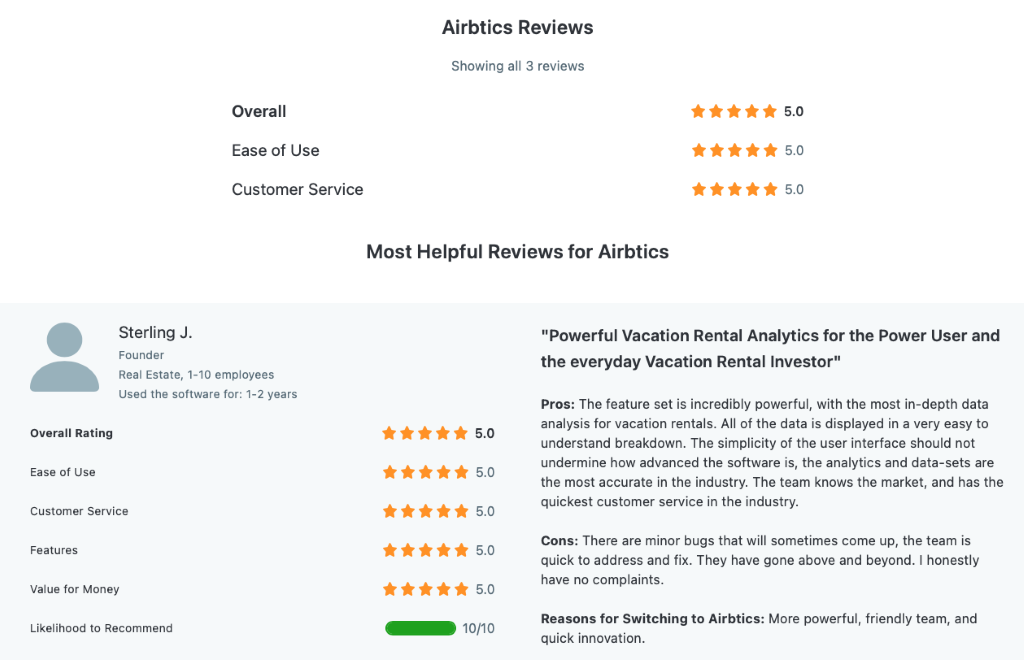 AirDNA
AirDNA has established itself as the first STR analytics platform in the industry. It's widely used by property owners, managers, Airbnb hosts, researchers, and market leaders. Upon checking their tool, here's what sets them apart from the competition: Read the full review.
Great Data Visualization.

AirDNA's product dashboard composes of highly-visual data insights to help users analyze the data with ease.

Rich in features.

The dashboard has several sections ranging from the market grade card, rental size, and growth. There is also a section for rentalizer where investors can get an estimate of their revenue of ROI. The last section is composed of seasonality where

RevPar

is computed and lead time & rates.

Market trends & reports.

AirDNA publishes market trends and reports available to the public, which makes them a great resource about the industry's market.
Although AirDNA has notable features which make them stand out, there are also drawbacks that came from AirDNA customers themselves:
‣ Unreliable data due to occasional updating
‣ Not all regions are available
‣ Pricing fluctuates frequently
‣ Short-term prediction isn't possible
‣ Complex integration with other software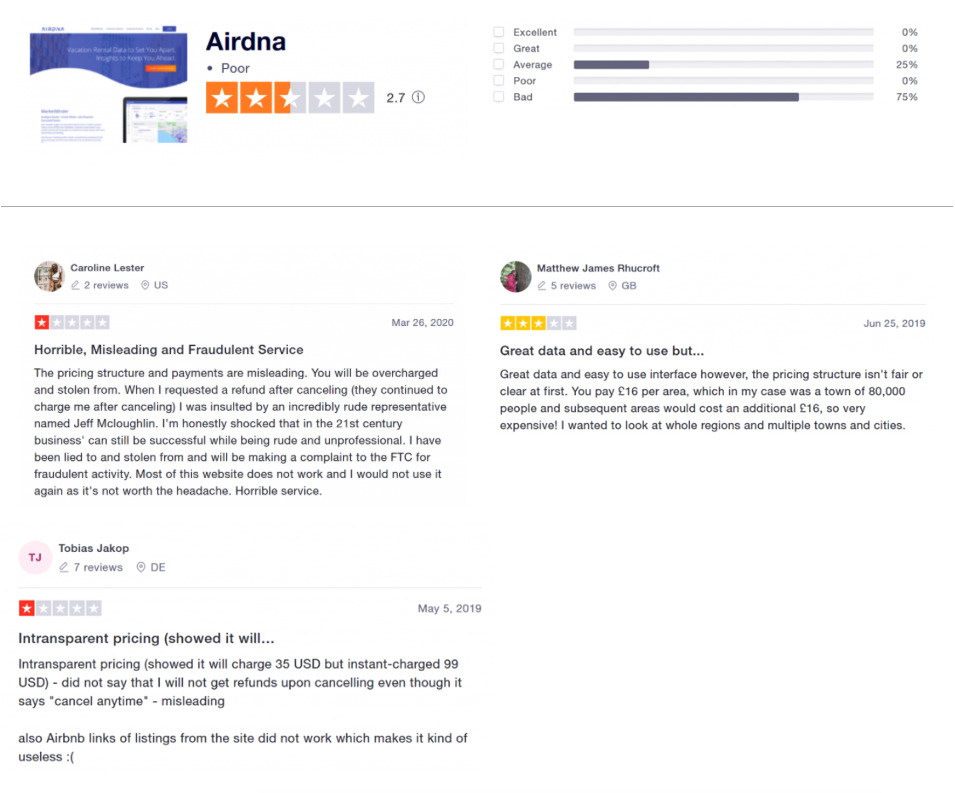 AllTheRooms
AllTheRooms is one of the pioneers in the STR industry that offers data analysis for vacation rental investors. They are a mission-oriented platform that aims to offer profound insights into the booming vacation rental market. Read the full review.
Comparison Tools.

It's one of the most complimented features of AllTheRooms. The tool allows easy comparison of different factors such as occupancy rates, daily rates, supply, market prices, etc. Comparing two or more items at the same time gives insightful analysis to the users.

Advanced Filter.

Users can gain a bird's eye view of market patterns and dive deeper into individual property analysis. The advanced filter feature refines the data based on listing types enabling accurate comparisons.
Despite the fact that AllTheRooms has helped many pro