Last updated on September 1st, 2023
Investing in the best places to buy to let in Glasgow is a fantastic idea to earn a passive income through Airbnb. Learn more here!
Best Places to Buy to Let in Glasgow: Where to Invest in Airbnb?
Learn why Glasgow is an attractive city that offers profitable investment opportunities to real estate investors looking to secure a nice income stream.

With the help of Airbtics, you will find out if Glasgow is a good place to set up your Airbnb business by discovering its top rental markets, recommended property types, estimated annual revenue, GRY and more.
Introduction
Nestled on the banks of the River Clyde, lies majestically the most populous city of Scotland, Glasgow, a dynamic destination that offers the best cultural attractions. This modern city not only provides enjoyable leisure options but also an attractive rental market for investors!
According to Airbnb, Glasgow is one of the most popular destinations for long-term stays in the UK! Yet, having clear goals is an important factor in investment success, especially if you are considering investing in the rental market of Glasgow. Thus, you should first find out the most profitable locations for buying an investment property in the city. And Airbtics is here to lend you a hand!
In this article, we feature the best places to buy to let in Glasgow. As a bonus, we'll also mention some of the main reasons why property investors should consider investing in this city. Continue reading to learn more about this market!
Top reasons to invest in Glasgow
Investing in short-term rentals in the UK is a smart way to create a nice income stream. However, researching the market before taking a crucial step is essential in the Airbnb world, especially if you're thinking of investing in Glasgow. Thus, it's always good to know what kind of advantages the rental market of your target city can offer to property investors.
If you're targeting Glasgow, then make sure to check out some of the reasons why buying investment properties in thy city can help you build your path toward financial freedom:
Glasgow stands out as the largest economy in Scotland and owns one of the highest GDP among the cities of UK. The city is an important financial and services center, being the key industries related to technology, tourism, transport and logistics, health and education. Like this, the city not only enjoys a thriving economic situation but also a steady demographic growth since more people are looking to relocate to the city.  
It's a given fact that Glasgow is a charming city that offers amazing living conditions and a wide range of cultural, sports and entertainment activities. With a friendly community, a great education system, stunning green scenery and modern infrastructure, this city will surely make anyone fall in love with its atmosphere. 
Another advantage of living in this city is its affordable cost of living! The average property price in Glasgow is also lower compared to other major cities in the UK. In fact, the median house value is £208,070 as confirmed by Rightmove platform.
Best known as the City of Culture, Glasgow offers an attractive artistic and cultural scene with a variety of shops, restaurants, cafes, museums, and interesting heritage. This destination is perfect for people who want to enjoy unique experiences while interacting with a warm community. There's no lack of things to do around Glasgow whether it's day or night as it offers a wide range of activities and amazing nightlife. 
Is a Short-Term Lease Business Profitable in Glasgow?
Imagine running a successful Airbnb business that could ultimately lead you to achieve financial freedom, sounds great, right? The great news is that Airbtics confirms that this dream can become a reality in Glasgow! In fact, this city is one of the top 10 profitable Airbnb destinations in the UK!
As a matter of fact, as of July 2023, Airbnb hosts earned an average monthly revenue of £3,610 with a median occupancy rate of 77% for operating a 2-bedroom apartment in Glasgow City Centre as confirmed by Airbtics' data.

On the other hand, aside from the level of profitability that a listing can generate, it's equally important to learn about the Airbnb regulations in Glasgow. This way, you will not only avoid major problems with the local law but also will be able to manage your business smoothly.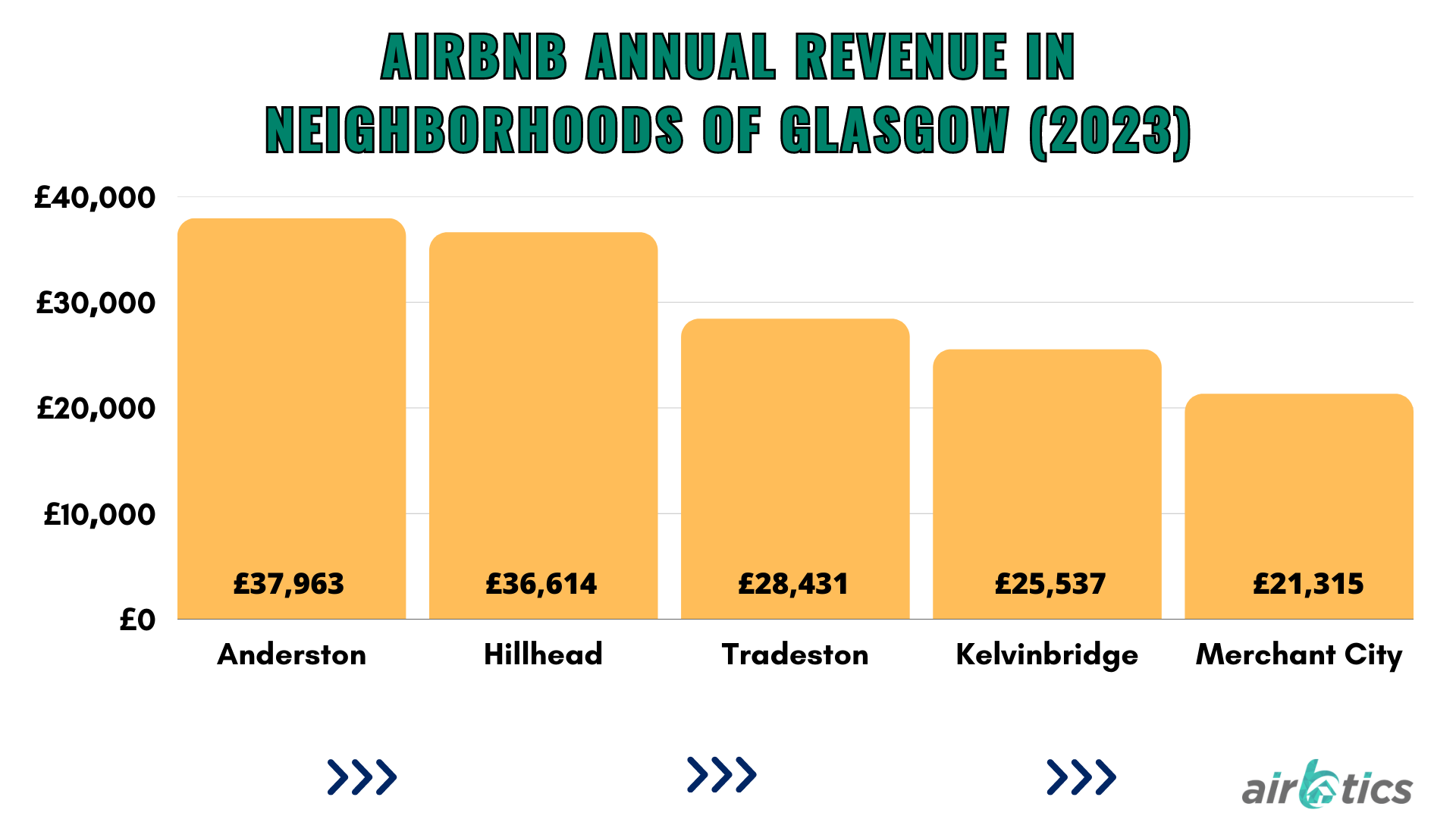 Source: Airbtics Dashboard
Top 5 Markets to Buy an Investment Property in Glasgow 
It can be quite a challenge to choose the right location to set up your rental property in Glasgow because each neighborhood generates a different level of profitability. Yet, finding out where to invest is now easier if you make use of trustworthy analytics tools like Airbtics. 
But don't take just our word for it. Follow our customer Simon as an example as he was led to a new Airbnb market which was more profitable than his original one. What seemed to investors to be a dream is already a reality with our analytics tool!
Check out the best places to buy to let around Glasgow and are recommended for starting an Airbnb business:
Best Area

Number of Airbnb Listings

Best Bedroom Size

Median Property Price

Airbnb Annual Revenue

GRY

Anderston

97

2 bedrooms

£235,000 (2 BD)

£37,963

16.15%

Hillhead

156

2 bedrooms

£249,000 (2 BD)

£36,614

14.70%

Tradeston

95

2 bedrooms

£155,000 (2 BD)

£28,431

18.34%

Kelvinbridge

89

1 bedroom

£175,000 (1 BD)

£25,537

14.59%

Merchant City

365

1 bedroom

£135,000 (1 BD)

£21,315

15.78%

Total Number of Airbnb Listings:

97

Best bedroom size:

2 bedrooms

Median property price (2 bedrooms):

£235,000

Airbnb Annual revenue:

£37,963

Gross rental yield:

16.15%
Total Number of Airbnb Listings:

156

Best bedroom size:

2 bedrooms

Median property price (2 bedrooms):

£249,000

Airbnb Annual revenue:

£36,614

Gross rental yield:

14.70%
Total Number of Airbnb Listings:

95

Best bedroom size:

2 bedrooms

Median property price (2 bedrooms):

£155,000

Airbnb Annual revenue:

£28,431

Gross rental yield:

18.34%
Total Number of Airbnb Listings:

89

Best bedroom size:

1 bedroom

Median property price (1 bedroom):

£175,000

Airbnb Annual revenue:

£25,537

Gross rental yield:

14.59%
Total Number of Airbnb Listings:

102

Best bedroom size:

1 bedroom

Median property price (1 bedroom):

£135,000

Airbnb Annual revenue:

£21,315

Gross rental yield:

15.78%
Source: Airbtics Dashboard
How to Find the Best Places to Invest in?
It's a given fact that trying to find profitable Airbnb markets can be quite time-consuming and for investors, time is money. But don't worry as we live in the digital era and there are many available resources to speed things up in this investment journey.
For instance, if you want to find an ideal location to set up your Airbnb effortlessly, then we recommend you make use of analytics tools available in the market, especially those which can provide you with dynamic data. In the past, it was difficult to find apps that offer this type of dataset, but sites like Airbtics take a step ahead and decided to provide this resourceful service to investors like you! 
Get around a city and get reliable dynamic data that can make things easier for you while researching a market. And to know whether a market will provide fruitful rewards, you will need to collect important information such as the average annual revenue, occupancy rates, nightly rates, seasonality, etc. Luckily, Airbtics Dashboard can help you with this tedious task.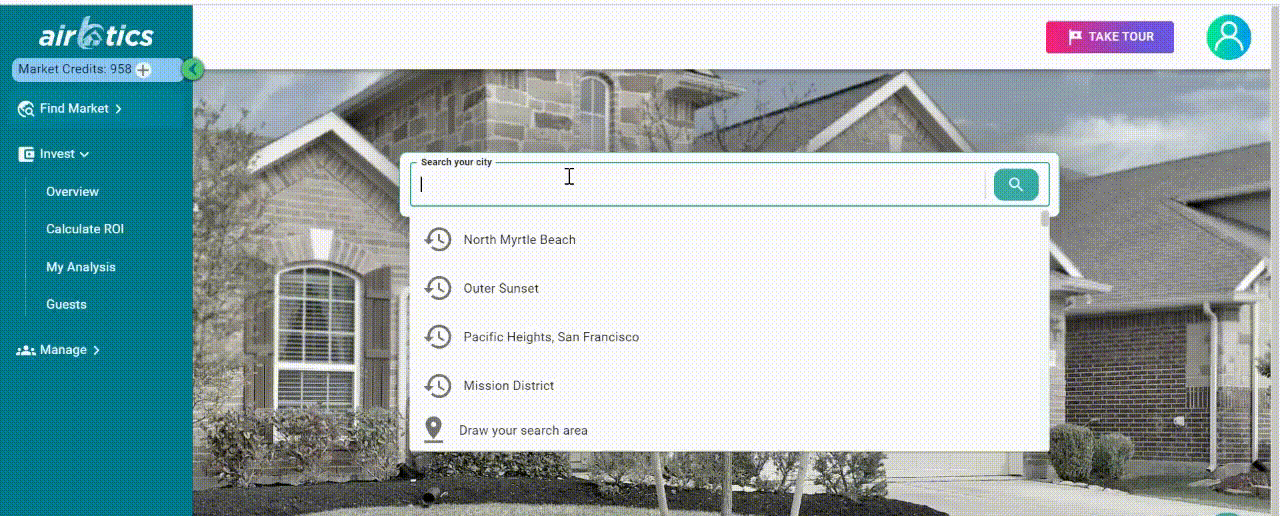 So, what's next? Now, you will have a better overview of your target area, but you want to dive deeper and obtain more specific data points. Then, why not play around with the filters and find the best results? You can use filters to find out what type of property offers the most attractive profit in this market. And the best part of using dynamic data is that when you move and zoom in and out of your map, the data will also change accordingly.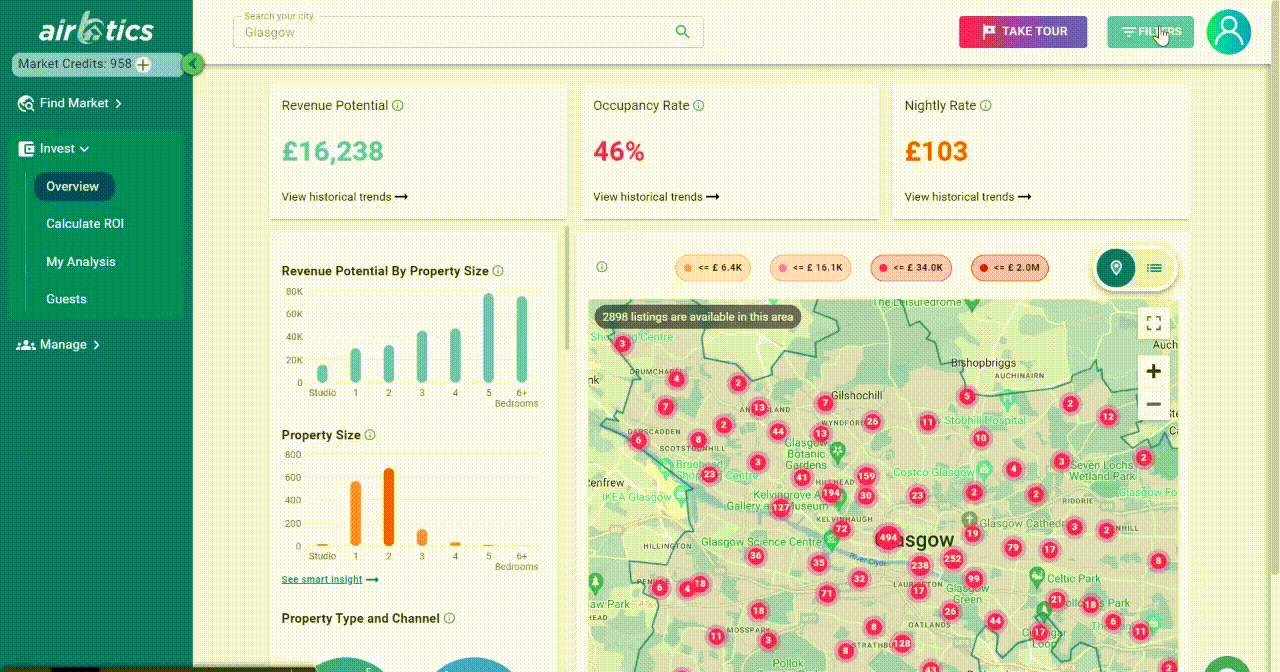 Now, you can decide if a 2-bedroom apartment is a good investment in your target city or neighborhood and you can also compare it with other property types until you find out the most lucrative option! 
Make smart investment strategies with reliable Airbnb data
In summary, it's visible that Glasgow offers an attractive real estate market with profitable investment opportunities that could help investors to obtain a good return on investment just by listing their property on Airbnb. 
But before you take the next step, we recommend exploring other top buy to let areas in the UK and reviewing all options carefully so that you won't miss out on better investment opportunities. This is why is important to take advantage of the digital era and analyze markets using dynamic data with Airbtics. 
Knowing the best places to buy to let in Glasgow is just the start of this enjoyable journey. Now, we want to encourage you to make data-based decisions that will help you improve your strategies by using reliable tools such as the Airbnb profit estimator. Let Airbtics join hands with you and boost your gains now!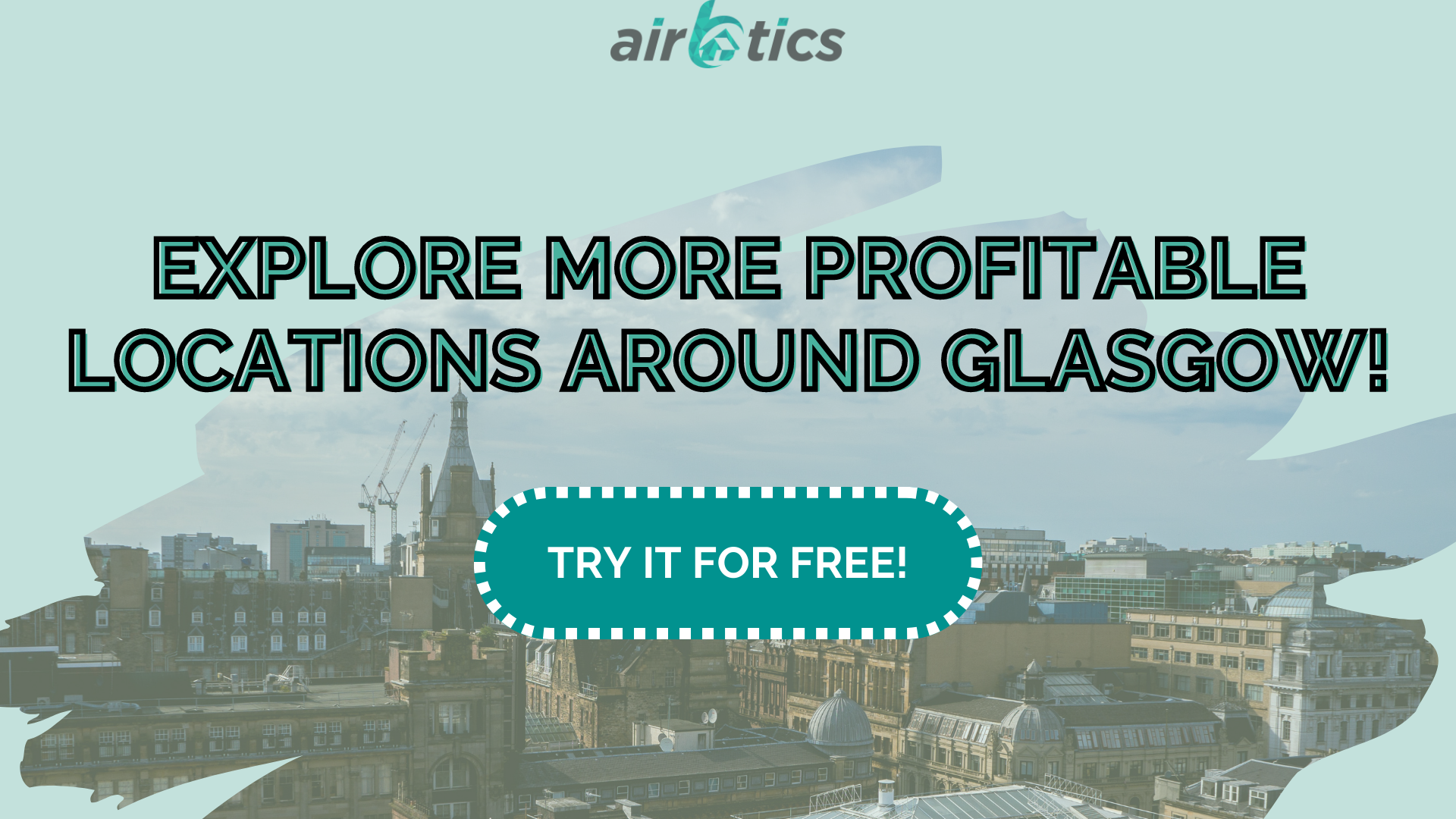 Find a profitable
investment property
Use powerful analytics to discover lucrative & traditional Airbnb properties within minutes.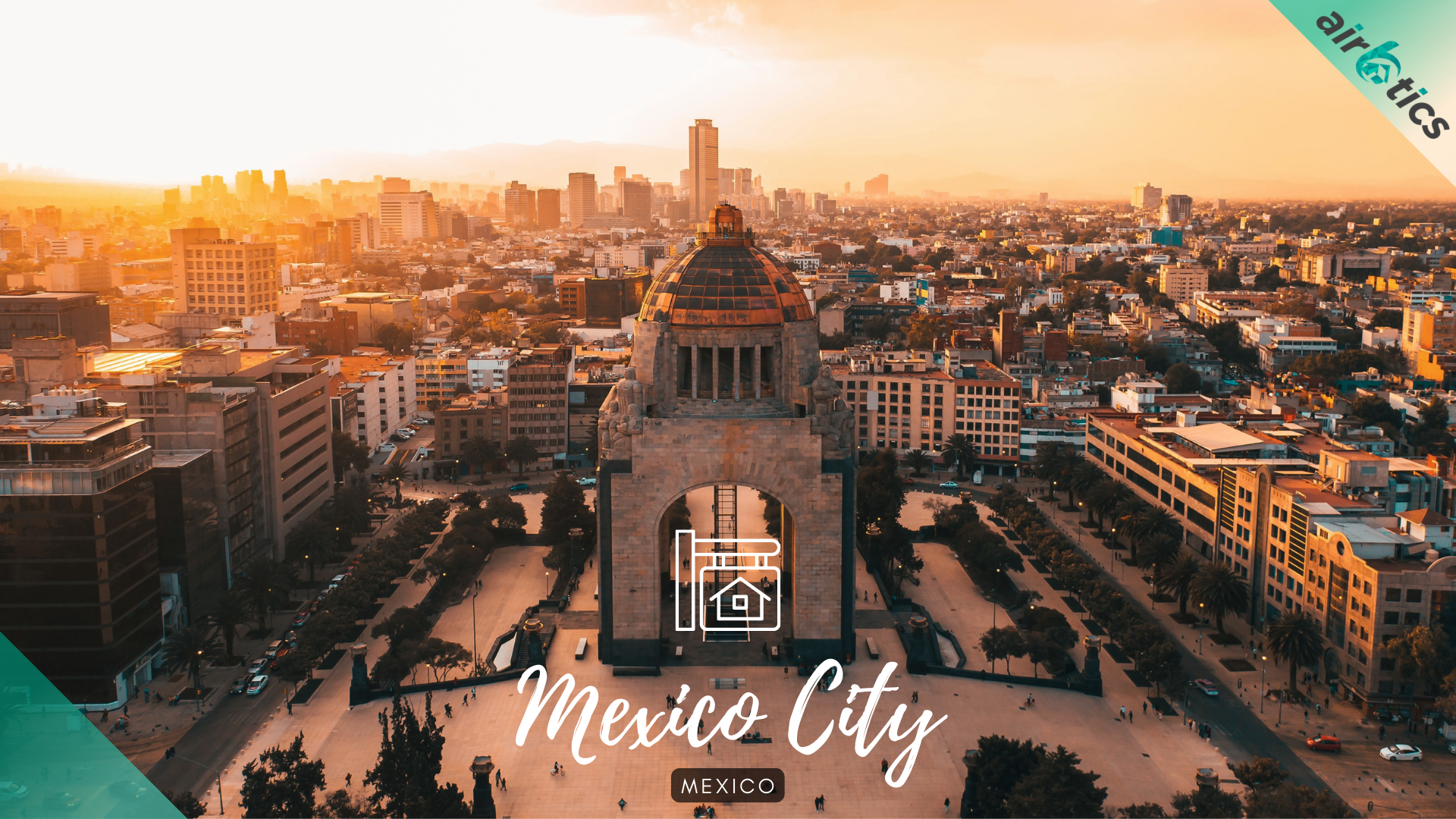 Last updated on August 17th, 2023Airbnb Investment Profitability: Homes for sale in Mexico City, MX: Discover Airbnb investment profitability in Mexico City this 2023 – …