Desde el lanzamiento de Airbnb en 2008, más y más anfitriones de Airbnb de todo el mundo continuaron inscribiéndose debido a su rentabilidad. Hasta la fecha, Airbnb tiene en general un total de más de 4 millones de anfitriones. Ya sea que utilicen Airbnb como su principal fuente de ingresos o para obtener ingresos pasivos, verdaderamente vale la pena descubrir cómo convertirse en uno y así comenzar a obtener ganancias! Si simplemente quieres intentar hacer Airbnb con un mínimo presupuesto, definitivamente puedes hacerlo al poner una habitación libre de tu casa o subarrendando una propiedad a través del subarrendamiento de alquileres. En este artículo, te proporcionaremos una guía paso a paso sobre cómo convertirse en un anfitrión de Airbnb exitoso. Continua leyendo para aprender más.
Consejos para nuevos anfitriones de Airbnb
Antes que nada, comencemos por comprender qué debes esperar al convertirte en un anfitrión de Airbnb. Si esto es algo a lo que te gustaría dedicarte en los próximos años, entonces es importante asegurarte de que lo estás haciendo bien.
Aquí hay algunos consejos que puedes considerar antes de comenzar tu viaje en Airbnb:
1.
¿Dónde iniciar un Airbnb?
Al decidir iniciar un negocio de Airbnb, debes pensar en los ingresos potenciales y en el mercado objetivo de la propiedad. Si prefieres establecer un Airbnb cerca de una atracción turística o un centro de negocios, debes averiguar las preferencias de tus huéspedes.
Por ejemplo, si tu ubicación de preferencia para iniciar un Airbnb se encuentra cerca de atracciones turísticas, entonces es más probable que tus huéspedes prefieran una casa completa o un apartamento de 2 habitaciones. Para asegurarse de que esto es lo que la mayoría de los huéspedes de Airbnb prefieren reservar durante su visita, puedes realizar una investigación de mercado manualmente o utilizar una herramienta de investigación de mercado de Airbnb como Airbtics.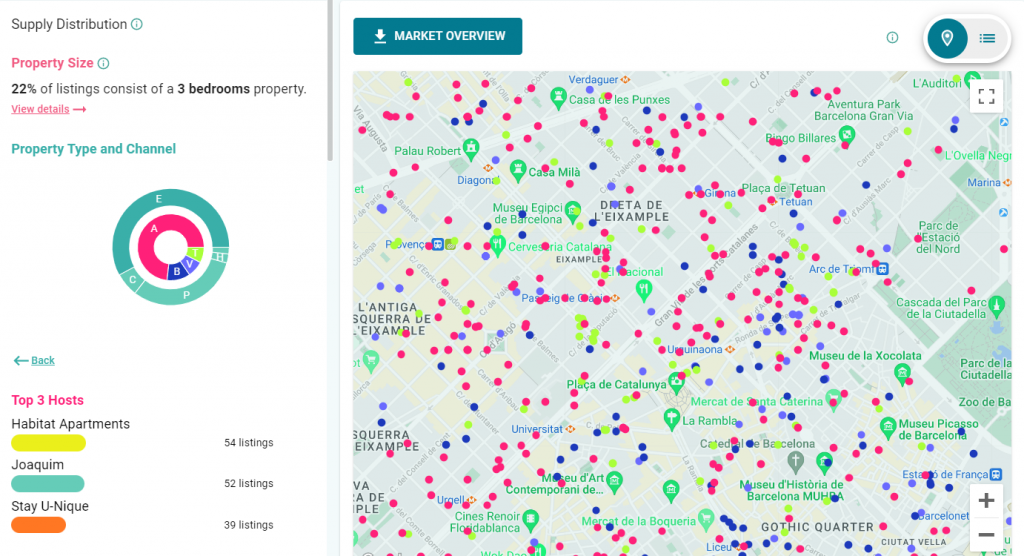 2.
¿Cómo se están desempeñando tus competidores de Airbnb?
Como anfitrión de Airbnb, es crucial ofrecer otra propiedad que no tenga un factor de venta único ni ninguna característica emocionante que anime a los huéspedes a reservar. Por esta razón, es imprescindible verificar el desempeño de tus competidores (ingresos mensuales, tasas de ocupación, etc.) y qué tipo de servicios de Airbnb ofrecen.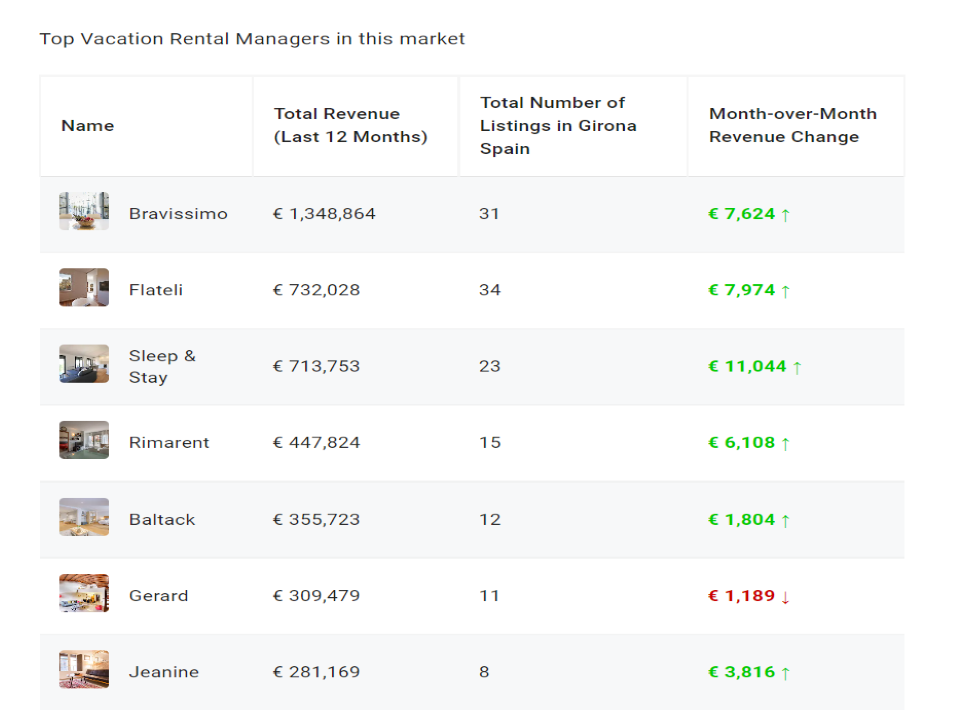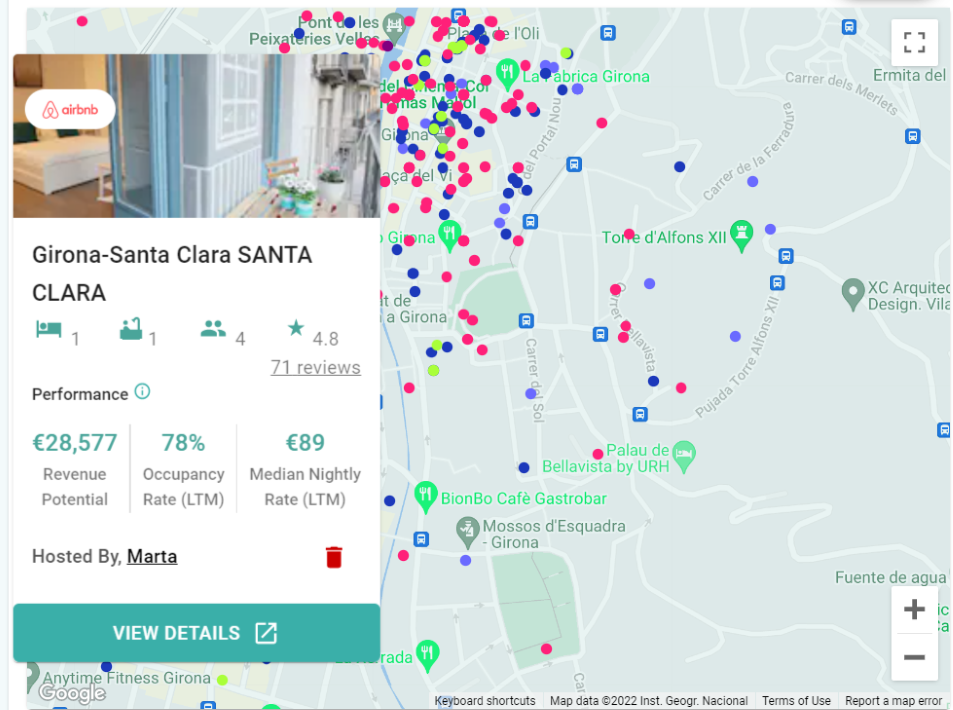 Creación de un listado de Airbnb
Una vez que hayas decidido finalmente crear tu listado en Airbnb, aquí viene la parte emocionante! Definitivamente se necesita tiempo y esfuerzo para crear una lista de Airbnb exitosa, pero puedes darte cuenta de que vale la pena cuando comienzas a obtener ganancias.
Antes de comenzar, no olvides verificar tu perfil de Airbnb y completar todos los detalles necesarios para los anfitriones. Siguiendo con el tema, estos son los pasos necesarios que debes seguir:
Toma fotos que destaquen tu propiedad y servicios de Airbnb


Al tomar fotos de tu Airbnb

,

es importante tener en cuenta que siempre puedes usar tu teléfono celular siempre que tome fotos nítidas de tu propiedad.

Los requisitos de Airbnb para las fotos es que estas deben cumplir con un tamaño de resolución mínimo de

480 x 720 px a 72 dpi

. Además de esto, cada foto debe tener al menos

1024 px x 683 px

sin filtros muy cargados ni logotipos.



Escribe un título atractivo y una descripción detallada de tu propiedad


Al escribir un pie de foto detallado para cada fotografía de tu listado, tus huéspedes no necesitarán ni imaginar lo que tu propiedad realmente ofrece.



Ponle precio a tu propiedad de Airbnb


Establecer una estrategia de precios de Airbnb ayudará a los nuevos anfitriones como tú a fijar precios justos. Después de todo, no querrás cobrar de más y terminar sin recibir reservas por ser estas demasiado caras o ganar un euro porque tus precios son demasiado bajos!



Establece los detalles de tu check-in y check-out, así como la política de cancelación


Para que tu negocio de Airbnb funcione sin problemas, es necesario establecer las reglas de tu casa, incluido el horario de check-in y check-out. Esto también te ayudará a asegurarte de que tu propiedad esté preparada para recibir nuevos huéspedes.



Cómo hacer Airbnb sin tener una propiedad
Se puede ganar dinero con Airbnb sin tener una propiedad? La respuesta es muy simple: sí, si puedes! A través del subarrendamiento de alquileres en Airbnb, ciertamente puede obtener ganancias y es legal siempre y cuando cumplas con las reglas y regulaciones locales vigentes en tu área.
El subarrendamiento de propiedades se refiere a la práctica de alquilar una o más propiedades con el único propósito de subarrendarlas en Airbnb y otras plataformas similares de alquiler a corto plazo. Si bien hay muchos anfitriones que prefieren comprar y encontrar propiedades para realizar subarrendamiento, no todos son financieramente capaces de hacerlo. Puedes encontrar propietarios para el subarrendamiento de propiedades de Airbnb y proponer tu idea!
Con una calculadora de subarrendamiento de propiedades, será más fácil para los anfitriones de Airbnb tener una visión general de sus ingresos potenciales y ver los mercados emergentes dentro de su área de preferencia.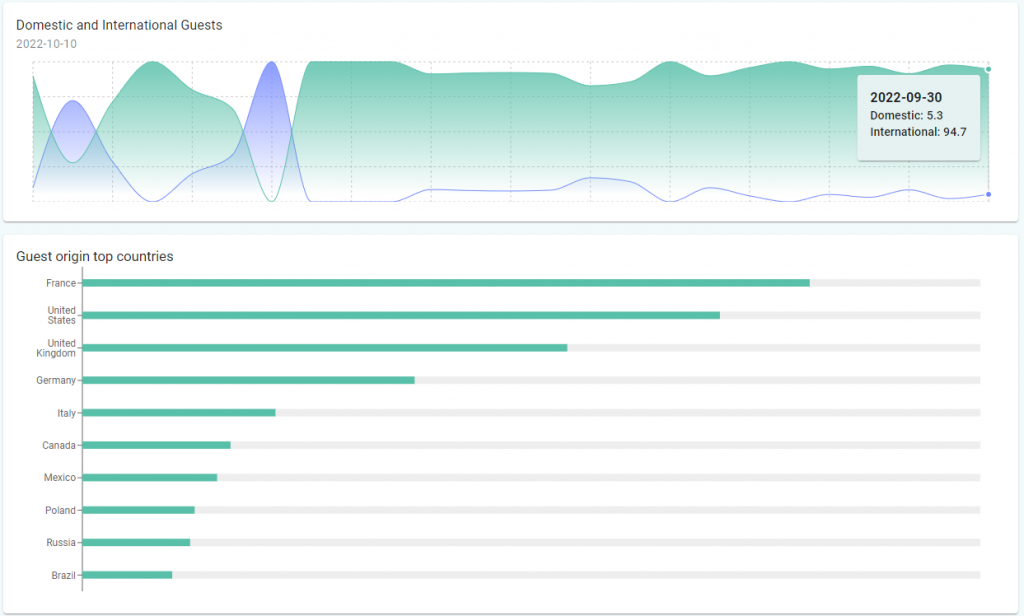 Creating

an Airbnb Listing
Once you have decided to finally create your listing on Airbnb, here comes the exciting part! It definitely takes effort and time to create a successful Airbnb listing, but you can tell that it's worth it when you start earning profit. 
Before you begin, don't forget to verify your Airbnb profile and complete all the necessary details for hosts. Moving forward, here are the necessary steps that you should take: 
Take photos that highlight your Airbnb property & amenities


When taking Airbnb photos, it's important to take note that you can always use a smartphone as long as it takes clear photos of your property. Airbnb's requirements for photos should meet the minimum resolution size of 480 x 720 px at 72dpi. In addition to this, each photo should be at least 1024px x 683px with no heavy filters or logos.
Write a catchy title & detailed description of your property
By writing a detailed caption for each photo on your listing, your guests won't need to imagine what your property actually offers.

Price your Airbnb property


Setting an Airbnb pricing strategy will help new Airbnb hosts like you to price fairly. After all, you won't want to overcharge and not receive bookings for being too expensive or earn a cent for pricing too cheaply!

Set up your check-in and check-out details and cancellation policy


In order for your Airbnb business to run smoothly, setting up your house rules including check-in and check-out time is necessary. This will also help you make sure that your property is prepared to welcome new guests.
How to Do Airbnb without Owning a Property
Can you make money from Airbnb without owning a property? The answer is simple: yes, you can! Through Airbnb rental arbitrage, you can certainly make a profit and it's legal as long as you adhere to local rules and regulations within your area. 
Rental arbitrage refers to the practice of renting one or more properties for the sole purpose of subletting them on Airbnb & other similar short-term rental platforms. While there are many hosts who prefer to purchase and find rental arbitrage properties, not everyone is financially capable of doing so. You can find landlords for Airbnb rental arbitrage and propose your idea – with charm!Using a rental arbitrage calculator, it will be easier for Airbnb hosts to have an overview of their potential revenue and check out emerging markets within their preferred area.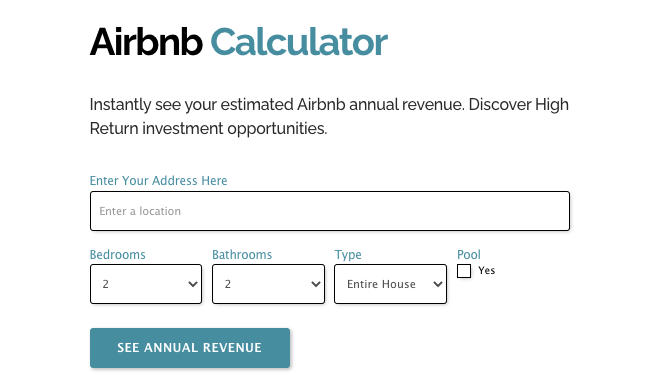 Cómo ser un excelente anfitrión de Airbnb
Ser un excelente anfitrión de Airbnb es esencial para mantener el negocio en buen funcionamiento cuando obtengas más reservas en el futuro. Aquí hay algunos puntos a tomar en cuenta:

Manténgase receptivo


Como anfitrión de Airbnb, mantener una alta tasa de respuesta es crucial para mejorar tu clasificación y eventualmente te ayudará a obtener más reservas en Airbnb. Si tienes más de una propiedad para administrar, el uso de una herramienta de mensajería automatizada te ayudará a organizarte mejor, a responder las consultas de los huéspedes y evitar reservas dobles.



Proporciona un servicio de calidad y solicita a los huéspedes que dejen reseñas


No lo olvides: las reseñas de los huéspedes son muy importantes! Si puedes brindar constantemente un servicio de buena calidad, dar una cálida bienvenida a los huéspedes y satisfacer sus necesidades, las reseñas eventualmente hablarán por sí mismas. También puedes pedirles a tus huéspedes que dejen sus comentarios si aún no tienes reseñas.



Nunca dejes de mejorar tus listados


Las tendencias de Airbnb cambian constantemente y es importante mantenerte actualizado para destacar entre tus competidores. Al tomar nuevas fotos, redecorar tus habitaciones y agregar las mejores comodidades en tu Airbnb, tu listado no se desvanecerá ni tampoco estará en la última página de los resultados de búsqueda de Airbnb.



Conviértete en un superanfitrión de Airbnb


Si deseas tener huéspedes repetidos y permanecer completamente reservado durante un mes completo, conseguir el estado de superanfitrión es sin duda la mejor manera de hacerlo! Algunos de los requisitos incluyen mantener una tasa de cancelación de al menos el 1% o menos, lograr una tasa de hospedaje promedio de 4,8-5% y tener al menos 10 viajes en un año.
Conclusión
Ahora que ya tienes una guía para convertirte en un destacado anfitrión de Airbnb, no pierdas más oportunidades en el mercado. Aprender más a través de la investigación de mercado y obtener los datos más precisos disponibles utilizando una herramienta de análisis de alquileres a corto plazo precisa como Airbtics sin duda ayudará a que tu negocio de Airbnb crezca y tenga una rentabilidad a largo plazo.