Last updated on September 4th, 2023
Are you wondering how to find rental arbitrage properties? In this article, we will show you the best ways to find profitable properties!
The Ultimate Guide: How to Find Rental Arbitrage Properties
Here is a simple concept of the rental arbitrage business: I have $10,000. What's the fastest way to double this? I'd say rental arbitrage. In one of our interviews with an Airbnb host, we met a 21-year-old who rented three $1,000/mo condos in Miami, furnished them, and rented them out to generate $8,000 monthly revenue.
So, how can I find rental arbitrage properties? You can find them on property websites, Craiglist, realtors, social media, and so on. Then, you need to pitch to landlords to get permission to run the property as a short-term rental. In this blog, we will go in-depth to show you how you can find profitable rental properties like a pro!
Airbnb is undoubtedly an additional channel for people who are looking for extra income. However, they also have one common misinterpretation of the whole Airbnb idea:
You need to own a property in order to begin investing in Airbnb.
Quite frankly, it's NOT necessary to own a property at all! You'd be surprised to know that there are numerous strategies that you can use to try out short-term rental investments without owning a property! In this article, you can learn how to find rental arbitrage properties and follow a step-by-step guide on how to set up and manage your Airbnb rental.
What is Airbnb rental arbitrage?
Airbnb rental arbitrage is renting one or more properties for the sole purpose of subletting them on Airbnb & other similar short-term rental platforms. In fact, this is the best way to try out the short-term rental industry without spending big bucks. Also, this will help you save up money if property ownership is one of your goals. 
This is how you do rental arbitrage in 3 simple ways:
Step 1. Find landlords who will allow you to arbitrage their property.
Step 2. Furnish it, take nice Airbnb photos, and upload them on Airbnb and similar platforms.
Step 3.  Wait for bookings!
Is Airbnb rental arbitrage legal?
It depends on the city. And in the areas where Airbnb arbitrage is legal, there are varying laws and guidelines that hosts must adhere to. In order for your business to successfully operate, make sure to check if it's necessary to apply for a permit or license before starting to invest in Airbnb rental arbitrage.
5 Ways to Find Rental Arbitrage Properties
Differentiate the properties in your preferred area and categorize them with ease according to the size & amenities of properties. Here are the top 3 of the most recommended listing sites:
Apartments.com

– one of the major rental portals with simple tools designed for DIY landlords or small property management companies. 
2. Find an Airbnb-friendly landlord
 Some landlords may think subletting is illegal, but there are certainly numerous owners who allow subleasing. If you want to find an Airbnb-friendly landlord, cast your net wide and look them up on Google, Facebook Marketplace, and Craigslist! 
Then, send your pitch!
Be creative. Here's my tip. This is just an example, and you can tweak this to find your own profitable property acquisition pipeline.
I noticed that many "expats" are not fond of advertising their properties to the local people. They tend to use Facebook groups for expats to look for tenants. Quite often, they are not even in the city, so they are looking for someone to take over and just maintain their property at a cheap price.. Just type "Expats in CITY_NAME (E.g. Lisbon)" on Facebook.
3. Join local real estate investor meetings & spark relationships
Through networking, you can easily meet people and get leads from them for your preferred property. You can also visit meetup.com and type in your target city. You now have access to real estate-related meetings & events!
4. Speak to your local real estate agents about finding the best rental arbitrage property
You can easily find local real estate agents online. Be honest with them that you want to start a rental arbitrage business. Tell them you are aiming to manage 20+ properties within the next 6 months if that's your plan. This kind of pitching works well with realtors as you can potentially become their significant source of income. Here are some of the most recommended websites:
Realtor.com

– the most extensive real estate website which is affiliated with the National Association of Realtors. 

Trulia – branded as the best mobile app, you can easily look for real estate properties.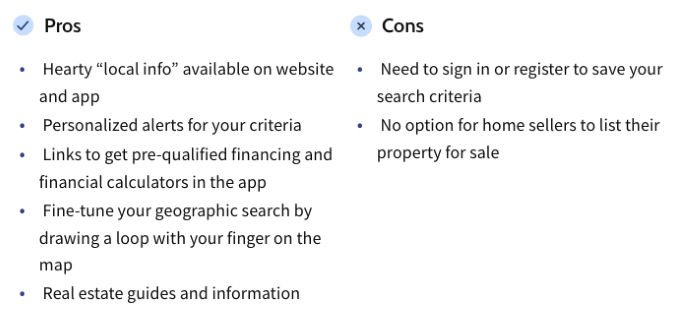 5. Speak to Airbnb hosts 
You might not have expected this! Try reaching out to Airbnb hosts with listings that have 0 reviews, bad photos, and bad descriptions. Even better if they have a lower than 50% host response rate. Most likely, they are the homeowners who aren't making good money but may be open to renting out their property via rental arbitrage!
You can speak with them and let them know that you can give them guaranteed income every month for the next 12-24 months. They might love the idea.
How much profit can you earn with Airbnb rental arbitrage?
Monthly profit = Revenue from Airbnb bookings – (Expenses and rent)
Starting cost = Furnishing cost + deposit + first-month rent  
Let's conclude that you already found the perfect property that's suitable for your budget and would like to start putting it up on Airbnb. For instance, you found a 2-bedroom apartment for rent in San Diego that costs $1,875 per month. Using an Airbnb calculator, you can gauge your monthly expenses & one-time costs accurately.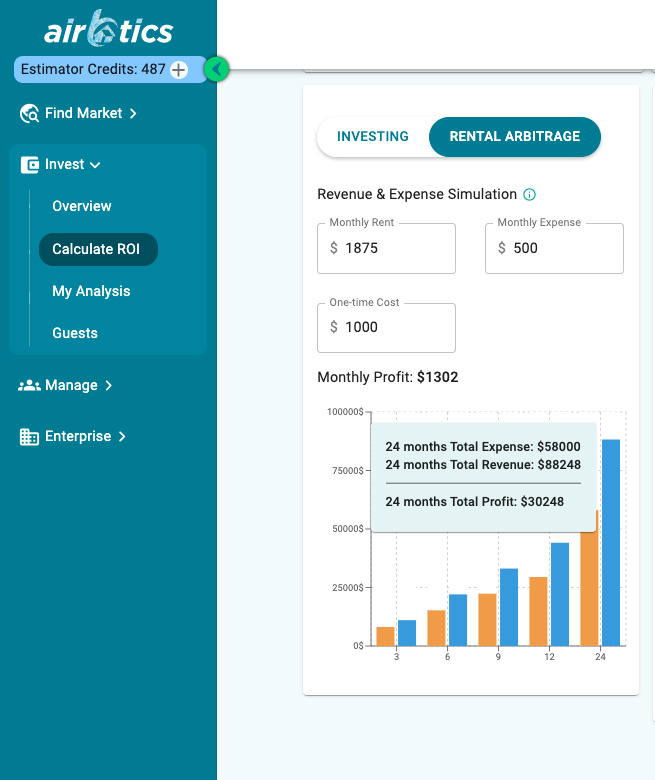 How to start rental arbitrage?
Airbtics has an extensive library of guides on rental arbtitrage. Click the link and check it out! There are some successful rental arbitragers, and do you know their secret? 
They know how to leverage tools & technologies! 
Airbtics is designed for you to find emerging and profitable areas to start your rental arbitrage business. Use our tool to figure out the following important key points:
Find a location that produces the highest profit & STR demand.

Look for a market that has at least above

50% occupancy rate

annually.

Discover the number of Airbnb listings in your preferred market, the international traveler ratio, historical trends, and so much more!
Bonus: Check out the best places to rent Airbnb in Canada!
Data Analytics For Finding Airbnb Arbitrage Properties
In this article, we have learned various ways to find rental arbitrage properties. And if you don't do your research carefully, it may take some time to find the best one for you. Or worse, you may end up with a really bad property.
However, if you are interested in investing and learning more through market research, then use only the precise STR analytics tool to gain accurate insights into your target Airbnb market.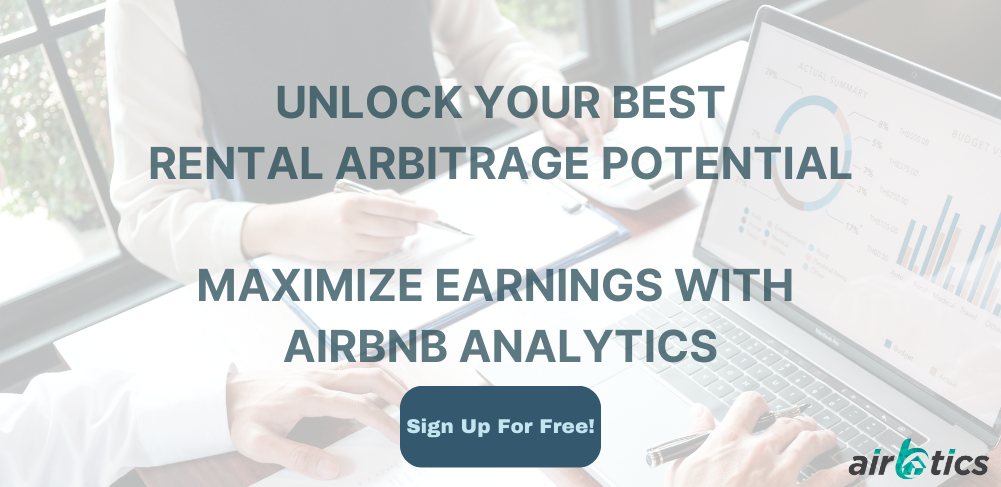 Find a profitable
investment property
Use powerful analytics to discover lucrative & traditional Airbnb properties within minutes.
Find a profitable
investment property
Use powerful analytics to discover lucrative & traditional Airbnb properties within minutes.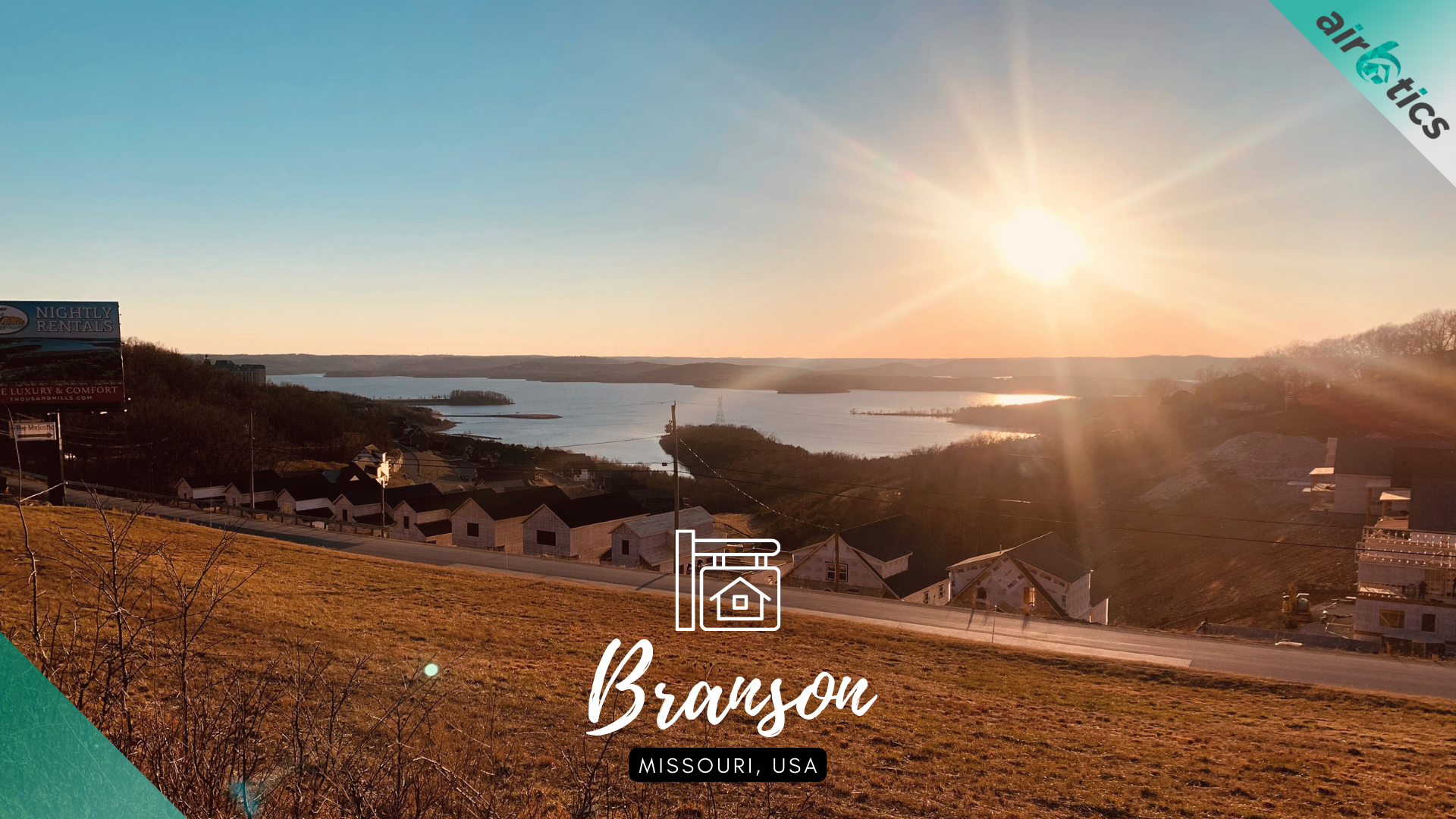 Last updated on June 21st, 2023airbnb property investment Branson Looking to invest in one of America's vacation hotspots? Branson is definitely a must-see! This fun …