Last updated on October 18th, 2022
Starting an Airbnb business is certainly exciting when you have an overview of your property's potential revenue and are more than ready to welcome guests. It could be a real challenge for Airbnb hosts to promote Airbnb listings and still see no results after doing all the hard work. 
While it takes time, patience, and perseverance for your property to get booked, there are certain reasons why there's a delay – and the best ways to overcome them!
If you have successfully listed your property on Airbnb and are only getting a few bookings than expected, don't worry. In this article, we'll explain some reasons for getting a few bookings, along with proven-effective ways to get more bookings on Airbnb and improve your listing's ranking.
How to Get your First Airbnb Booking?
It's important to note that Airbnb uses a similar algorithm as Google and other search engines in order for listings to rank on its platform. 
Therefore, the higher you rank, the more bookings you will get! Here are some of the factors that you have to consider improving to get your first booking on Airbnb:
1.
Airbnb Title & Description
If you were to book an Airbnb property, you certainly wouldn't book a place that only says 'one-bedroom beachfront' with no other detailed descriptions. As a host, it's important to be as accurate and detailed as possible by taking the best Airbnb photos and highlighting your Airbnb amenities. This is the perfect time to market your property!
For instance, this listing's title & description are well-written because it features the following:
The number of bedrooms

Nearby tourist attractions & views

Architectural design

Amenities offered

Property's capacity

Extra charges per person

Furniture & other equipment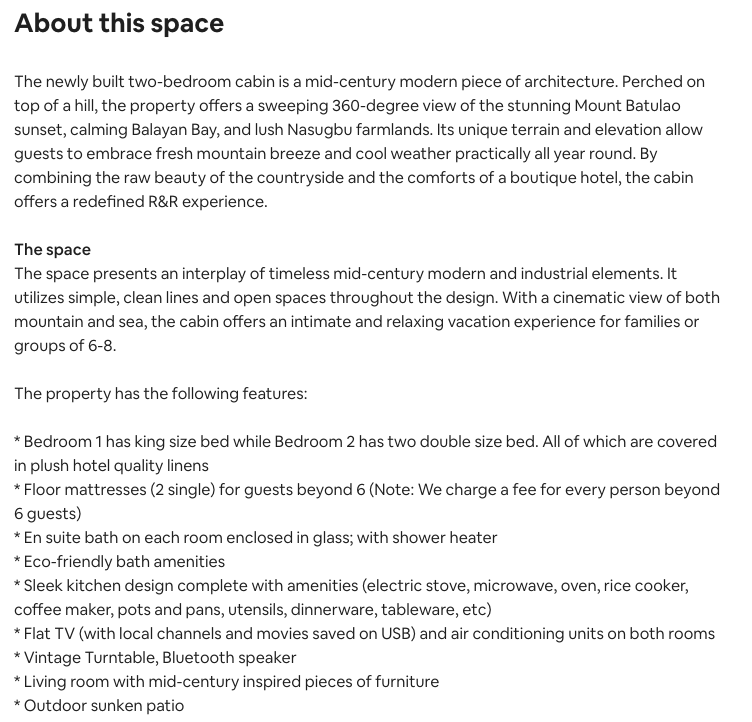 2. Set a Competitive Daily Rate Price
By pricing smartly, you'll be able to stand out among the other available listings within your area. If you are new to Airbnb, it's important to set your daily rate a little lower than the average price depending on your property type or use a dynamic pricing tool for a more accurate pricing strategy.

3.
Activate Instant Book
Airbnb's Instant Book is often automatically enabled for guests to have a smooth booking experience, however, it's important to check if it's enabled on your end. While other hosts prefer to inspect every guest's Airbnb profile before anything else, Airbnb's algorithm prefers to rank listings with an activated instant book.
4.
Set up Automated Messages
By immediately responding to guests' inquiries and concerns, Airbnb recognizes you as a responsible host and your listing tends to appear on the top search. It's also important to consider sending Airbnb message templates and using Airbnb hosting tools such as Host Tools or Hostify to automate your messages.
5.
Promote your Listing on Facebook & Google ads
Based on my observation, the majority of Airbnb hosts are also promoting their properties for rent on social media. This highlights their credibility as hosts and even boosts their bookings through paid ads. 
The best part though is that if you don't want to spend a lot of money on advertisements at the moment, you can always adjust the timeline of promotion per day according to your budget.

Off Season: No Airbnb Bookings
Although low seasons are unavoidable, it's essential to know when these days are so that you can expect them and be able to provide seasonal discounts. For instance, if your property is situated by the beach and the rainy days are approaching, you can always promote a rainy season discount 2 weeks prior.
In addition to this, you can also expect to eliminate extra charges when there is low demand and calculate your potential profit using an Airbnb calculator.


Source: Airbtics Dashboard
Not Getting Enough Bookings on Airbnb?
If you have applied all the necessary tips and techniques mentioned above but are still not getting enough bookings on Airbnb, then you should definitely consider listing your property on another platform. 
This will maximize your listing's exposure to other similar online platforms such as Booking.com, Trip Advisor, VRBO, and the like. It's possible that your current listing has a greater potential to be fully booked in a different platform, and Airbtics is designed to help you figure that out using the channel integration feature.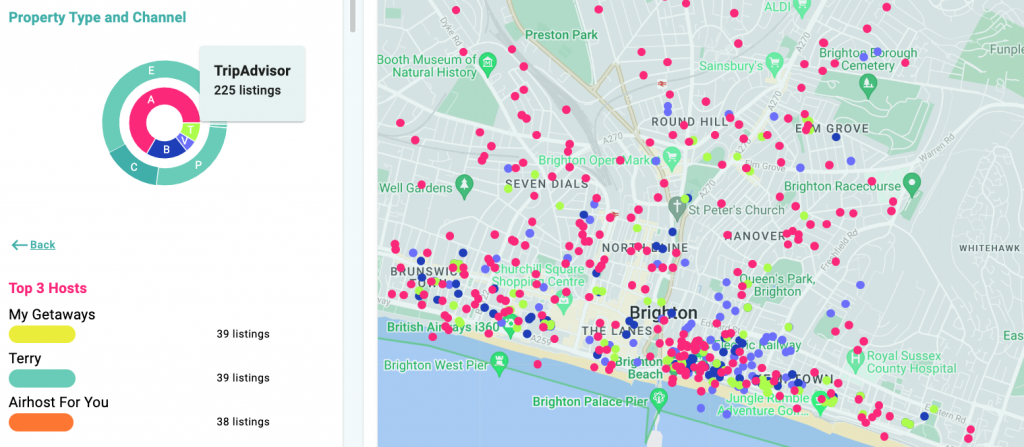 Conclusion
Getting more Airbnb bookings is no longer a difficult task in the current digital era. With so many Airbnb hosting tools available, hosts can easily look for alternatives and strategies to maximize their listings' exposure to different online platforms aside from Airbnb. 
Now that you have an overview of the 10 effective ways to get more Airbnb bookings, take the next step by applying them with a happy heart! As you strive to reach your path to success, there will still be uncertainties along the way such as a decrease in occupancy rates or lower monthly revenue. 
Fortunately, with the help of an accurate Airbnb Data Analytics Tool, you no longer have to worry about any of that! Designed to showcase accurate data, not only does the app help you optimize your listing, but it can also provide useful data for simulating cash returns using the Airbnb Calculator.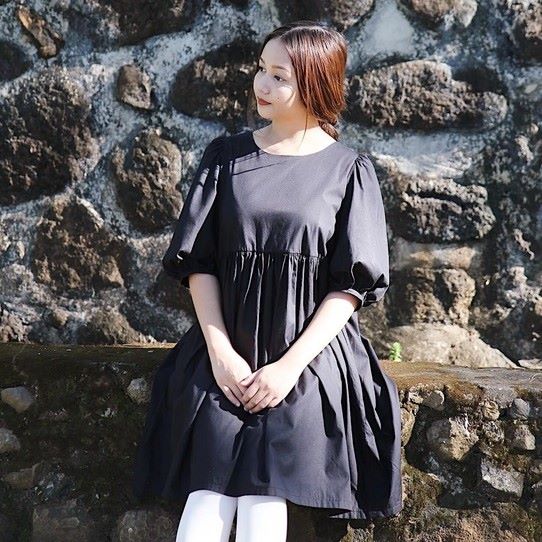 Robyn is a passionate content writer about short-term rentals and is dedicated to research & sharing property investment strategies and analysis worldwide. She is a graduate of Alliance Française de Manille, a songwriter, an animal advocate, and an avid fan of The Beatles since birth.