What is STR in Real Estate? A Complete Guide for Investing Newbie
After years of hard work and meticulous savings, the time has come to let your hard-earned money work for you. It's time for you to start investing in real estate. But a few questions remain, and one of them is "What is STR in real estate?" 
Real estate investing has many sides. For starters, short-term rentals are among its most popular and lucrative facets. And with the right strategies, it's not really that hard to succeed in them. But we'll caution you that it takes some dedication and hard work. These are the qualities that we're sure you already have.
So, let this article be your trusty guide as you set to become a real estate investor! We will unveil a comprehensive roadmap to help you understand STR in real estate. We've got every aspect of your STR journey covered.
The STR real estate definition

STR vs LTR

Things to consider in real estate STR investing

How to invest in STR (ways to maximize profits)

Creating an Airbnb Listing

Optimizing Airbnb Nightly Rate
What

is

STR in Real Estate?
STR in real estate is the shorthand for short-term rentals. These are investment properties that are rented out for short periods, usually for fewer than 30 days. 
This is a revolutionary business model popularized by Airbnb that has redefined how travelers experience accommodation. There are other companies in the business like Vrbo and Booking.com. However, Airbnb still remains the leading home-sharing platform. 
But these companies are not alone in making profits. In fact, more property owners have shifted from long-term rentals. Many investors have benefited from short-term rental properties' higher rental income potential. And the cherry on top? STR listings get free marketing and promotion on these home-sharing platforms!
And for anyone who wants to have a slice of action, any property type and size can listed on Airbnb. Short-term rental properties can be a single room, entire house, apartment, and what have you? This provides travelers with a wider range of options, making them ditch hotel accommodations. So there's a huge pool of customers.
STR VS LTR: The Difference
Let's talk about two types of rental investment: one for long-time tenants, and the other for short-time guests.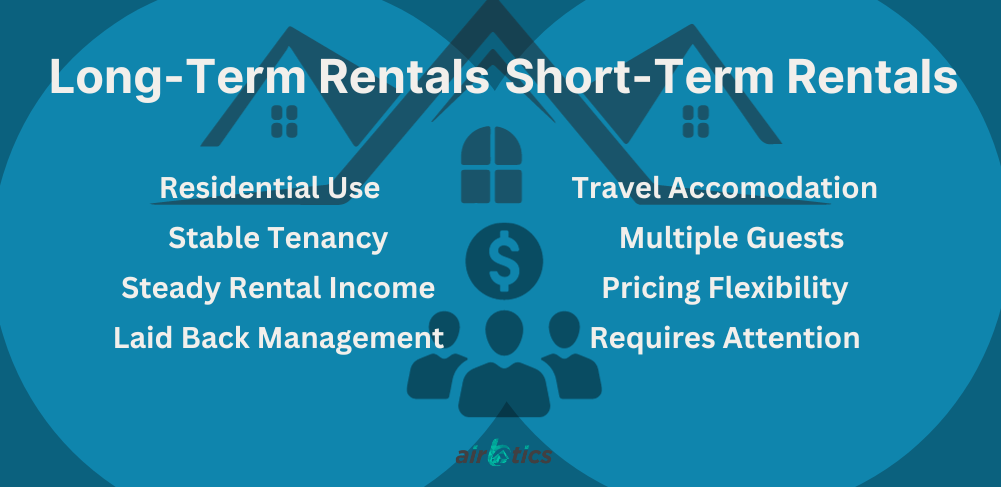 Long-Term Rentals
A staple in the real estate market, long-term rentals are properties rented for a very long time, (at least six months). This is bound by a lease agreement. Long-term rental homes charge rent a bit higher than the mortgage, so they get more money every month. This rent from LTRs stays the same regardless of economic conditions, such as rising inflation or interest rates.
Why Should You Consider LTR?
Stable Rental Market: With a staggering

334 million residents

,

the United States stands as the third most populous nation on the planet. Just ponder that for a moment – this sheer abundance of people ensures a steady hunger for long-term rental properties.
We have just given you the possibility of doing LTR in the US. But it's still best to check the local population to verify the local demand for traditional rentals in your area. 
A Steady Revenue

: For those who opt for the long-term rental route, a river of income flows steadily into your coffers. This financial lifeline remains remarkably resilient even in the face of changing market conditions. The average monthly rent in the United States clocks in at a substantial

$1,702

, ensuring a robust financial foundation for property owners.

Cost-Efficient Comfort

: No need to empty your pockets upfront for furnishings. In the world of long-term rentals, tenants typically arrive with their own belongings, sparing you from the furnishing frenzy.

The Low-Key Landlord Life

: If you prefer a hassle-free management style, long-term rentals have you covered. Expect less to zero day-to-day interactions with your tenants. This allows you the luxury of hands-off property management. But, tread cautiously in this tranquil territory – neglect can breed trouble, with property damages compounding if left unattended.
In this world of long-term rentals, the benefits may be abundant. And yet the potential is limited. But it's still a route for property owners to find security in stability and prosperity in predictability. 
Short-Term Rentals
Now, let's embark on a journey through the exhilarating landscape of short term rentals. Here, you can find a more flexible opportunity and enjoy unique advantages. 
While LTRs have tenants, STRs have guests who stay in your rental for a shorter period. Short-term rentals offer their property to guests who prefer cheaper accommodation in the area compared to hotels. 
Why You Should Do STRs?
Go-To Accommodation of Millions of Tourists: Picture a world where the travel and tourism industry reigns supreme. In the United States, this sector dazzles with an astounding

$1.9 trillion in economic output

. It employs 9.5 million Americans, contributing a substantial 2.9% to the country's GDP.
But here's the kicker: the United States stands tall as the epicenter of international traveler spending, accounting for a staggering 14.5% of global travel expenses. 
Does your own city have enough market for STRs? Then find out the STR demand in your area!
Pricing Flexibility

: Flexibility is the superpower of STR hosts. You can adjust your nightly rates at will. This can help you ride the waves of seasonality and changing market demand. With this, your property becomes a chameleon, seamlessly adapting to the ever-changing tides of the rental world.

Frequency of income

: Imagine a stream of wanderlust-filled travelers choosing your STR! With every booking, you get to enjoy a frequent cash flow. The possibility of securing multiple guests all year round is high. This makes the income stream from STR real estate more exciting compared to LTRs.

The Art of Hosting: In this vibrant short-term rental world, you become a maestro of property management. It's not just about spaces. it's about the stories you create with every turn of guests.
And here's the twist: even if you're not the "hosting" type, automation comes to your rescue. You can orchestrate your property remotely with the symphony of automated management tools.
Control Unleashed

: Embrace the thrill of control! With guests coming and going like the tide, your property remains agile and ready for reinvention. Minor hiccups? No problem! Damages can be fixed in a jiffy, and the safety net of Airbnb insurance has your back.
In the realm of short-term rentals, every day is a new adventure, and every guest is a fresh chapter in your property's story. It's a dynamic world where income potential from an STR knows no bounds. Plus, the rewards are as boundless as your imagination.
Cons of STRs 
Here are a few crucial considerations that STR investors should know:
Airbnb Regulations – Every major travel city is threatened with

STR regulations

. These may cover zoning laws and permit requirements for starters. During operations, you should ensure that you meet the safety standards and comply with sanitation rules. On the other hand, stricter regulations include occupancy limits.
Please refer to your area's STR regulations as they may vary depending on the area. They are found on your local government website. 
Seasonality

– Seasonality is the change in demand for rentals depending on the time of the year. The high season, where you can earn the most, includes favorable weather and popular holidays. But it's not usually the case all year round, so you can expect and prepare for the low season in your area.

Startup Expenses

  – Starting a vacation rental from scratch requires you to make it homey. There's a

list of startup expenses

that you need to cover, and this will depend on your aesthetic and budget. 

Monthly Upkeep

– Once a guest stays in your STR, they will unavoidably use electric appliances. This, among many other expenses, is shouldered by the hosts. In the LTR setup, tenants pay for these every month. But

STR properties come with monthly expenses

shouldered by the hosts. These include water, cleaning, internet, and mortgage, among others.

STR Financing – Financing for STRs is a bit more challenging to secure. Typical financing options may not work here. For one you cannot apply for a government-backed loan since it will be used as an STR. It's only for people looking for a primary residence. 
But there's still good news. You can explore personal loans, as well as

short-term rental lenders

to finance your STR venture.
How To Invest in STRs
You now know the answer to "What is STR in Real Estate?" Imagine the potential income from an STR. It's really enticing, right? But before investing in STR property and listing it on Airbnb and VRBO, there are more tips that we can share. It's leading your money to the best STR properties!
The most successful investors are willing to pay more attention to research. In this part, we'll provide you with simple steps to ace your STR venture!
Finding The Right Market (High-Demand Area for STR)
In the STR industry, short term rental markets refer to cities. And as in all aspects of real estate investment, location can mean everything. Best STR markets have a high demand for both tourists and business travelers.
Such cities offer a constant influx of potential guests, ensuring a steady flow of bookings throughout the year. Metropolises, tourist hotspots, and business centers tend to be top choices for STR investors.
You may already know this and have a list of target STR markets. But which among them offers the highest return? What you'll need to know before investing in STR is the market's capitalization rate (cap rate). 
Cap rate helps you figure out how much money you might make from a property investment when you pay for it in full without getting a loan. It's a way to see how good an investment is and compare different properties. It shows the yearly profit as a percentage of what you paid for the property.
This metric is derived by dividing the property's annual net income by its purchase price or market value. In this case, you already know your budget. You'll need a powerful STR analytics provider to get an accurate average net income in the STR market in your list.
What is a Good Cap Rate?
For a good Airbnb investment, a cap rate between 5% and 10% is ideal. If it's higher within this range, it means you have the potential for better returns on your investment. But be cautious. A cap rate beyond 10% might look great. However, it could also indicate risks, such as unstable property income or an uncertain market.
On the other hand, if your cap rate falls on the lower end of the 5-10% range, it suggests you might earn less, but your earnings will likely be stable. This is a safer option, especially for investors seeking a reliable, long-term income.
Cap rate does not end in letting you understand what a good investment is. It also helps you understand the risks involved in buying income-generating properties. Usually, when a property is riskier, it has the potential for bigger profits. Alternatively, lower-risk properties may give you more stable but smaller profits. So, the cap rate is like a tool that helps you balance the potential rewards and risks of property investments.
Finding the Best Submarket
I know what you're thinking, "there's a market, then there's a submarket?" Yes, there is! But it's not as complicated as it seems. When it comes to investing, submarkets are just smaller segments of your market. In fact, these are just bite-sized pieces of data that make your property search simpler to do!
For example, you have found out that you can earn the most in Miami. You're deadset that you're already in contact with the local realtors. Wouldn't you want to know where exactly in Miami is most profitable for your future vacation rental?  To have a good investment in the rental market of your choice, all you have to do is dig deeper! So, before grabbing the phone, you can still push your luck and read first about submarket analysis!
Selecting the Optimal Property Type
Location, neighborhood, what's next? It's selecting a property type. The good thing about STR investments is all types can listed on Airbnb. If you're investing in a short-term rental, you should know the optimal property type in EVERY STR MARKET!
Apartments and condos do best in some cities, while entire houses outperform the rest in some. Each property type option boasts each of its own distinct features that can attract the highest number of guests in your market (or submarket). 
So instead of tossing a coin to guide your decision, why not heed advice from rental analytics? "What is the Best Type of Property for Airbnb? (with 3 Sample Markets)" provides a clear methodical roadmap to assist you in making an informed decision!
Discover The Best Property Size
Just when you thought we'd stopped at property type, we're introducing property size to the mix. This simply refers to the number of STR bedrooms. 
When we discuss this, you've got a range from 1 to 6 bedrooms to play with. But don't let the result of a six-sided die roll determine the property size you'll invest in.  Instead, tap into the wealth of Airbnb analytics to make an informed discovery. And just like property type, the number varies depending on the market.
Just remember this, "Size matters when it comes to (STR) bedroom!" Intrigued by the bedroom conundrum? Then master the numbers game from "What is the Best Number of Bedrooms for Airbnb?" It's your key to unlocking valuable insights and a data-driven approach, ensuring you pick the perfect number of bedrooms for your specific location!
How To Create An Airbnb Listing?
As we have said earlier, Airbnb is the leading platform when it comes to home-sharing. Its share comprises an estimated 20% of the entire vacation rental market. So operating a short-term rental will not begin without its Airbnb debut. Here's how you create a listing on the platform:
1. Create an Airbnb Account.
2. Complete your profile with a picture and verify your identity.
3. Click "Become a Host" to start listing your property.
4. Describe the details of your space. Specify the property type, number of bedrooms and bathrooms, and the number of guests it can accommodate.
5. Set your house rules, pricing, and the availability of your property.
6. Upload clear and well-lit photos that showcase your property's best features
7. Create a catchy yet accurate property description
8. Choose your booking settings, whether you want to accept instant bookings or prefer to review guests beforehand
9. If you have any, add amenities and features such as wifi, kitchen, or hot tubs.
How To Set Nightly Rate?
You do not have to doubt yourself when setting a nightly rate. But we understand your concerns. Setting it too high might make potential guests skip your listing. When you go too low, you'll only leave money on the table.
The great thing about our guide is we're leading you to the most profitable location and property size and type in your market. But how much exactly should you charge?
STR real estate works best if you're updated with market trends. For fluctuating revenue, occupancy rate, and nightly rate,  all you need is accurate and comprehensive data insights. And you can only rely on STR data analytics provided by the powerful Airbtics Dashboard. With this in hand, you can quickly respond to changing market conditions throughout the year by leveraging the LTM data in your area! 
With Airbtics Advanced Filters, you will know exactly how much you should charge your rental according to its location, property type, and the number of bedrooms.
STR Investment, For The Win!
Now that you know "What is STR in real estate?", does your heart beat with excitement for the possibility? This investment may be new. However, investing in STR real estate has proven to be highly profitable. Especially, if you have found the right property, oh boy, you're set for life!
But your success will depend on a lot of factors. You need to find the best short-term rental properties in the right location and with optimal market-specific attributes (property type and number of bedrooms). And this should be the least of your concerns! You already know how to find STR real estate investment that ensures financial security!
Got an eye on an STR property and wanna know how you can cash in? Then know its profitability with the most powerful Airbnb Income Calculator!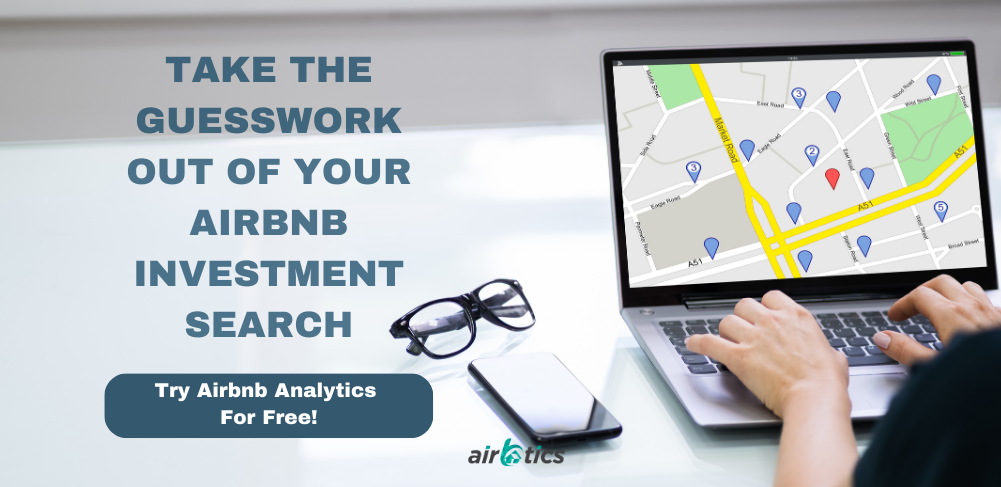 Find a profitable
investment property
Use powerful analytics to discover lucrative & traditional Airbnb properties within minutes.
Find a profitable
investment property
Use powerful analytics to discover lucrative & traditional Airbnb properties within minutes.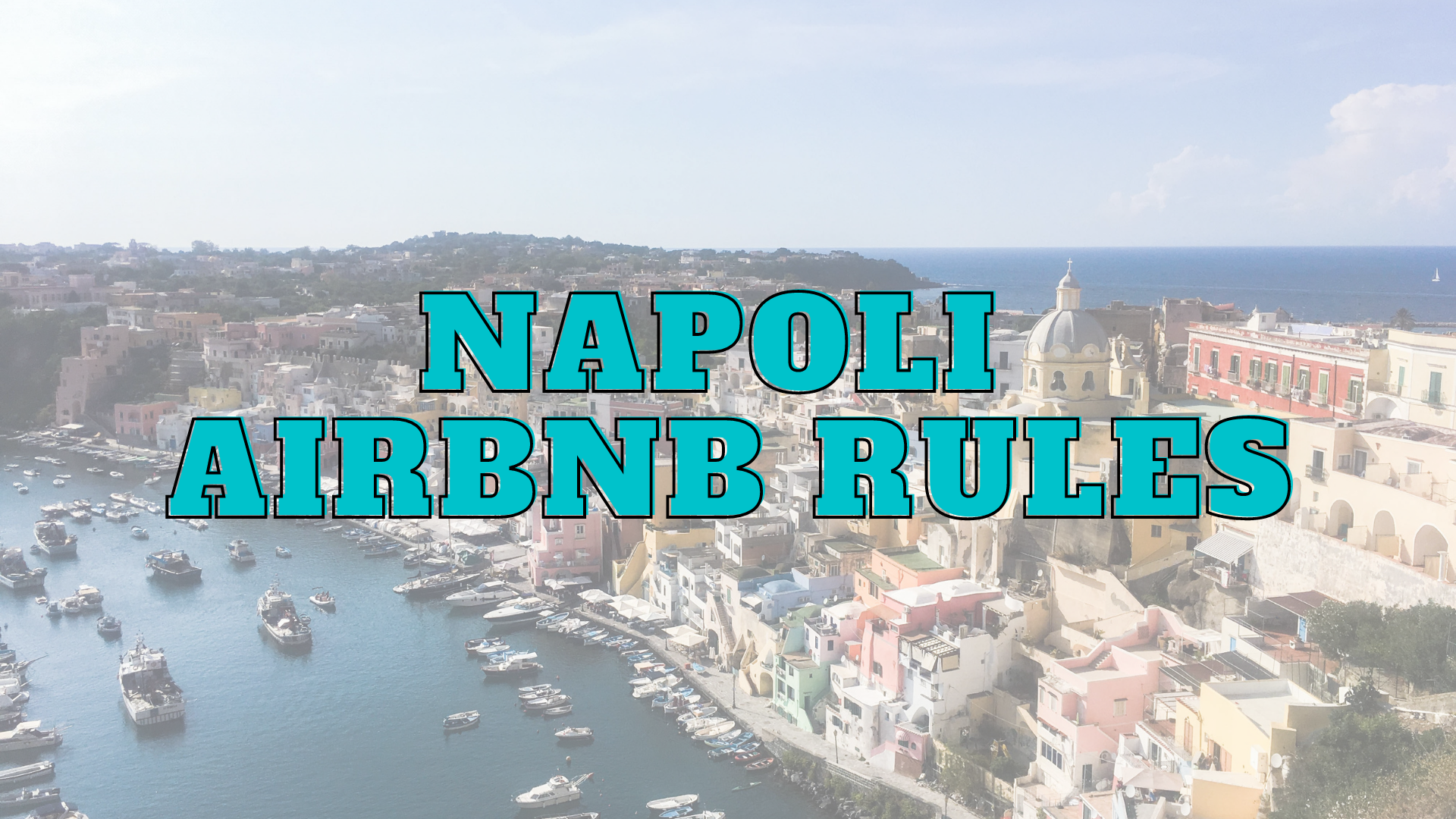 Last updated on June 23rd, 2023Table of Contents Add a header to begin generating the table of contents Is Airbnb legal in Napoli? Don't worry, …